Well — after much back and forth between the Colonels (thinking about it) and Babs The Travel Agent Queen, I've booked the April 5th Caravan Panama Tour. I fly out on the 4th (unfortunately that means a red-eye flight) and arrive early afternoon on the 5th. Coming home on the 13th.
Here is the itinerary: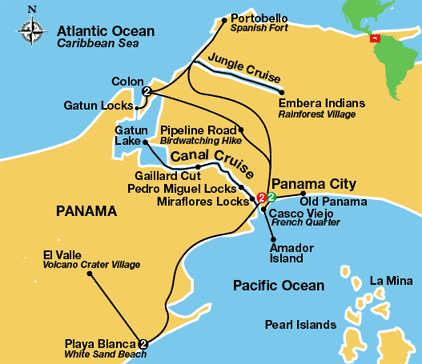 One of the things I like about this is that you have fours sets of two-night stays. The other thing I like is that the single supplement is $300, which is worth it to have a room to myself. Used 60,000 Alaska frequent flier miles (plus $92.50 in taxes and fees) to get a Business/First Class ticket — SEA-DFW-MIA-PNY-MIA-ORD-SEA, so it's a bunch of hours. The ground portion of the tour is basically $1500, which includes airport transfers if you fly in/out the days of the tour, and all meals.
Here is a link to what the tour itinerary is: http://www.caravan.com/tour/panama
These are the same folks that Swanda, The Colonels, and The Judge took to Mexico's Copper Canyon a couple of years ago — a tour that they still do, but no longer in/out of El Paso with a stop in Chihuahua (and transiting the border at Juarez)… seems a few too many killing in that chunk of the country, they now go in/out of Tucson.
Anyone want to join me, and maybe the Colonels on the trip? If so, please use another one of my travel partners, Barbara Greenlee (barbara.pegasus@vacation.com).
So work today, some play today, some dinner today… leftovers.
[218.5]