So, this morning it was on the road by 8am, after a long night last night.
Destino (Destination)? El Valle (The Valley), a town situated in the crater of a dormant volcano, and home to a bunch of super-expensive houses in addition to the more normal rural village life. Though it wasn't listed on the itinerary, a big chunk of the morning was spent in a botanical and animal sanctuary. Not usually my favorite kind of place, but this one was part zoo, part botanical preserve, part yellow frog breading station, and generally huge – it really did take a hour to stroll and see everything.
One of my favorite pictures is of the bird cages at the back of the property: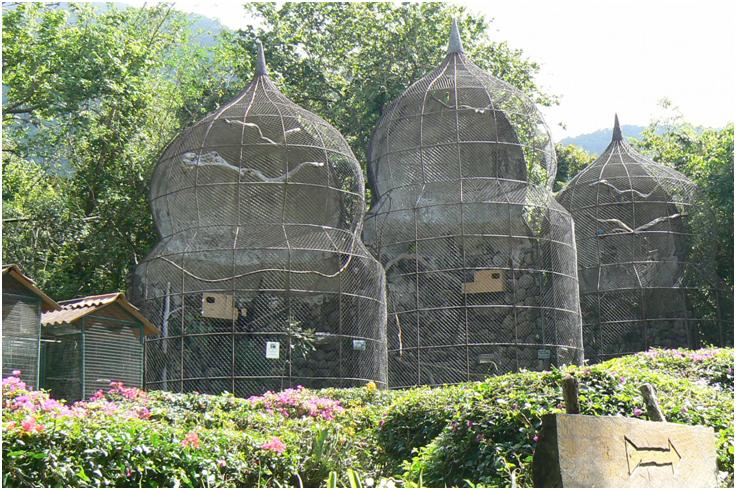 Mind you, these are about 40 feet tall.
And since we haven't had a scroller bar link in a couple of days — here is that as well:
We were back at the resort a little after 1pm – after a shopping stop where I bought nothing – in time for my 1:30pm reservation at the Thai/Cantonese restaurant. Ceviche, an interesting papaya/avocado salad, Panama Chow Mein… interesting, definitely more interesting than the "buffet"
Afternoon showers meant I lost my Wi-Fi signal on my deck – driving me to the lobby and the ladies from Hamtramck while I checked mail and dealt with critical issues. While Playa Blanca is a nice resort (though the rooms don't hold a candle to every other hotel we've been in so far), the internet service sucks. Yes, it's free, but only for twenty minutes before you have to go back to the front desk for another twenty minute code. Needless to say I composed yesterday's blog post in Word, then did a quick copy/paste into WordPress – which got me thinking about figuring out how to post directly from Word, letting me format posts a little more. This is the first post to try that process.
Dinner was in the "Sushi" restaurant. Four different kind of rolls were on the free portion of the menu (along with the best Miso soup I've ever had – I think they used fatted chicken stock as the base). It filled me up – and more importantly, that restaurant was actually air conditioned, with neither the buffet or the Thai/Cantonese (should be called Asian Fusion).
Stayed up too late with the ladies, but tomorrow is an EASY morning. Bags out by 9:15am, butts on the bus by 10.
[? ? ?]