First, a little update on yesterday: trip to Vancouver took an hour longer than usual due to Highway 99 (what I-5 turns into in Canada) being shut down in both directions from a multiple fatality accident. Didn't get to the condo until almost 5 with a stop for groceries and wine – luckily Helene was running late as well. And BamBam had to cancel as the wedding video he was editing was running way late. Just one of those yesterdays.
And on with today… three eggs over easy for breakfast (and again tomorrow), and then a stroll down to the Nexus office for an Iris Scan so that when I fly into Canada I can use the speed lane at the airport, cutting 45 minutes down to 5. It only took them half a dozen tries to get a decent scan. Thanks Helene for that tip – normally you do it at the airport after going through the line the regular way.
Sushi for lunch after getting a little work done.
Hummingbird and BamBam showed up at 5 for round two of the scholarship reading. Yesterday with Helene was round one. Twenty three scholarships to read this year. I got through about 2/3rds of then last night. It's a fun task playing god.
Want to know the results?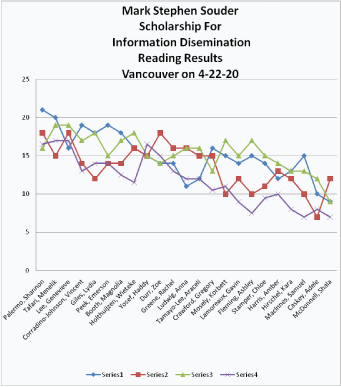 It was a nicer looking graph before I sorted from high to low.
Back to Seattle tomorrow.
[? ? ?]