Nice to be able to sleep in. Nicer that someone else made coffee and brought it to me. Thanks, Curt.
Today is all about figuring out what things I need to pack into the Jag for tomorrow's road trip. The cooler is washed, and the freezer gone through for possible meals for the four nights I'm spending at WorldMark resorts before heading to prison on Friday with my bag of quarters — last night's winnings. As I was bagging them up I realized that even after taking $15 in quarters out of the till…. there was still lots more money than I started with.
Add a stop by the apartment to pick up an MP3 to Cassette adapter for the car stereo and a copy of Scarface — the original 1928 version produced by Howard Hughes, directed by Howard Hawks, and staring amongst others, George Raft and Boris Karloff.
I did figure out a couple of things… how the trip will run after the prison visit.
Friday night – Motel in Deer Lodge, at the Western Big Sky Inn ($69)
Saturday night – Old Faithful Inn in Yellowstone in the oldest portion (shared bath, $98)
Sunday night – back to the WorldMark McCall, Idaho ($60)
Drive home Monday — missing the wake and the wine tasting.
So, the reason for missing all the fun? Old Faithful Inn: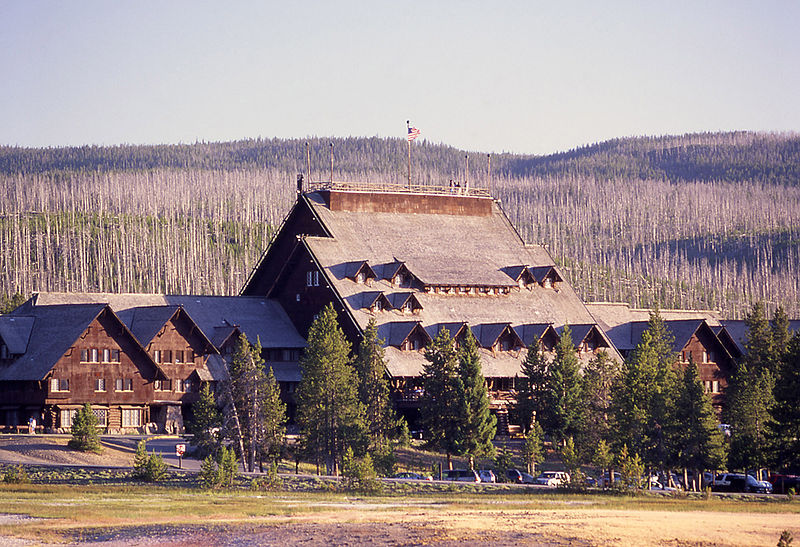 It was renovated in 2004 after a fire. Can't wait. Glacier was out because the Going Top The Sun road is closed until mid-June. Another inn off the PBS list taken care of.
Steak and salad for dinner, TV and packing, trunk packed, "road-book" rebound.
[? ? ?]