Had the so-so continental breakfast this morning at the motel. Got on the road around 9:30ish for a leisurely drive back to Berkeley… no traffic screw-up's like the last time I came back from Santa Cruz (mid-December).
For some off reason I wasn't able to find a Santa Cruz postcard – usually I can just go to the local Walgreen/CVS and they have some, not here. Guess it means and Oakland card from the airport which as it turns out are only available past security and the post box – pre-security they have San Francisco cards, go figure. Luckily the nice information lady said she'd post them when she got off her shift at four.
A little time in Berkeley to eat and pack the bags. Today's first picture – why the TSA opened my bag for a look: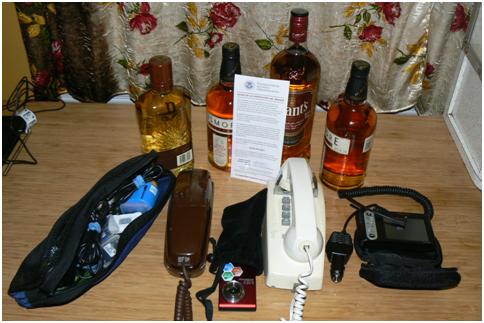 Yep, that's right, enough liquids, wires, electronics, phones to make anyone suspicious. The photo doesn't show my other camera since I had to use it to make this shot – but it was in there as well.
Yesterday I got a call from MoonSong who was at the ReStore in Ballard and stumbled across something he thought I might like to go with my recently acquired payphone. I took a leap of faith and said yes to the $85 purchase (oddly enough, the same price I paid for the payphone) and this is what I found on my kitchen table upon my return home: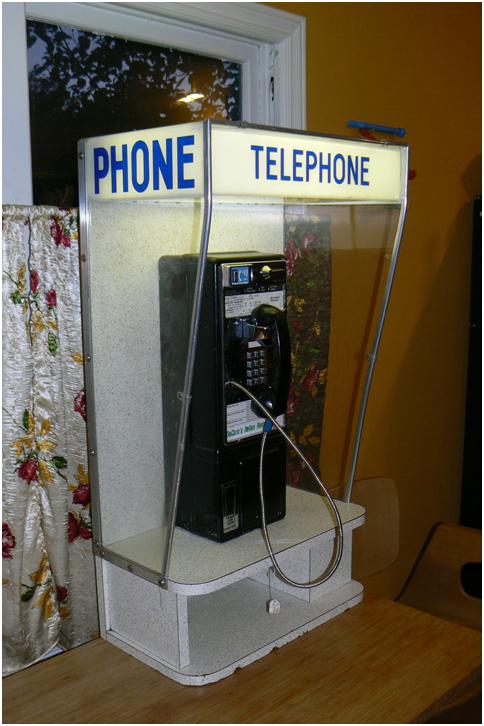 I don't think this will be it's final home but it sure does look nice.
Dinner tonight was various marked down items at Uwayjimaya. No energy to cook.
Into bed at 10:30 with the book-tube on.
[? ? ?]