Time to get back into the swing of things and get some bread baking done. Jeff was over in the late morning to drop off some high-gluten bread flour for me to try – and a loaf of his plain baguette that he made using a pan he borrowed from me. A nice discussion about bread (he uses the Julia Child method – I use a machine) and the difference between artisan (his) and high-tech (mine). These are the two loaves I baked today – with the bad of flour in the background – there is talk of splitting a 50# bag.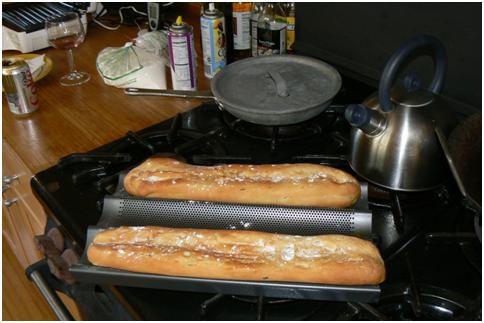 While the bread was in process (45 minutes in the machine, 45 minutes in the proofing [warming] oven) I got the scissor lift positioned on the slab – I only had to use the barrel jack half a dozen times to get boards under the wheels. Considering the three dozen times to get it around the side of the house, this was a welcome relief.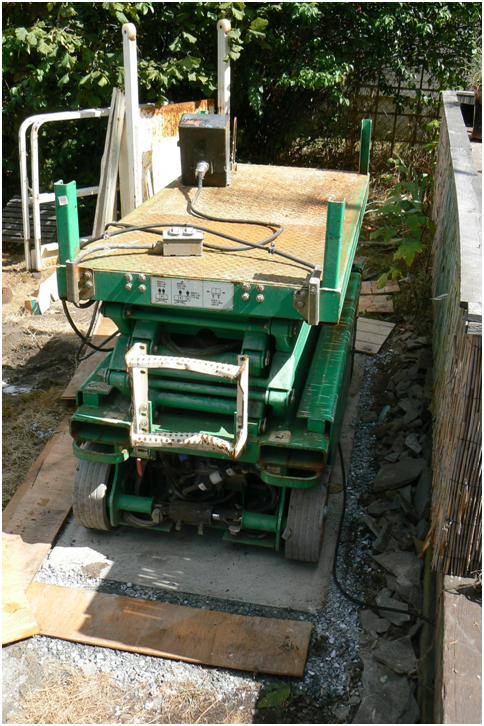 I should have taken the picture without the boards – looks much cleaner.
Swung by Home Depot to look at decking materials and to start thinking about the budget. Looks like (5) 2x6x8 at $4 each, (6) pre-notched deck rails at $19 each (ouch), (4) 2x4x8 side rails at $3 each… for a total of $150 before any of the electrics and bamboo siding. I might swing by Bamboo Hardwoods next week to see if I could do the whole project in bamboo for that tiki-like look. Shit, and I need to build the stairs up to the platform… it never ends – oh and that didn't include the decking. Damn.
Dinner tonight with Swanda and orange-balsamic glazed chicken breasts, a salad, and a loaf of my bread. Oh, and a little wine, too.
Then home to figure out what to pack for tomorrow's dinner in Portland.
[227.5]