I got the upgrade to First on Virgin America – or shall I say, I paid for an upgrade. $70, which is a bit steep considering that I only paid $78.60 for the whole round-trip ticket – but it is 55 inches of seat pitch, and the seats are damn comfortable.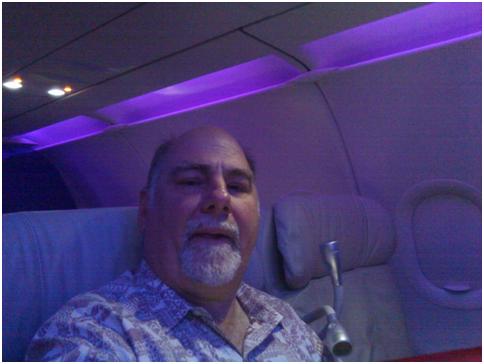 Notice the mood lighting? Gotta say, they got cool interiors — lots of full spectrum lighting, leather seats, the works.
Good thing I got the upgrade – we sat for 45 minutes on ground delay because of fog in San Francisco… at least I had a drink in my hand.
I had a bagel and cream cheese in the Board Room at Alaska before walking to the other end of the airport for my flight – and the flight itself had a small breakfast of exotic fruits (more than your standard melon and strawberry) and a slice of cranberry bread – but it did leave me a little lacking – I was starving by the time I got to Mark and Onyx's place in Berkeley. Luckily, I'd texted for a pick up and breakfast was in process when I arrived —- and what a lovely way to arrive it is.
The afternoon was given over to napping and runs to Costco, Marshalls, Ross, BevMo (twice) for various weekend supplies.
The evening started with this:
A combination scotch/bourbon tasting for the benefit of Onyx, who was confused on the differences in what makes something a scotch as opposed to a bourbon, or a sour mash. I love being teacher when this is the subject.
My apologies for the quality of the photos — it's the camera in my phone.
Dinner and a movie afterwards – yes, I went to a movie in a real theatre… a 3-D movie – Despicable Me. It was amusing, more so to the boys who were howling.
That made it a late night for me.
[228.5]