More progress on the deck today… took a break from working on it at this point…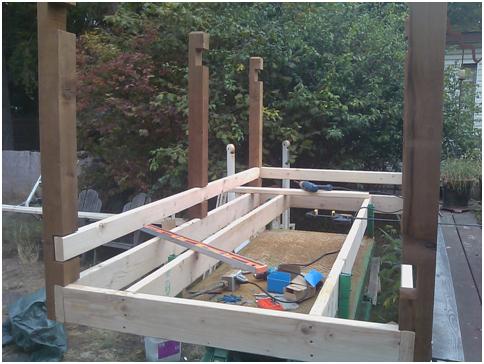 To run off to Bamboo Hardwoods because their bamboo cane fencing is on sale for 50% off, and I need two 6×8′ rolls (that will get cut down into 3'x4′ panels). I still need to figure out the design of the stairs getting up to the platform, and what kind of gate is going in.
A little after four headed to Tacoma for MaryBeth's daughters surprise 16th birthday party. The boys at this party outnumbered the girls about 4 to 1 – that's a whole lot of male hormones in one confined space – I'm surprised I didn't pass out.
Home at ten, into bed shortly afterwards. Maybe it was the turkey (Melissa wanted Thanksgiving for her birthday meal) that knocked me out.
Chair delivery tomorrow.
[222.0]