After drinks at Moderno, a typical boring Epic dinner followed at the Manhattan Club – Richardo did his best (tracking down some horseradish for us), but there is only so much you can do when the food is what it is. I heard one woman say that she is regretting next week as she signed up for the 14-day Eastern and Western Caribbean tour. When asked her favorite line… Carnival, and I peg her 10 years older than I am.
Morning found a couple of hands of canasta in "The Living Room" which is part of the singles area – which hasn't fully been card key excluded yet, hence, many people coming in for free espressos, etc. The part that has been card-keyed doesn't seem to be working, hence locking out most of the guests. (note offering dinner for two and a bottle of wine to those affected).
And speaking of post-launch changes – all the cabins on Dan and Lisa's hallway got new faucets for their sinks – seems the old ones (4 months old) were too high and splashing water everywhere.
But, speaking of Carnival, when we parked in Nassau, it was next to the Disney Wonder and the Carnival, opps, forgot to get the name.
Off the boat at noon, hot and steamy. Dan headed to the casino at Atlantis on Paradise Island, Lisa and I wandered into town for a little shopping for me – postcards is what I ended up with… 4 for a buck. Saw one stand with a couple of license plates but they were pretty battered up, nothing else really caught my eye – new record. A city tour where I only spend one dollar.
We did see some interesting signs along the way: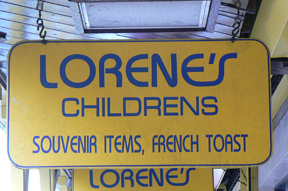 Let's see, children's clothing, souvenir items, and…. French Toast. OK.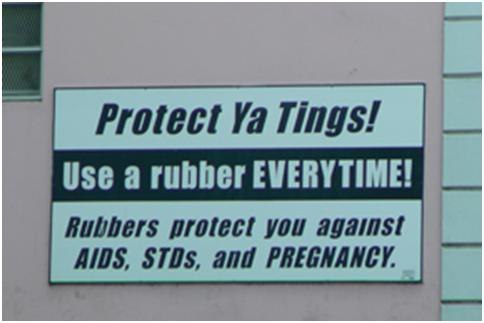 And remember – Protect Ya Tings!
Got soaked on the way back to the boat for a late lunch. After reading about hot dogs for the last two days (Hot Dogs, A Global History, by Bruce King) I finally had to have one for lunch.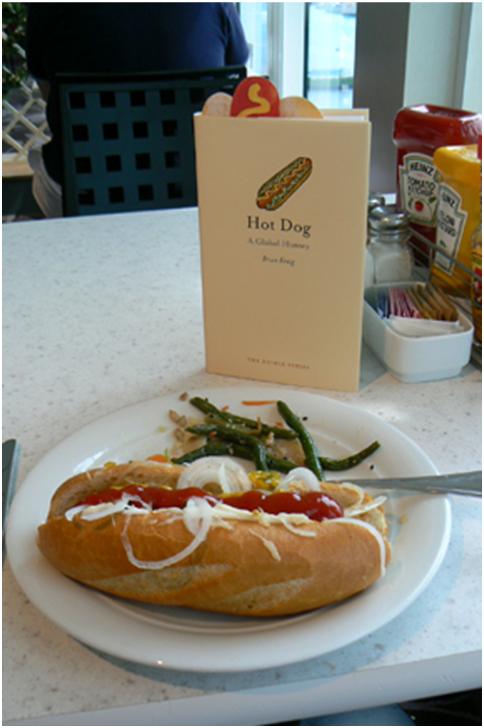 Lunch, then nap, then waiting for more canasta which never happened – Marcelo's Segway Tour of the city ran long.
No clues on dinner. We are now down to just the one bottle of wine in our liquor stash – unless you count the two bottles of Gin I picked up from duty free this morning.
[? ? ?]