Well, it is definitely winter…. rain, rain, rain. The perfect day to do four loads of laundry, run to the bank and deposit checks that came in while I was gone, sew a table cloth, refill the meat locker, abandon dinner plans with Swanda (now on Sunday), and generally chill out and catch up.
Among the items on the agenda – altering (to add tags) a photo from last Saturday of Aviation Geekfest 2010: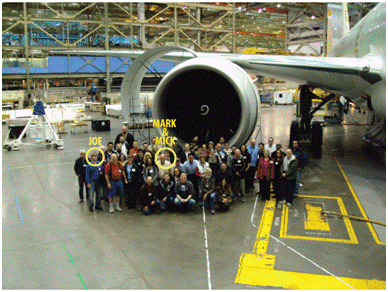 I think you could put us all inside that engine from a 777.
I alternate between wanting to be a homebody, and wanting to be a travelbody. FYI – a ton more of information arrived today for the Thailand Trip (Nov. 12-22). Don't think there is much hope of upgrading the flight (thank god for drugs), but at least I can check in WAY early and try for a better seat – electronic records come this weekend.
Chicken Kiev, or was it that other one, for dinner tonight – with a spinach and bacon side (salad? But it's hot).
Off to Oly tomorrow for dinner and to deliver Hawaii presents.
[231.2]