Up at 9:30… look, I'm getting closer to Seattle time!
Pucci made a couple of damn fine omelets on his return from the gym… filled with some hot Italian sausage which I forget the name of, some green onions, some mushroom, a little fresh rosemary – not that's the way to start at day.
We are out of the house at 1:30, and by 2:15 I have taken the Red Line from Alewife to Park Street, the Green Line one stop to the Blue Line at Government Center, the Blue Line to the airport stop with its free shuttle bus to the airport – if you think about it, that's pretty damn quick… from house through security in 45 minutes with a car, three trains, and a bus. The joys of Alaska being in Terminal A in Boston – the first stop on the shuttle route.
Here is the view from the Sky Room (formerly known as the Crown Room before Delta and Northwest merged):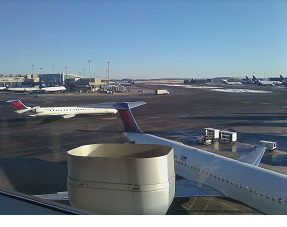 The merger must be fairly far along – I haven't seen a Northwest painted plane in at least six months.
Flight boarded on time, but then had 45 minutes of taxi time… still managed to arrive on time though.
But in between there and here, I must complement Alaska on their 1st Class meal on the way home. A wedge salad with all the trimmings, lamb chops in a red wine reduction (complete with a fresh sprig of rosemary), scalloped potatoes, and a two-toned roll that tasted exactly like a pretzel. Dessert was a little raspberry tartlet with a dab of whipped cream and a reasonably fresh strawberry. Nice and warm and full of seeds which luckily I don't have diverticulitis (for which seeds are a no-no – apparently they get lodged in ugly places).
Was home and unpacked by 10pm, going through a big stack of snail mail.
Plan is to wake up in the morning all caught up.
[? ? ?]