Very quickly settling into a routine here… SurfBetty gets up at 5:30am, get's the coffee made, gets his breakfast in him and then is out the door as the light is starting to break over the horizon. It's the quiet time on the water in terms of people, and closest to the low tide, so better waves are coming in. Today's waves were at 0-1 feet, 1-2 feet expected in for tomorrow.
Full surf report weather conditions here: http://magicseaweed.com/Waikiki-Surf-Report/662/. It puts my long not updated Pacific Northwest Surf Report to shame (leftover from my time hanging about with Surfer Bryan).
Me, I sleep in, wake up to hot coffee, have my quiet time, work on the blog and basically putter until SurfBetty is back from the beach around 10 or so.
The Girlz, a.ka. Dos Lesbinas, have borrowed a car from their local friends – as we find out during the day of driving, a truly local "Hawaiian Jalopy". Definition – a car that still runs, but many of the things on the car don't work, but there are too many things wrong with it to justify the cost of fixing it. The list…
Power steering pump is shot – drives like a battleship
Speedometer intermittent
Owner filled it up with oil in front of the Girlz' condo when dropping it off for them
But the radio and air conditioning work, unlike their other car they offered – and, all-in-all, don't look a gift car in the mouth. If it gets dinged, no big deal – smashed, bigger deal, but not much.
First stop is Leonards for these Portuguese filled donut things called malasadas. I'm not much of a donut fan, but the are damn tasty – and always fresh out of the fryer.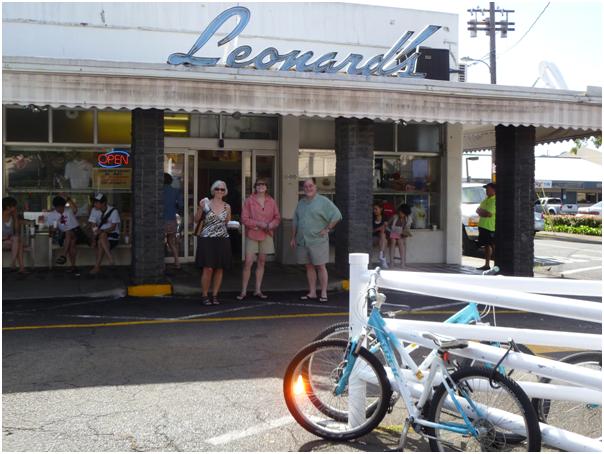 Up the HI to the old North Shore highway (99) with a stop in Haleiwa for refreshments for some, and Hawaii license plates for myself and Julian (nice ones – state vehicle plates at 50% off).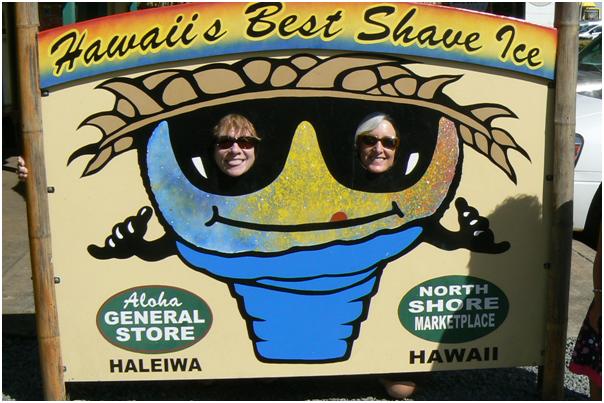 Next stop was Pipeline – the famous North Shore surfing spot. We really lucked out here… easy parking for "The Battleship" and a shady spot on the beach to watch the surfing.
Jeanne and SurfBetty thought about trying out the boogie boards we had with us – I was making the argument that when there are two red flags flying (no swimming and serious rip tides) that it might be best left to the pros.
Next up it is shrimp truck time …. First up, Giovanni's north end location (south end location just south of old Haleiwa town):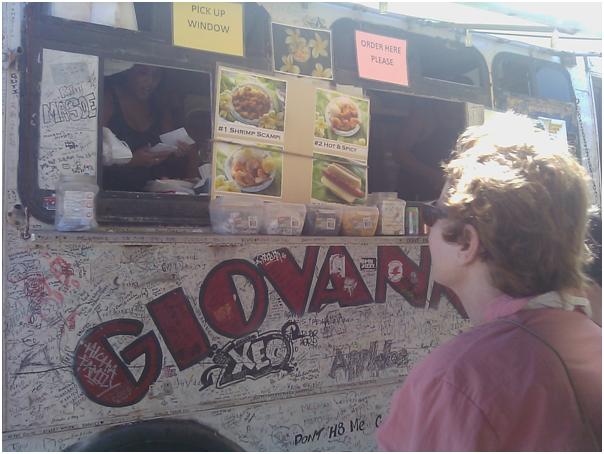 $13 for a plate of Shrimp Scampi with a side of hot dipping sauce, two scoops of rice and a wedge of lemon. Damn messy, damn tasty.
Back to Pipeline to see how the waves had changed in a couple of hours… the rest of the crew on the beach, me at a picnic table watching the White Rasta massage guy work over surfers.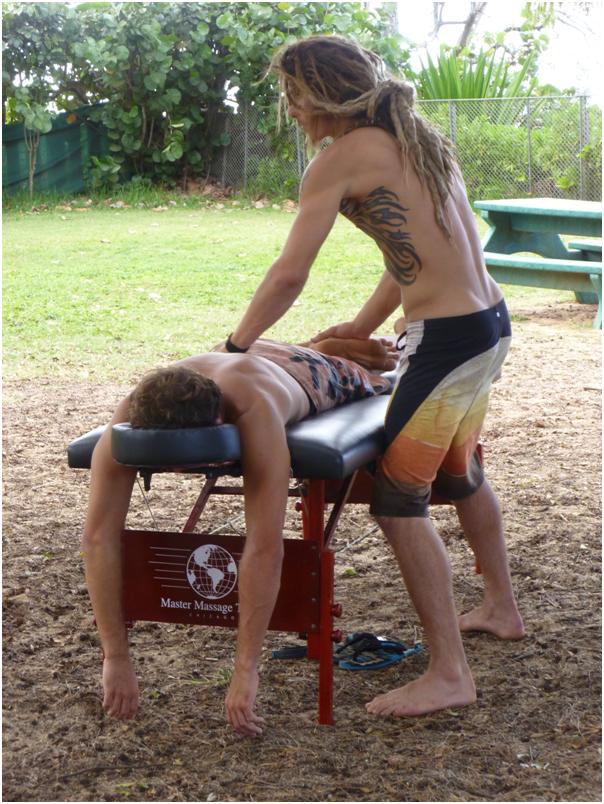 With a quick stop at a fruit stand, we are off to the other famous (of many) shrimp trucks to try the deep fried coconut shrimp at Macky's.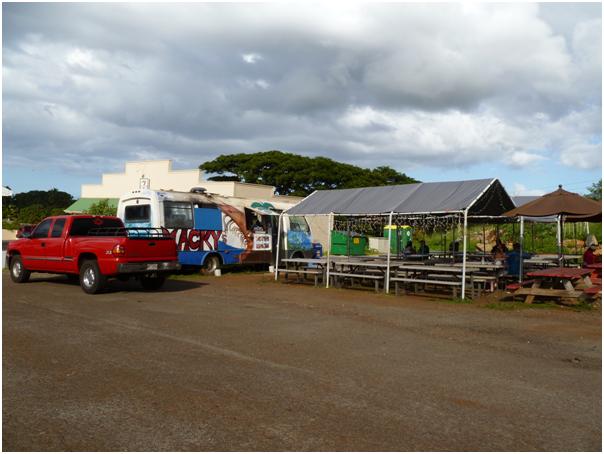 Ambiance wasn't as good as Giovannis, but the coconut shrimp were very rich – we just got the shrimp, not the sides, so we each had two shrimp, which was perfect – I can't imagine how I'd feel after eating an entire plate of shrimp that rich.
We take the direct route back to Honolulu (H2 to H1) to save a little time, but it still doesn't stop us from getting caught in rush hour traffic on the way back to Kmart/Salvation Army on a supply run for the Girlz. They need glassware, a plunge blender (for smoothies) and a yoga mat… and I, of course, have to see if there are any new shirts or maybe even an electric griddle.
Jeanne snagged two glasses, I got a Hawaiian Airlines wine glass for my collection, and most importantly, I found a really cheap (because of one broken handle) electric skillet — $5.00! And it works – plugged it in and 5 second later the thing was getting toasty. Score! I guess that means tomorrow's post will all be about kitchenette cooking.
After a further supply run to Safeway (with Jeanne parked for half an hour in the loading zone because of the steering) we were all frazzled and ready to part company after a long, lovely day.
SurfBetty and I ended up just having a poo-poo platter around 8 and calling it dinner, and then called it a night.
Pooped all around.
[? ? ?]