SurfBetty was up and out early… the routine continues… but now with a new twist… I can actually cook a decent breakfast. Yesterday's score of the electric skillet ($5 !!!)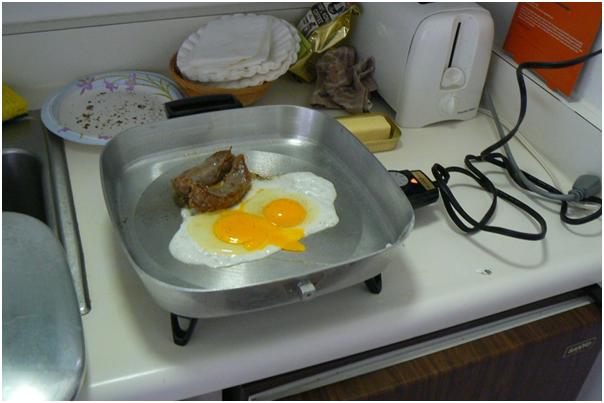 Too bad I broke the second yolk… and speaking Kitchenette Kooking™, notice the butter "dish" at the upper right hand side of the skillet – it's a washed out smoked oyster tin.
Nothing on the agenda today other than spending a little time in the sun and continuing my readings on Jewish Mysticism … such nice light vacation reading.
The Girlz called at cocktail hour to invite us up to their rooftop deck… I accepted, but SurfBetty headed back to the beach for another surf session – and I used this as an opportunity to copy the SurfBetty CD from the first day with the professional's shots of SurfBetty in action.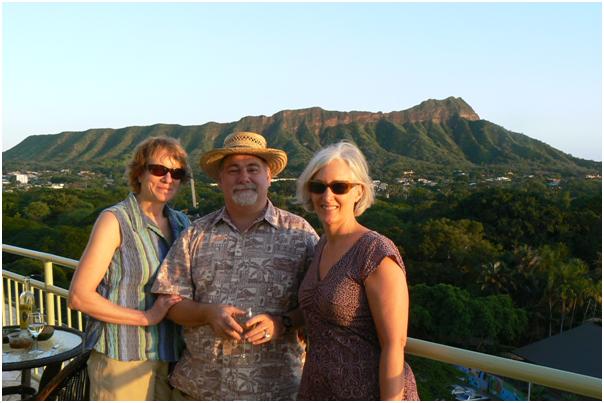 Back at the room we used a third of the chicken stock (the rest has been frozen into ice cubes in the single tray they provided) to make an Italian Sausage Dirty Cajun Rice dish with a side salad (leftovers from this will be used for lunch time roll-ups).
Not a bad looking (and tasting!) dinner.
[ ? ? ?]