SurfBetty no surf this morning… something about sleeping in – in anticipation of a red-eye flight back to the mainland this evening at 10:30pm.
As we look back on the week plus, this shot never got posted, and SurfBetty finally agreed to it. It's a take on the old Coppertone® commercial from years ago: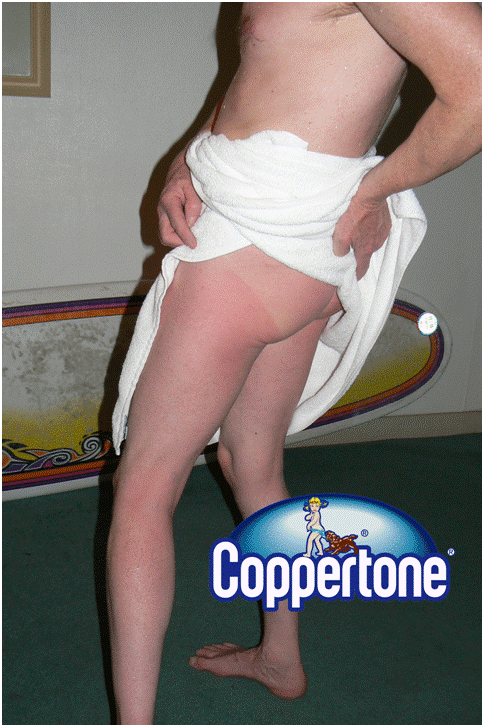 It was from his first day of surfing, and the resulting burn from where he missed slathering up.
Got to go pack, I'll update this at the airport later today…. Come back for the update.
EARLY EVENING UPDATE!!!!!!!!
A lovely lunch at the Pink Palace, a.k.a. the Royal Hawaiian — SurfBetties only previous Hawaii experience… no kitchenettes but I'm guessing a much better view.
SurfBetty had the Royal Greek Salad, I opted for the poke trio (octopus, shrimp, ahi) — apparently that seafood poisoning isn's stopping me from having seafood.
Back to the hotel to lay about the pool and lobby area — SurfBetty went to return some coral to the beach as I mentioned something about it being bad JuJu to take rock or coral off the island.
Shuttle was 15 minutes late, but still got us to the airport by 6:45pm (for our 10:30pm flight). And that crazy Alaska doesn't open it's check in counter until three hours before flights, and we had to check-in with all the luggage we had This has happened before and it's a gripe…. that and the fact that it took THREE terminals to finally find one that would print our boarding passes — really — one of the machines wasn't even loaded with paper for either of the printers attached.
Baring that MINOR snafu — by 7:30pm we were in the Delta Sky Room having drinks courtesy of the reciprical agreements between Delta and Alaska Airlines.
And who knows — now that FaceBook is free on Alaska through the end of February, might post from 30,000 feet before we get our of range. Aloha Waikiki, hello Bellingham — luckily I can slept in the car on the way down (and while SurfBetty packs for his cleaning trip to Seattle.
[? ? ?]