Nice to have some work flowing again, even if it's just a little – certainly more fun than the hour spent at the dentist following.
After a quick stop at Safeway it was off to meet the wife of a guy who bought my 1960 T-Bird with a factory sunroof from Stewy, who neglected to transfer the title half a dozen years or year ago. Bad Stewy – so, it's off to the bank to notarize a "avadavat of title" so the poor guy and actually register his car after continuing to do all the restoration work on the thing. Here is a picture of what I'm talking about (the car, not the avadavat):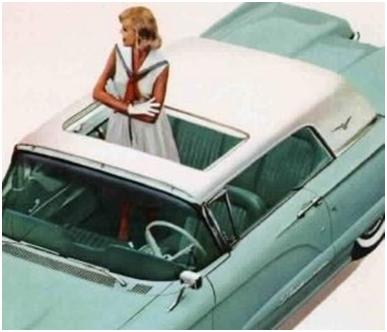 Mind you, to stand like that you'd almost have to take the front passenger seat out (or at least slide it all the way forward and flip it up. Mine was actually titty pink – but the guy who bought it can't stomach the thought of driving a pink car in Granite, Washington, so it's going to be black – so that's not that bad. Here is more information.
A steak for dinner – the first in a long time, then back to packing for the next trip… Galena, Illinois (flying in/out of Chicago).
[230.1]