The million dollar question at breakfast this morning . . . what time will the train arrive in Toronto?
Answer: 11:40, a little over three hours late.
Not a problem for me, but there were many people with a two hour connection, not at an eight hour connection. From getting off the train and into the lobby: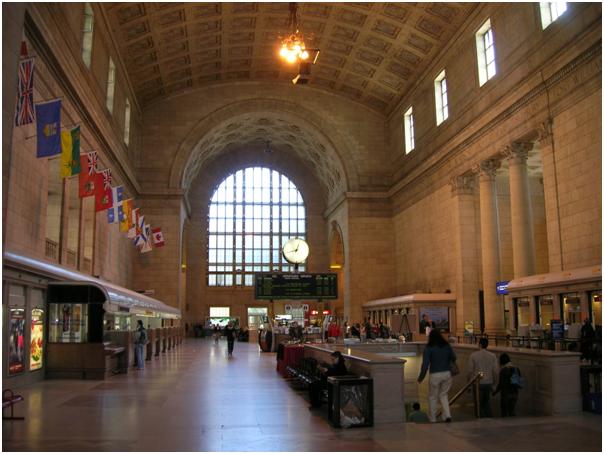 And down stairs to the subway station . . . the joys of a big city and integrated mass transit. One subway a couple of stops, another subway to the end of the line, then onto an express bus with no stops all the way to the airport (of course, mine was the third and last stop at the airport on the bus).
Had lunch at a "pub" in the airport – – the Montreal smoked meat sandwich didn't stand up well to the one in Vancouver so I won't mention the name of the "pub". Next up, uploading the last round of pictures and some of the videos from the trip. Pictures are on FaceBook® and the videos on YouTube® – you can get the link to the videos here.
Flight number one was on-time. Hurray. And I was surprised by the 1st Class seat in the Embraer — they are normally much smaller than a 1st Class seat on a full-size jet, but this one was just a little smaller, and all by its self on the right as you enter the aircraft.
Flight number two was on-time and would have been early but there was a back-up at the gates, so we waited.
Back to mass transit for the ride home. Why are all these hot young guys on the train at midnight — duh, it's Saturday night.
Home and straight to bed.
[? ? ?]