Ah, the joys of being able to sleep in and have coffee delivered bedside.
Spent the morning reading scholarship applications. It never fails to amaze me the number of people who don't read the list of requirements. Usually it is the portfolio that is strangely missing.
Mark Stephen Souder Scholarship for Information Dissemination


Offered to a new or currently enrolled student attending full time who demonstrates an interest in information dissemination, e.g., writer, Web designer, teacher, musician, activist — anyone helping to influence the way people think about their world, to change the concepts of "nons"—"non-residents, non-Caucasians, non-heterosexuals — to create a more equal, intelligent and compassionate society. Preference will be given to non-resident gay or lesbian students, demonstrating quality and creativity of prior work in the area of information dissemination. Financial need will also be considered.

Requirements

Letter of application addressing your passion for and level of expertise in the dissemination of information. Tell us where you have been with this concept, what you are doing now, and where you want to go in exploring how information is shared.

A portfolio of work that expresses your beliefs about information dissemination and demonstrates how you have put those beliefs into action.

Two letters of recommendation from individuals, other than relatives, who have personally experienced the power of your work in information dissemination.


FAFSA or Renewal Application

. _______________________________________________________________________________________________

By 1:30 or so both Curt and I had finished reading all 15 of the applications (stack size 2″), which is down from the 21 applications last year. I would have thought more would be applying, but apparently the economy is so bad that students and prospective students can't even afford to think about college.
I ran out to Summit Lake to see how the progress was coming, and see Julian who had driven up from Portland to help his brother out. They were down to the last, and hardest, panel on the car port when I got there.
Lunch for me was at the Ranch House BBQ just a couple of minutes from the rental. Pulled pork sandwich with coleslaw and potato salad, washed down with a glass of Petite Syrah that had been open a little too long.
Work was done by 3 and we headed back to the Westside to drop off his truck. My surprise for Jameson was taking him to the musical instrument store from yesterday, and convincing him that he REALLY needed to buy a ukulele. The ones I had priced were from $54.95 to well over $300. Jameson settled on the $99 Portuguese one that came with a bag, pitch pipe, and cord descriptions. To push him over the edge I picked up part of the tab.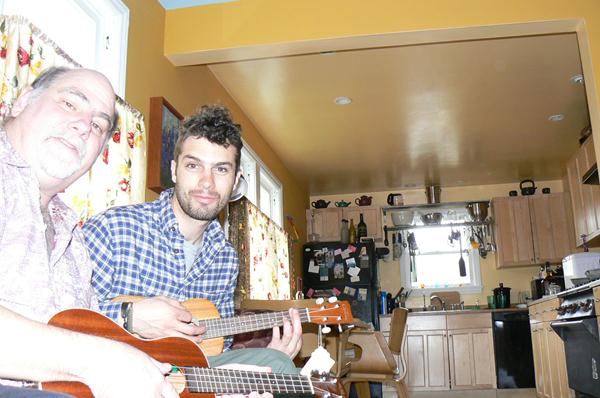 We got back to the house a little after 5 just in time for the nightly news and the nightly cocktails.
Dinner was flank steak pinwheels, brussell sprouts, salad and a little red wine.
After dinner it was time for Jameson to start on the scholarships. And the winner is….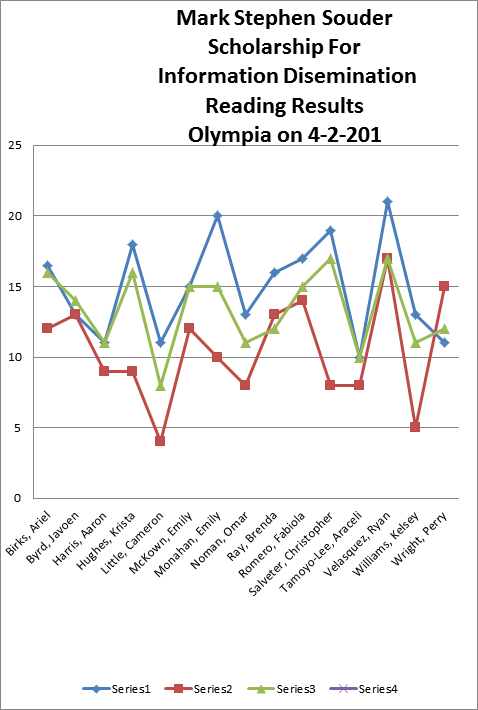 [? ? ?]