Really, NOT ENOUGH SLEEP. Frankly, I think that applies to Rich, Curt and Myself. My alarm went off at 5am, and Rich was already up with coffee made. Ouch.
Out of the house at 6am for the airport. Curt running the shuttle (Rich's mommyvan) because he has a later flight and a place to park the van and get us shuttled to/from.
Check-in — no problem
Board Room at SEA — no problem
Flight to LAX — no problem but 30 minutes late getting in
Duty Free at LAX — rushed (really? THREE liters per person of booze into Mexico? We bought the stuff that's expensive South of the Border and will save the tequila, rum and brandy for purchasing in Mexico)

Board Room at LAX — didn't happen, no time
Plane to SJD — boarded on time
Left the gate almost on time, before heading back to the gate to sit on the ground for 2 hours while they tried to figure out why the planes transponder (the thingee that tells air traffic control who you are and what altitude and direction you are). But no cocktails. The flight attendant apologized saying had she known how much time she would have served us.
So, we deplane sober and march to gate 30 where they have commandeered another 737-400 that was supposed to be flying to Seattle. No, not our original inbound plane, I checked. So we board and all the Seattle passenger march to our old gate, and our dead airplane. I had to check to see how they fared:
| | | | | | | | | |
| --- | --- | --- | --- | --- | --- | --- | --- | --- |
| Departure | Scheduled | Actual | Gate | Arrival | Scheduled | Actual | Comments | Alerts |
| Los Angeles | 4:10 PM | 4:32 PM | 31A | Seattle, WA | 6:45 PM | 7:09 PM | Â | N/A |
They must have fixed our original plane, but with the crew approaching the end of their allotted time I see their reasoning. At least the Seattle folks were only delayed twenty minutes (and we got 1000 miles for our "inconvenience").
We arrived in Cabo to find Curt patiently waiting (after two Pacifco Claras and a Ceviche at the stand outside the international terminal), and our driver who still had to wait for three other delayed passengers.
It was 9pm before we got to the restaurant at the resort (closes at 10pm), and we were all tired and hungry. The only thing that made up for it was the room.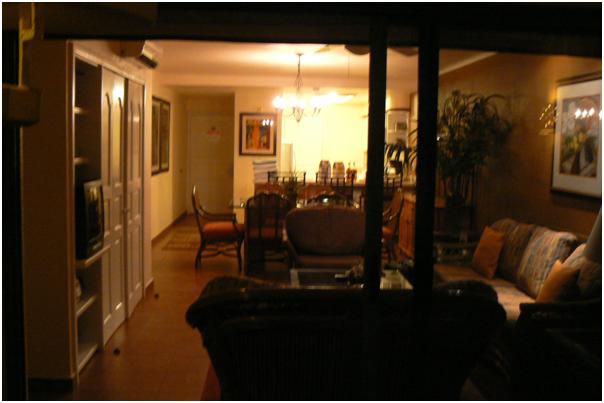 This is a bad late night shot of the living, dining, kitchen area. Two bedroom, two bathes are to the left, and up above via a spiral staircase is a rooftop deck with three nice chaise lounges, a table for four, a wet bar, and most importantly, a hot tub and a stunning view of the ocean.
Pictures tomorrow.
[? ? ?]