A lovely scramble this morning, but unlike travelling with the boys, no Bloody Marys in the AM. Probably just as well.
Today's search if for martini glasses… our current ones are plastic —¦ not so nice. Struck out at the first "boutique resale shop" unless I was willing to pay $25 for a set of 4 matching "artsy" martini glasses. Stop number two was much better — closer to a junk store than a thrift store. When we walked in, the guy (kinda cute) behind the counter said that everything was 50% off today. Found three Mexican blue rimmed martini/margarita glasses at $3 apiece, which when he rung it up initially as $6.50 for the set. Might have been the wafting smell of burning cannabis we smelled upstairs that clouded his math brain. We settled for $4.50 plus tax.
That shopping out of the way it was time to swing by Staples to check out a possible new laptop for my aging Gateway model that is routinely overheating, especially when placed on granite countertops (like they have in a lot of WorldMark units). I'd seen an ad in the Sunday Steamboat Springs Times (or whatever it is) for a $599 laptop marked down to $399. Yes, they had them (but not the $345 model), but the pricing was the old pricing on the shelf… not going to sell many that way! It's a Toshiba C655 with 320gigs of hard disk and 4gigs of ram (the $345 model only had 3gigs of ram, worth the extra $50 in my mind). Now for the joy of getting all my programs reloaded on the new beast.
Here is a great shot of said granite countertop: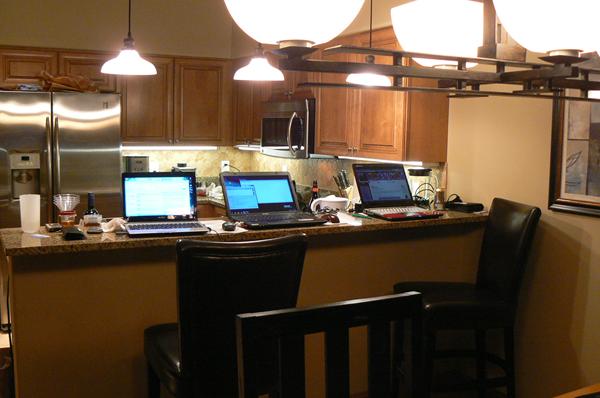 Dan's machine is on the left, my new one is in the center, and my dying one is on the right. I'll probably be looking to dump my old machine (3gigs ram, 280gigs hard disk) when I get back to town. Known issues are that it runs hot, so either don't leave running all day or put a fan unit under it, the DVD drive doesn't seem to work, and the HDMI out only does video, not sound. It does have a 1.3 megapixel webcam and is decently fast with a 1.9GHz AMD Athlon Dual-Core processor. Knowing that, at $150 it's still a hell of a machine for sale.
Tonight's dinner is these stunning hunks of tenderloin that Lisa found marked down at the market — two inches thick. Here is a quick video of the BBQ area and surrounds from the WorldMark Steamboat Spings:
Here is a shot of the finished meal — and let me tell you that filet mignon or tenderloin or whatever it was, you could cut with a butter knife. I wish we'd bought the other two packages as well!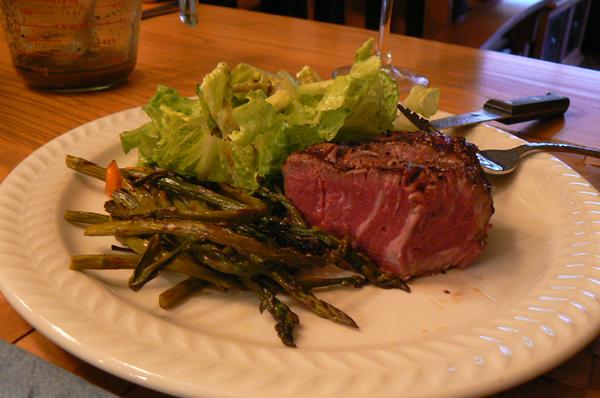 Lisa did the salad and the roasted asparagus and orange bell peppers. I supplied a 2003 Bonny Doon le Cigar Volanté which was stunning with the meat. Velvet in your mouth.
More hot tub action after dinner, then the kids retired and I stayed up a little longer, as usual.
[? ? ?]