I had to force myself out of bed this morning, yet another "owner re-eduction camp", Hey, it $75 for what turned out to be 35 minutes, apparently he'd pulled my file and found I'm a "re-education" junkie, or at least a money junkie. Did learn a few new things, like they have 7 year's worth of inventory/points they need to sell before they can build any more new places. To try and change that figure they are dumping inventory back on the developers to sell to other people (for both cash and the ability to add new places). Also learned that two buildings of the proposed Granby resort here in Colorado are built, but boarded up. Not enough demand to hire the staff to run it.
A little before noon we were on the road to find a road trip road. First we swung through the mountains.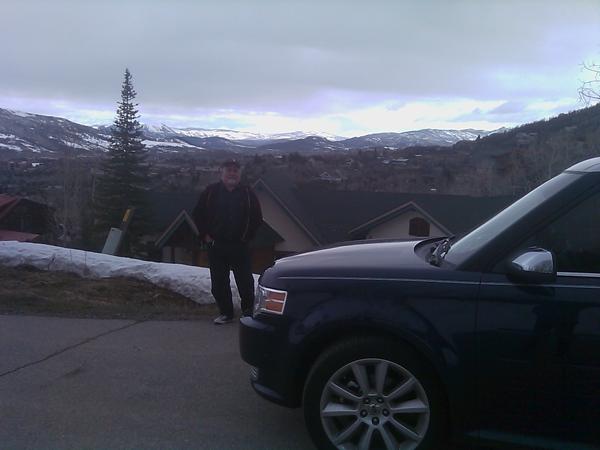 This shot is from above Steamboat Springs. Next stop the visitors center to get a map and a quest. The destination, Steamboat Lake. No picture there because the road ended in a snow bank. No sense taking a picture of a big snowy field with a lake buried under it. At least the woman at the visitors center was friendly, answering my bird question (some sort of magpie) and selling us trinkets.
Finding lunch off season proved a little harder it being off-season. Probably should have held on and had lunch at the house rather than the grocery/deli/gas station/liquor store. Wasn't bad, fresh made, but a little on the bland side.
Dinner on the other hand was anything other than bland.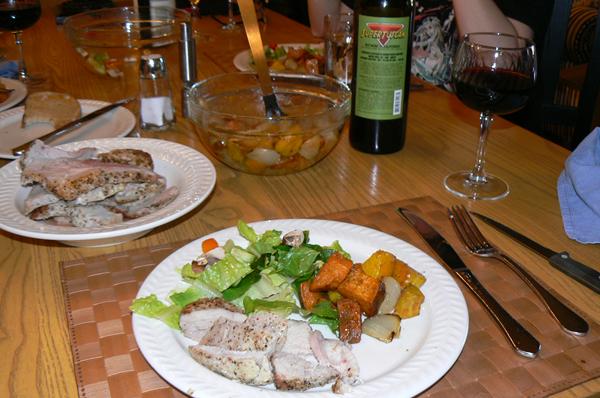 Pork roast over a bed of root vegetables (yellow beats, yams, onions, garlic), a nice salad, and a Bonny Doon Super Tuscan. Why do I feel the need to italicize Super Tuscan?
No hot tub tonight, but I did finish the Wild Turkey 101 proof rye.
[? ? ?]