Slept in a little today, but by 11 was fed and we were on the way to the Boulder Farmer's Market. It was a total pain to park, the crowds were huge, and it was too early in the season for a ton of stuff (as in vegetables) to be available.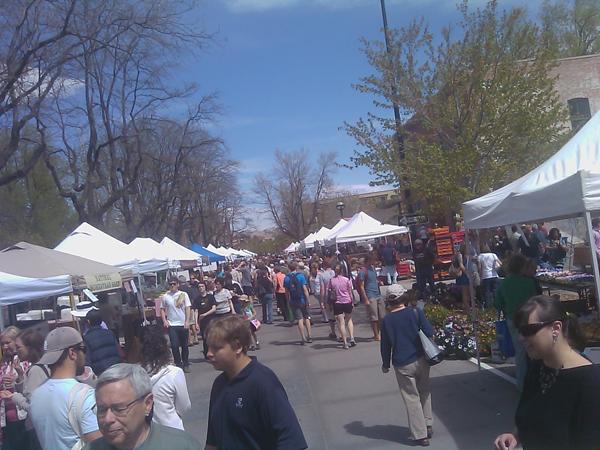 There was, however, tons of eye candy so that made the crowds almost bearable.
While Dan and Lisa finished the vegetable run at the local Sunflower Fresh Market, I wandered next door to the Goodwill. Score.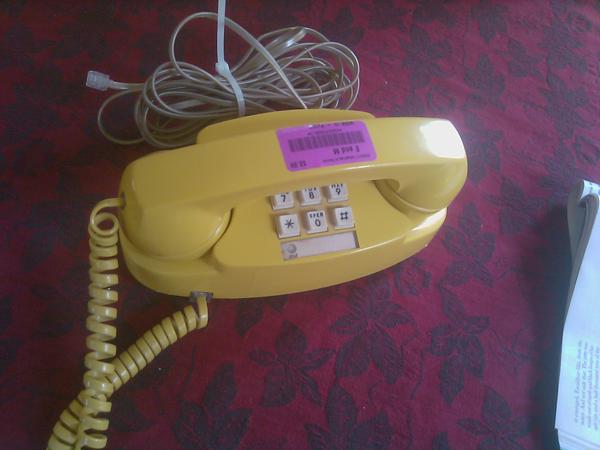 It's not the multiple line yellow phone that I was looking for, but it will go well with the yellow "Charlie's Angel" speakerphone that renewed my phone quest over the last year. Not a bad deal — $2.99 and because the guy in line in front of me asked for the senior discount, they gave me the 15% off without even asking, which is good because I'm not quite that old… yet.
By 2:30 we were on the way to the airport for my 5:30 flight. I had just enough time in the Admiral's Club to watch the most exciting two minutes in sports, a.k.a. The Kentucky Derby. My horse (Mucho Macho Man) didn't win, but came in third. Jimmy did much better netting a little over $50 from his bets.
Painless flight, which is what you want. And I did my good deed for the week — trading seats with the guy in the window seat. And I was rewarded at the end of the flight by getting propositioned — be careful who you hand your business card tt — half a dozen texts later (after we disembarked) I'm turning down his invitation to from 306 in some Bellevue hotel. I must say though, it's the first time that's ever happened.
Took light rail back to the apartment and hung out with Swanda (aka the Package Princess) for a bit, picked up my packages and hit the road.
Flight days are always long days, no matter the distance.
[? ? ?]
Â