More last minute printing while packing for ??? number of nights away.
I was delayed because my internet provider, ClearWire has my internet connection bouncing up and down like the bedsprings under a hooker.
When I finally got out the door with the top down it was after noon, and by the time I was at the Longhouse Gathering it was a little after 1pm, a few crumbs left from lunch and everyone headed towards Heart Circle — something I couldn't imagine doing just driving in, and then unloading, as it were.
So that left me sitting at a picnic table and starting to fold and stuff. For a while it was me, but as with Tom Sawyer, soon, others were showing up to fold, stuff, seal. Many hands make light work.
Today's picture is from dinner (pasta with marinara sauce, salad, garlic bread) with a little wine that the rubber chicken seems to be drinking.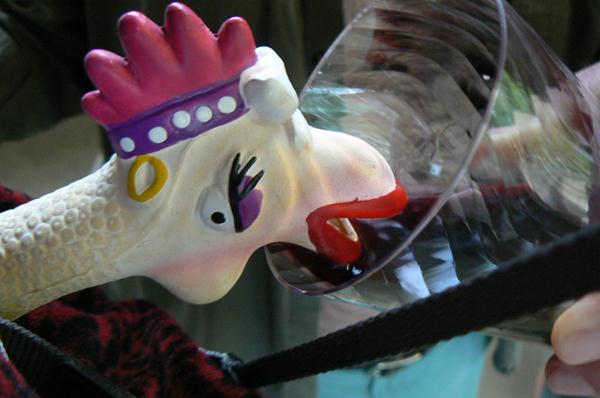 After dinner was the talent show — I've posted pictures on Facebook for those of you interesting. Well, I posted all but the ones that didn't meet Facebook Standards. I think it's the first time in a while that there was a full-fledged talent show at the Longhouse gathering — thanks to the Venusian's for constructing a stage.
I was able to snag a spare tent for the night, but it seems that I forgot to pack socks. I didn't want to set up the tent I brought as it's a bit small, so it was a relief to find an open spot. We'll see if I spend another night celebrating in a peat bog just off the highway.
[229.4]