As all you reader know, I dislike early days, but a boy has to do what a boy has to do to have a good time.
Bailed on the bed at 3am to get some serious REM sleep before TWO long days.
Thank you Fernando for making coffee in the morning that eased me back into the day well before I'd like to be up.
Luckily I'd prepped all the breakfast materials (eggs cracked, mixed with the cubed chicken and cubed goat cheese) so it was ready to warm the pan and fry, popping toast into the oven.
We were out of the house at 8:30am, half an hour before my self-imposed deadline. Suddenly we have dinner plans for CaddyDaddy before Fernando goes to the airport. I also packed sandwiches last night for the road, and Fernando's bananas (with STRICT instructions that they were to be EATEN BEFORE the border).
The signs at the border said 60 minutes at the Peace Arch and 40 at the Truck Crossing. As much as I wanted to show Fernando the Peace Arch (much prettier crossing) off to the Tuck Crossing we went. And they give me a 10% off as a Nexus Card holder (except on sale combos, like the two Weiser Whiskey liters I bought).
Border was actually a half hour when we skipped the line (which you get to do with a Duty Free purchase) and off to lovely Bellevue for a taco run, a bank deposit, then a short tour of the Microsoft Campus (he's a MAC guy), and then home to start cooking dinner for now three.
Here's a great shot of Fernando and I before dinner: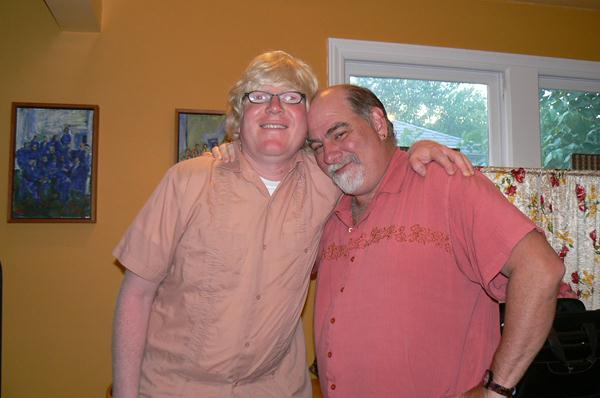 I'm guessing I should put a shot of last week's guest in the same location, but that will have to wait until I remember.
Tonight's dinner is a slab of ribs that I put on the grill/smoker, a loaf of rosemary challah out of the oven, some roasted potatoes and onions, a massive salad, a little Gruet Rose method de champagne from New Mexico and a ton of good conversation.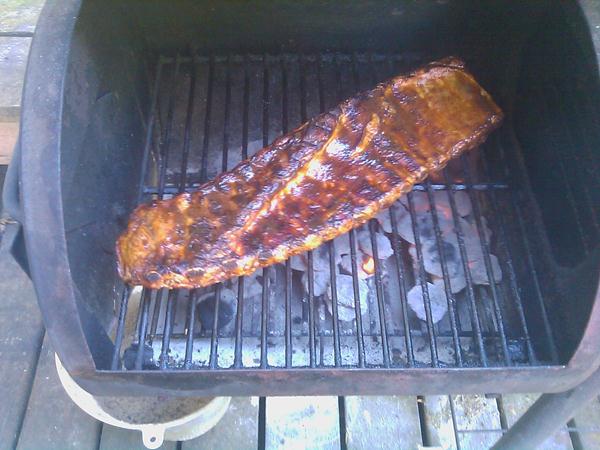 And then after dinner….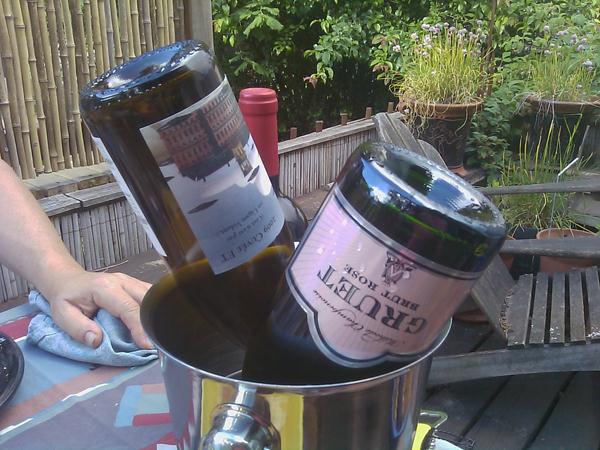 Next year, Boston?
To bed early as tomorrow is an early gnarly day.
[? ? ?]