The day was filled with a visit from Suze and Jim to work on artwork frames. Left them in the garage to lock up while I went shopping for a wine cooler for the shop. It is getting into the holidays and we really need something larger than the dorm fridge that I got from UW to hold our lunch and drinks.
Here is what I came up with, and it was cheaper locally, and deliver will be free. Downside is that it's a 2-3 delivery time so we'll have to borrow one of the reps glass front fridge in the meantime.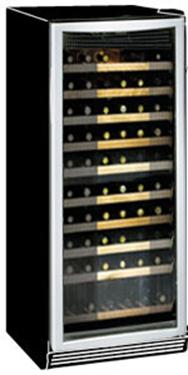 Holds 75 bottles and its $780. We got tired of waiting for Encore Restaurant Supply to track down just a regular glass front fridge to use. Might have been a little cheaper, but this will take less modification.
Made it back home in time to bake a little dill rye bread for dinner tonight. It should go nicely with the lamb chops, sautéed spinach and salad. It's nice to have Missy over for dinner — even though she lives just down the block, our schedules rarely mesh.
Fun conversation after dinner, and plans for her to come to the shop tomorrow to set up our books using QuickBooks. She is a pro, and we need to convert from paper. We have only been trying to set this up since August. Her being in and out of chemo hasn't helped, then there was my travel schedule.
Another late night.
[211.7]