So, what is Boxing Day:
Boxing Day is traditionally a day following Christmas when wealthy people and homeowners in the United Kingdom would give a box containing a gift to their servants.[1] Today, Boxing Day is better known as a bank or public holiday that occurs on December 26, or the first or second weekday after Christmas Day, depending on national or regional laws. It is observed in Great Britain, Australia, Canada, New Zealand, and some other Commonwealth nations.
In South Africa, Boxing Day was renamed Day of Goodwill in 1994. In Ireland it is recognized as St. Stephen's Day (Irish: L¡ Fhile Stiof¡in) or the Day of the Wren (Irish: L¡ an Dreoil­n). In the Netherlands, Lithuania, Austria, Germany, Scandinavia and Poland, December 26 is celebrated as the Second Christmas Day.[2]
Although the same legislation the Bank Holidays Act of 1871 originally established the bank holidays throughout the UK, the day after Christmas was defined as Boxing Day in England, Scotland and Wales, and the feast day of St. Stephen in Ireland.[3] A "substitute bank holiday in place of 26 December" is only possible in Northern Ireland, reflecting the legal difference in that St. Stephen's Day does not automatically shift to the Monday in the same way as Boxing Day.
In Canada, Boxing Day takes place on December 26th and is a federal statutory holiday where all full-time workers receive time off with pay.[4]
In the United States, business owners give gifts to people who make deliveries, especially the mail carrier and UPS driver. The gift typically consists of a fifth of Scotch[citation needed]. Even though this tradition is almost universally observed[citation needed] in the United States, most Americans have never heard of Boxing Day. Instead, they just call it "the day after Christmas."
Thanks to the boys on the MMF List, though I think it was cribbed off Wikipedia.
We (Rich, Julian and I) got out of the house a little before 1pm, with the goal off arriving at the WorldMark Birch Bay by 4pm with a couple of stops in Mt. Vernon (gas, groceries, thrift stores).
By 5:30 the rest of the gang had showed up and we started on dinner.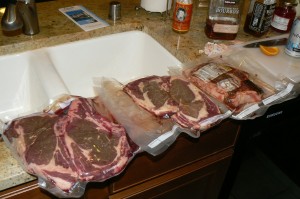 That would be five steaks. For Erik, it was a portobello mushroom stuffed with tomatios, roasted garlic and almonds.
[214.3]