A very late morning around the house. Julian finally rousted at 11:30 and by noon we were on our way for Thai food at Halo Thai on Alberta. We split and order of salad rolls and had the ginger beef as my main. Swung back by his place to drop him off with enough time for a nap before his 5pm class.
Back onto 1-5 headed south to Salam, left on to highway 22 headed for Detroit (Oregon, not Michigan). Stopped at the convenience store to see if I could get a water bottle (no) and grabbed another bag of ice. I was a little surprised that The Cedars was closed. Maybe they just open on the weekends in the winter.
Got to Breitenbush Hot Springs around 3:30 and loaded up the cart with all the crap that was in the back of the Soul (Kia, not Train). There were spots on the way up that made me glad that I didn't bring the Miata, but not bad enough to hitch a ride in the boy's (Mark and Onyx) rented full-size SUV.
My goal of this gathering. Five Days In My Pajamas. Time to start: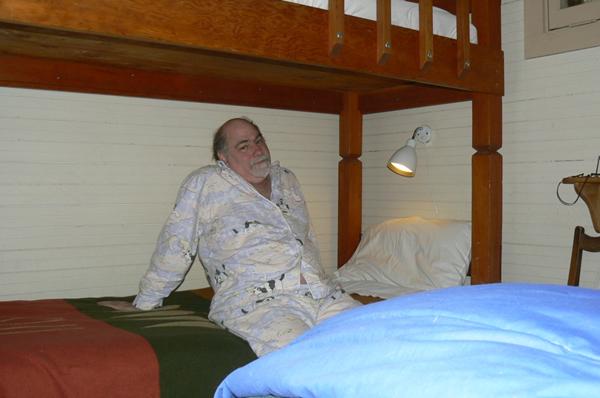 And look, I already have "bed head".
It is always a little odd coming up a day early and finding woman and children in the dining room. But it does help get me settled in and chilled out before the crowds arrive. This year we are looking at 171 folks from as far away as Berlin, a three from Missouri, a few from Texas, New York, beside the many from the West Coast.
Oh, I have another goal. Get caught up on my New Yorkers and magazines, and one book (physical not Ken Doll). Not sure why I didn't throw more in considering how much I read on these long weekends. I might have to break into the handful I have downloaded to the Ken Doll.
Not seeing much of the boys this evening, rarely do during the first day at the Bush.
[? ? ?]