I don't know what it is about this trip, but I can't seem to get out of bed before 10am. Maybe I'm still on Seattle time.
Middle Eastern food for lunch and packed my leftover ribs in my carry-on for later.
Off to the airport at three with two bags to check in:
Case of Arthur Bryant's BBQ sauce
6-bottle carrier with 4 Gates and Sons BBQ sauce, a bottle of red wine and a bottle of whiskey
That left me with two bags to schlep to the gate. And speaking of gates (not the BBQ sauce), every time I fly through MCI (Kansas City's airport code) I am reminded that this was the perfect airport for 1970.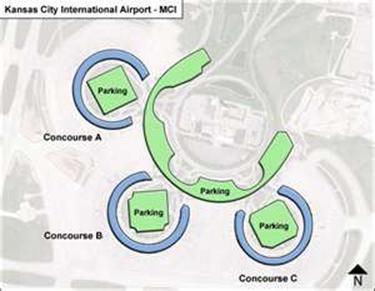 Why? As you can see above, there is no room in the terminal design for screening for an entire terminal, they have to screen by every four gates or so. This means MCI will never be a national hub because people won't put up with being rescreened when transferring flights. It was a massive new airport designed to have people be steps away from their flights. This was pre-jet hijacking. Now it's just a dinosaur.
Got upgraded to First Class on the way back as well. A lovely three-course dinner of salad, then vegetables, couscous, herbed chicken breast, and then cookies fresh from the oven.
Wonderful met me at the airport which was good because by that time I had three checked bags (gate checked my garment bag) and no coat. Off to the apartment we go to pick up my car and drop off Swanda's since Wonderful now has a replacement for his totaled car.
Finally got to those ribs for an evening snack.
[205] analog