Leisurely morning which I needed. Seaside boy was up before me, attached to the video console while I made up for some missing sleep.
Swung by the apartment to pick up mail for Swanda and a parking pass for his sister Janet who comes in for the long Easter weekend tomorrow. Measured the height of the toilet and the size of the bed. I still need to figure out how to get a 4 x 8 x 3/4″ sheet of plywood cut down to 4 x 6′ 6″, and the remaining 4 x 1′ 6″ split to be 4 x 9″ and 3′ 6″ x 9″ to make the bed firmer in his apartment. Maybe Missy has a bit of free time to at least pick up the plywood for me to cut down. This is one of the things that needs to be done before Swanda can return home — which is looking like the 16th after a sleep study to determine his c-pap settings.
Here is a shot of the grab rails in the shower area (sent these to him to show to his physical therapy folks in the rehab center):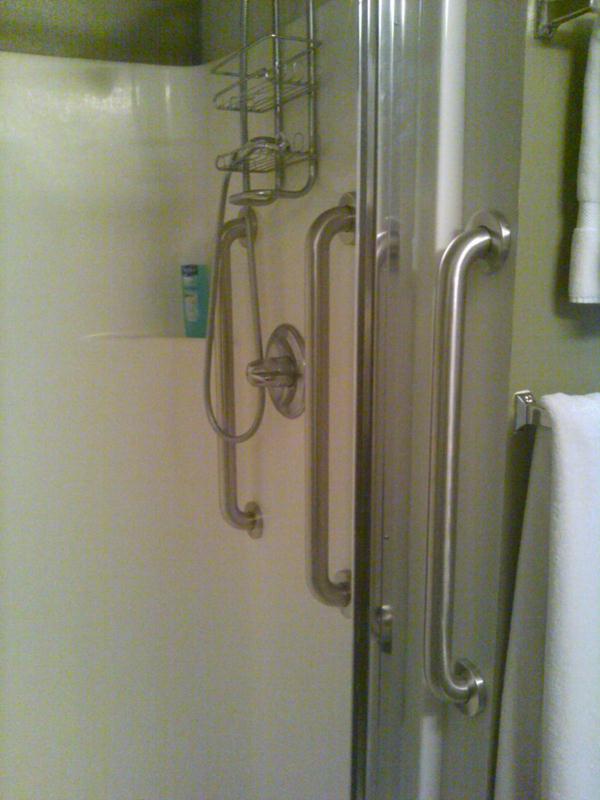 Two bars inside the shower, one on the wall just outside the shower, and one on the wall behind that isn't in the shot.
No really much time for more than a turbo-nap before Wonderful comes over for dinner and to talk about The Great Art Party which is happening in September after a three-year hiatus. For me, yet another work gig that doesn't pay. It's a good thing I'm building up lots of karma points.
Steaks and salad. Boring but nutritious.
Tomorrow starts a three day run of work (that pays). My first Friday (I have my task list printed), then I open on Saturday, have dinner with Jill on Saturday night, then work the Sunday shift, then prepare to leave town. Where am I going to fit the bed problem in. Maybe next Friday when I'm back from seeing the Colonels.
[209.1]