Slow day at the shop even an hour into the Greek Wine tasting, then it picked up – blame the weather? Finished out the day not too bad – half of our Saturday take. Guess I should really thank our bus driver customer who can't come in the shop but gave me his credit card number and told me to pick out of case of interesting and varied white wines for him to try as he's switching from red to wine to cut down on the teeth stains. A little Gruner, a couple of different style Pinot Gris, an unoaked Chardonnay, a little vino verde, a Torrontes – a nice mix. In the box I also put the tasting notes for all of the bottles so he can keep track of what he likes.
Today's picture: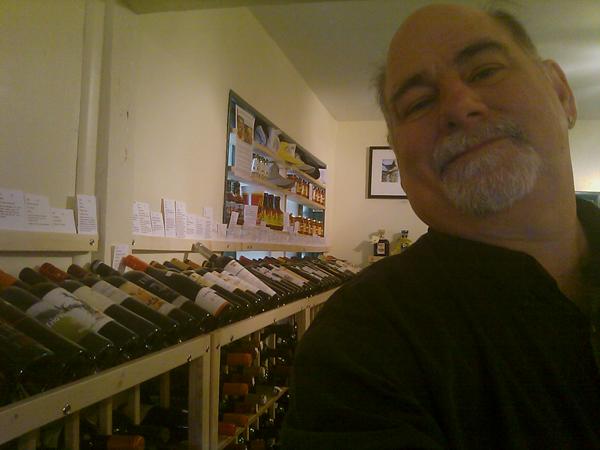 Hard at work picking wines.
After work (Jim stayed to close) which I'm thinking about moving to 6PM on Sundays as we always have a little rush at the end, it was off to see Bliss for cocktails and dinner. A little salad, some grilled asparagus, some grilled pork loin and three partial bottles of wine from the tasting – a white with the salad course, and the two reds with dinner.
A stop at Swandas to fix his CPAP machine and it was home before 11.
[212.9]