I feel surprising good considering that six of us killed 40 ounces of whiskey, a liter of vodka, a bottle of white wine, and two bottles of red.
But a good time was had by all.
A relaxing morning with my flight not until 3pm, but noon sees us packed and out of the condo by noon and off to Barb's Fish and Chips which is a favorite of Swanda and mine.
What a zoo the parking lot was – no handicapped spaces, not anything close. Swanda gave up in frustration leaving me to battle the crowds single-handedly. It was a good thing he didn't as the ramp would have been hard on him, as would the picnic benches.
As for me, I had the two piece fish and chips (10% discount as WorldMark guests) and didn't finish most of the chips.
By 12:30 I was hanging out at the seaplane terminal reading the papers and worrying about my 3pm flight as the 9am and the noon were both cancelled due to fog in Seattle. But a sunny day laying outside reading, watching the boats on the harbor, drinking their free coffee, using their free wi-fi – not a bad way to spend an afternoon.
I got this great shot of the Coho Ferry which I came in on and the very seaplane that I'm about to leave on (15 minutes late but no big deal):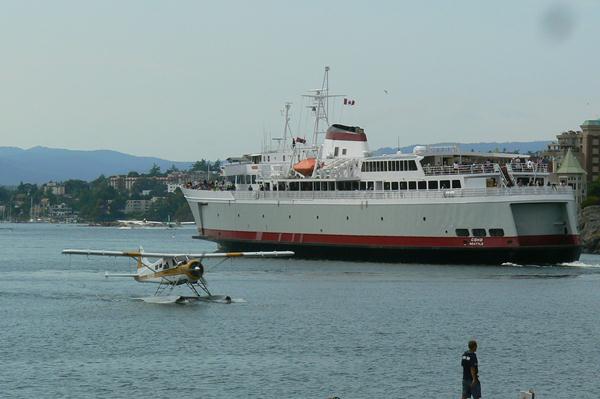 And here is customs and immigration checking the passengers from Seattle. No desk, no computer, just two agents on the dock.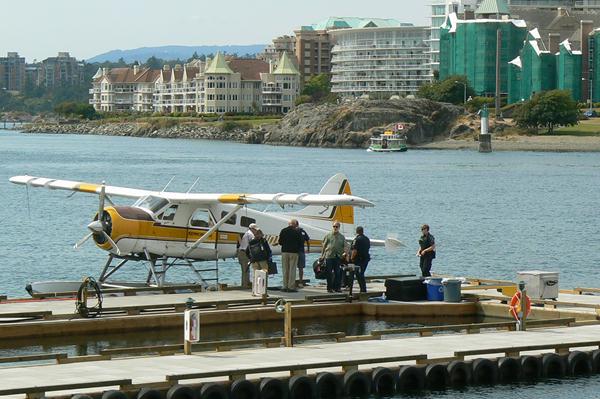 Guess you don't need much for 4 or 5 people. And me on the plane: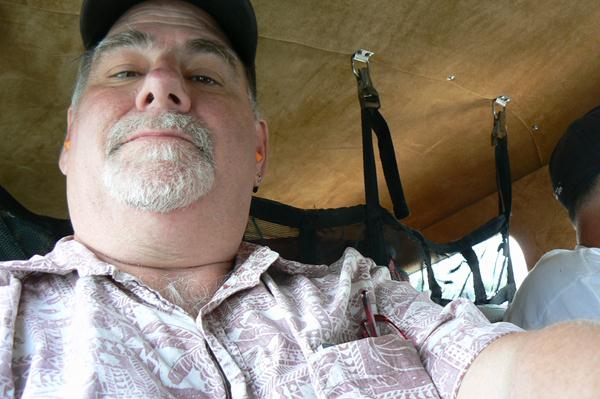 Luckily I got half the back seat rather than being wedged into the middle seat with three – was't quite big/tall enough to score the co-pilot seat. And the view coming into Seattle:
That would be Westlake Avenue in the picture.
Customs on the US side could have gone a little quicker if not for the chatty customs guy chatting about where you grew up, etc.
After clearing customs it was off to hop a SLUT – that would be the South Lake Union Trolley, which I caught to Westlake Station where I switched to Light Rail for the run to the apartment.
By 6:30 I was home, cocktail in hand. Only bummer was that I was out of pop so after dinner I had to run up the hill to hit the bargain bins of QFC (two steaks, 4 jars horseradish, half gallon Evan Williams) and Safeway (pop a couple of other things).
To bed early tonight for tomorrow is work, filling in for Jim who is off in Idaho.
[? ? ?]