It's always an odd day when you get a $2765.19 unexpected check in the mail – apparently my old mortgage company was holding WAY too much in my escrow account – another reason I'm glad to be done with them.
Nice to have a little in the bank, though.
And speaking of the bank – that's exactly where I went the minute I got the check.
Back home after the bank it was an afternoon tweaking the ongoing experiment – let's try Jim's laboratory burner for the copper thing. Plug it in… power light on, turn on element… wait… cold… DOA. And then I remembered the electric skillet I bought in Hawaii with SurfBetty. It worked well: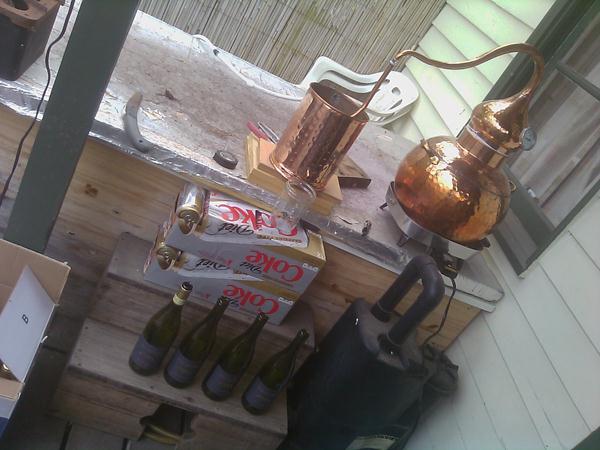 OK – the 12-packs of Diet Caffeine Free Diet Coke are just to hold up the Mason jar to capture the juice.
The four empties are what went into the copper pot. The output is below: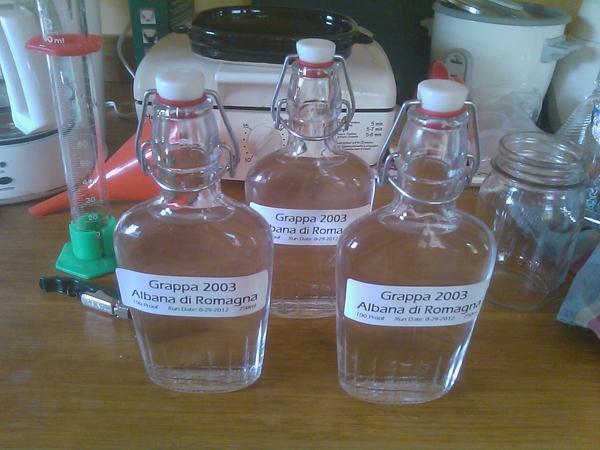 That would be three Italian glass flasks (250 ltr) of a Grappa 2003 Albana di Romagna (that's a grape type). Got about 700ml of 115 proof, topped it up to 750 with filtered water bringing it down to an even 100 proof.
1:50 start at 400 degrees
2:10 first drops — throw out first ounce — turn down to 350 (steam head is at about 88 degrees C)
5:05 turn off burner
107 proof is what the final product is (625 ml)
add water to make 750 ml at 100 proof
Barely got the system shut down before heading off for cocktails with Kev up in West Seattle.
More cocktails during the house tour and then off to Zippy's Burgers for something we both shouldn't have (him = colestoral, me = burger buns). Then to my place which he hadn't seen for a night cap.
We've been friends since my Capital Hill days.
Now all I have to do is get the rest of the packages ready to mail tomorrow, finish the travel books for the new trips (they seem to be piling up) and get prepared for the CouchSurfer from Calgary tomorrow, besides cleaning out the copper queen and doing a proof test on what's left of the wine — according to the floaty proofy thing… it no longer contains alcohol — time to dump the wash down the drain.
Too many chores, not enough income.
[208.6]