Needless to say, after the late night we weren't moving too quickly this morning. It was a little before noon when we got to Pine State Biscuits. The boys split some grits, a hash-up and a side of black-eyed peas (think Southern breakfast) while I opted to disavow my low-carb diet and have the Money Ball which is biscuits and gravy topped with an easy over egg and topped off with a Mimosa. Damn fine food all the way around.
Two hours later I'm rolling into Seaside to see the boy, a.k.a. SeasideBoy. The plan is for two nights and for once he will be staying with me – usually he heads back to his house for dinner.
Speaking of dinner, on tonight's menu are a couple of steaks that I picked up on the 30-50% off rack at the Seaside Safeway, and a bunch of cole slaw.
Only one small problem – the wind coming off the ocean is doing about 30mph and it's impossible to keep the grill lit. The solution, use both burners of the cooktop and the supplied griddle: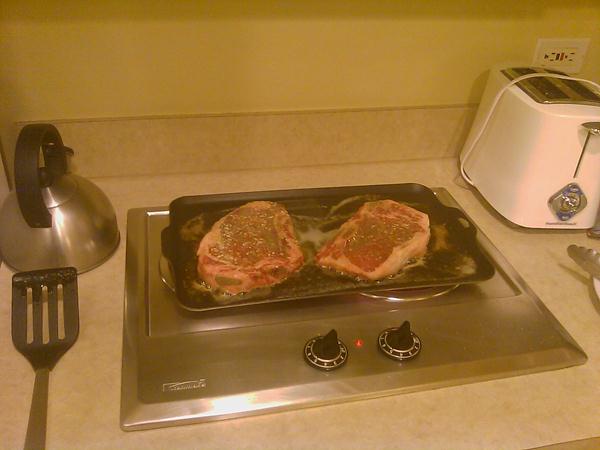 You do what you gotta do when you are roughing it.
And luckily he brought along his Xbox 360 to amuse himself while I worked on the computer – too bad I could never get my wi-fi setup to work – maybe they've figured out how to prevent that.
To bed MUCH earlier than last night.
[? ? ?]