The sore throat has advanced. I'm not feeling in the best shape. Especially since the Zinfandel tasting starts at 10am and runs (for the trade) until 1pm when all hell breaks out and the public is invited in.
Here are some lovely pictures from the event: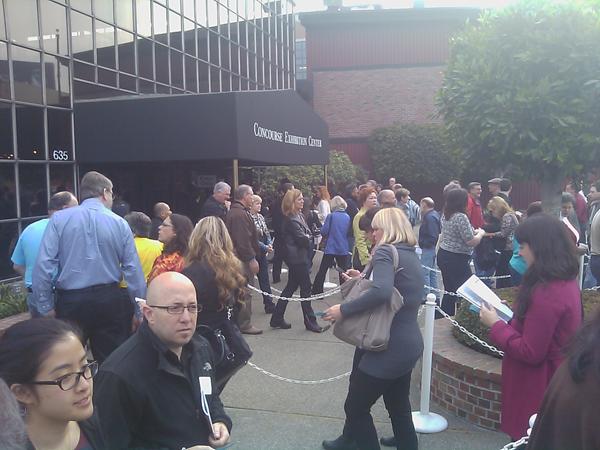 The queue up to get in.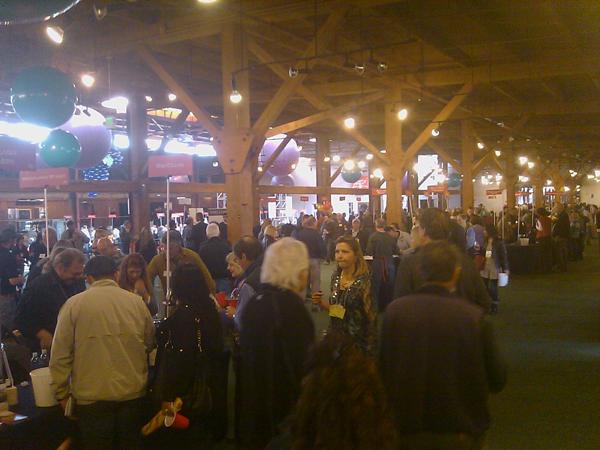 Shot of the hall 15 minutes in.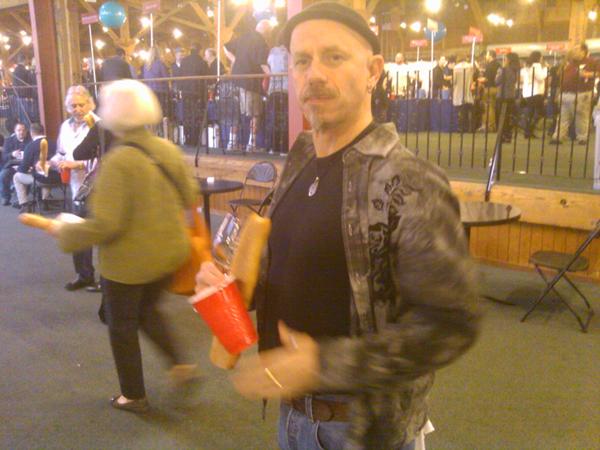 Lunetta with a baguette and spit cup.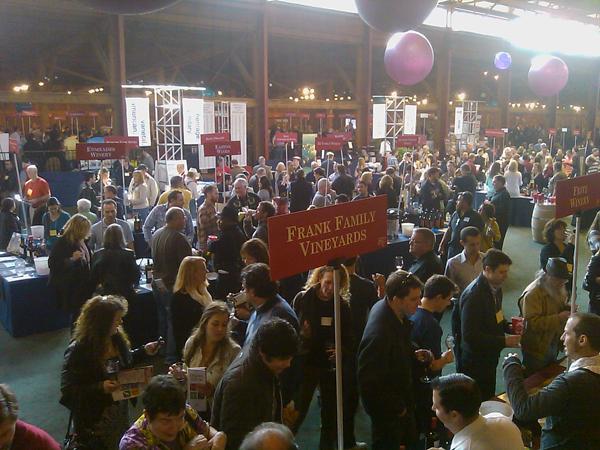 An hour and a half in.
By the end of the first hour we were only stopping at booths that there was nobody in front of… with the exception of Ridge Vineyards where I just muscled my way to the front of the line.
By the end of two hours I was spent (but Lunetta was only half way through his bagette). We headed back to the East Bay, with me scoring an extra ZAP Tasting 2013 glass – more freebie glassware for the shop – guess I should bring in the 4 that I have from the Boston Wine Expo of several years ago (where we [Pucci and I] got comped in as well). Joe Fico from Tucson was supposed to be on this tasting but work didn't clear up until last week, and all the cheap fares were gone.
Oh well.
On returning to the boy's place in Berkeley it was straight to bed for me, only waking at 3:30 in the afternoon because of hunger. I ate the remains of my breakfast I couldn't finish this morning, and went back to bed, getting up at 5pm feeling a little more rested and less funky. I think an antihistamine is in order in case the scratchy throat was due to the grocery run on Thursday and pollens in the air.
The boys were kind enough to take me to the airport (SFO = 40 minutes each way) before their "date night". BART is convenient to their house, but sitting in the back seat is way more comfortable.
At the airport in plenty of time, and nicely settled into the Board Room having snacks of tiny carrots, dip, cheese, and yes, two damn packages of those Club Crackers® which I can't seem to turn down.
No room on the flight that is an hour earlier (well, no room in First which I have on the later flight) so it's time to update the blog, read a newspaper, and generally hang out.
In theory due home at about 11pm tonight (that earlier flight would have helped). It's funny – I think Oakland has more flights these days, but it's SFO with the Board Room location – though no soup or salad in this location, but they do have the Pancake Machine for in the mornings. Either way, the Board Room is the place that I stock the fridge with oranges for DancingBear's Old Fashions.
If something screws up, it will be on tomorrow's blog report.
Good night all, I'll be sleeping all the way home with luck.
[? ??]