In today's photo tribute to CaddyDaddy, we (well, the Royal We) title this photo, fat men on holiday in Mexico (specifically a two bedroom Penthouse condo in Cabo San Lucas.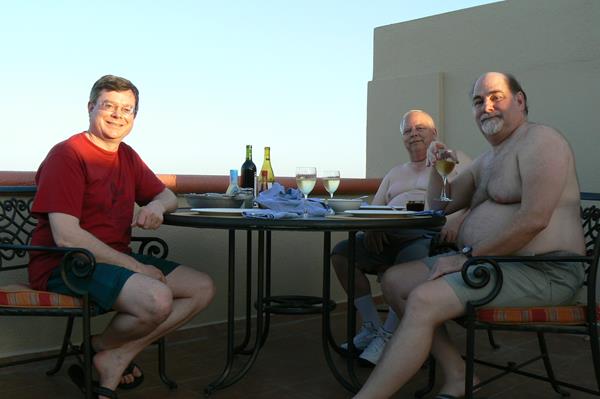 I think it was CaddyDaddy's birthday trip 2011.
Work was a blur – hard to not think about the dearly departed. Once the orders were completed I started the process of cancelling CaddyDaddy's Amtrak reservation (easy – issued refund) and Alaska flight (less easy – they had to split the reservation, and I need to have the Funeral Home and phone number to get the refund of $98, which I don't have, nor does the family yet). I'm less worried about the September trip – I should be able to change the name on the other tickets and I have two possibilities.
When I tried to start the car… DEAD, DEAD, DEAD – good thing I put the charger in the car… and used every extension cord in the shop to get it plugged in. Time to get a new battery and put off the Smog Check until Friday or Saturday – need to check on times for both them and Ballard Licensing.
Hello Les Schwab Tire Center and a hundred bucks later I have a battery. Then off to Home Depot, but abandoned a purchase of 4×8 sheet of Pink Foam Insulation as a cover for the hot tub. I panicked and didn't buy it – worried that it wouldn't fit in the car diagonally since I hadn't measured the Focus Wagon yet – and I didn't have a bungee cord to strap down the lift gate. Tomorrow, maybe after Smog Check and Ballard Licensing.
Next up – O'Reilly's Auto Parts for car fuses – the horn doesn't work on the Focus, and it might be that the fuse is missing. Then Safeway for eggs (and other things) since there are two of us for breakfast in the mornings.
Pork loins, salad and bread for Long is tonight's meal.
And here is the effect on guests: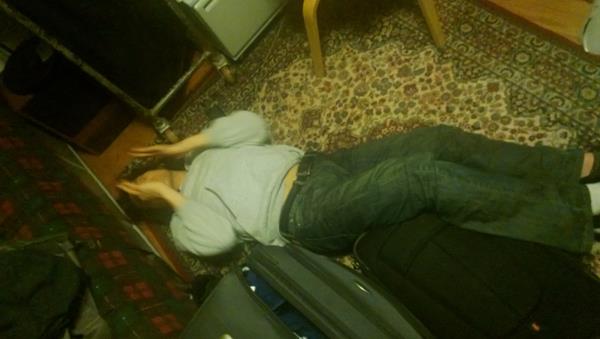 Guest down, call 911!
[204.4]