Down to getting the finishing touches put together, like tie-downs and the flipping lock bolts to hold the stakes into the bed: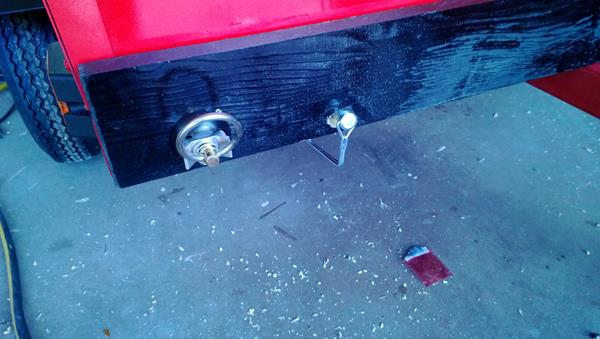 Picked up a tarp at Home Depot today to cover the top. Now I need to find my grommet set or its back to Home Depot for an ugly blue tarp.
Traffic was hell for the boys coming to dinner. Try an hour and a half for what should have been a half hour run. On the positive side (for me), Damon bought my old living room server for $100, minus the $10 I owed Swanda. One more thing out of my life. The new one is super quite – such a nice change, and I'm guessing it uses much less energy as well.
A lovely meal al fresco (you know him) with cocktails and the new, followed by steaks on the grill with a lovely green salad and some cole slaw for Swanda and I. Damon doesn't "do" cabbage.
I'd post a pic of the boys, but Swanda's Fabulous Blog is under construction waiting for pictures to appear (for me to swipe). Check back as Swanda has promised to post pics Friday night or Saturday.
[206.4]