When on the run to Hong Kong, when does one day end and the next start?
So far all the flights have been arriving early – sort of amazing for United. Half an hour early into SFO, 15 minutes early into Narita, 45 minutes early into Hong Kong.
So far, no upgrades on any of the segments, but the seats are OK. Little Asian woman next to me on SEA-NRT, was sitting next to people on the NRT-HKG run but I found an ENTIRE exit row open and after a little grief "you must pay extra for these seats" – and showing that I was already 7D which is economy plus, and showing my Gold Card, it was "I alert the rest of the attendants so that they know". Gold does have its privileges: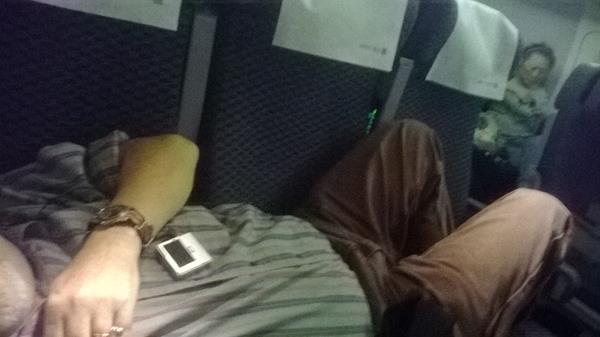 That would be me, across three seats in an exit row.
Today's humorous bathroom shot is from the Hong Kong airport in the transit section – the family bathroom within the men's room: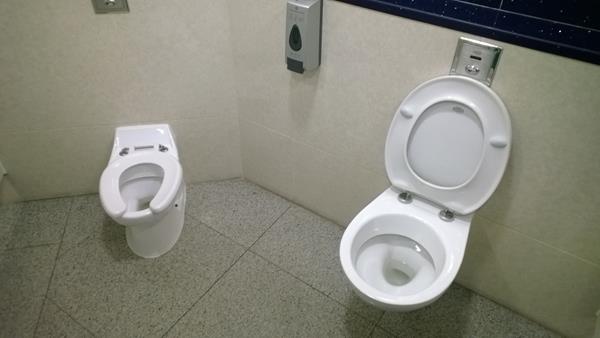 Like father like son?
Like I said – got to Hong Kong 45 minutes early – and checked email (on the phone via free wi-fi at the airport) and found a note from TokyoDave, my now married to a Japanesse woman who he fathered two children with. I'd sent him a note yesterday saying I'd be in Tokyo for an hour and would wave as I flew out on my way to Kong Kong. He sent me back a note that he was IN HONG KONG until Saturday morning and wanted to know if I wanted to share his hotel room for the night.
Of course by the time I got the second note about details (he was in meetings) I was already through the transit lounge and in the United Club boozing it up. My ORIGINAL plan was, United Club until midnight, LoungeClub until 6am, then United Club until my flight tomorrow at 11:30am.
Now I'm in a bit of a pickle – I'm on the departures level and I need to be on the immigration level if I'm to leave the airport.
United Club Front Desk is obviously not pleased – it's later in the evening and there is no staff to escort me so they give me a slip of paper and say "take the Staff Elevator" at Gate 35 down one floor. Did that and SECURITY wasn't happy and sent me to the Service Desks between gates 20 and 21 – problem is United doesn't have a service desk so the Thai Airlines folks sent me BACK to the United Club. For reference – the distance between gates 20 and 60 where the club is is approximately ½ mile. I'm getting a workout and sweating like a pig – there isn't enough air-conditioning in the world to keep the humidity out of the Hong Kong air.
After another 15-20 minutes of wrangling they find a gate agent (at gate 20!) that will meet me at the elevator near gate 35 and escort me. After almost an hour of marching to and fro – I'm headed to Immigration and Customs (which goes smoothly). The upside is that the gate agent was in his mid-20s and cute. The downside is that I've lost an hour that I could have spent with TokyoDave.
Next up catching a Red Cab (regional) to the Royal Park Hotel in Sha Tain. Of course I get to the cab line and ask about credit cards and its cash only – off to find an ATM machine for the $40 cab ride.
Finally in the cab, and get to where TokyoDave's text message said in Chinese characters I was supposed to go. No Dave registered at the hotel – finally broke down and called him.
Here is a shot of a traffic jam caused by all the deliveries at the major fruit market in Hong Kong: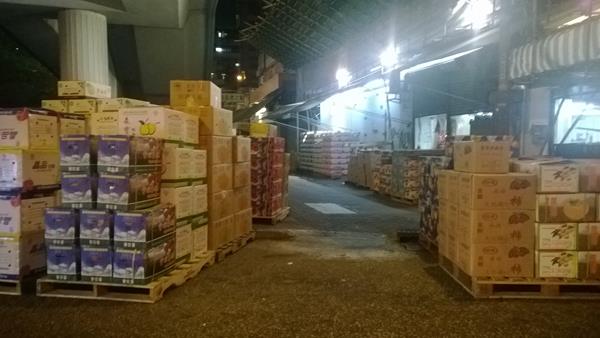 Turns out I got sent to the Royal PLAZA hotel in Kowloon, not the Royal PARK Hotel in Sha Tain. None of the cab drivers speak any English so it's the door man/taxi agent who tells them in Cantonese where to go. In my case, to the wrong place. In my sad/tired/whiney voice I ask him to come fetch me as I'm now out of HKD (Hong Kong dollars). It's now midnight – I got into Hong Kong at 9pm, and I have an 11:30am flight tomorrow.
He arrives after 20 minutes are so and we are off. As for me at this point, I'm probably smelling like a farm animal – and the first this after getting up to his room is to drink half a mini of Cognac he has left over and hit the showers and get cleaned up. It just feels great to get out of clothes.
As it turns out — had everything gone smoothly and I would have gotten there at 10pm — TokyoDave would have still been tied up in a meeting that was supposed to run from 4-5pm (in Kowloon oddly enough) ran until almost 11:30pm. TD had just gotten to his room when the call from me came in.
While I'm showering TokyoDave goes down to the bar and grabs two large glasses of wine before they close at 1am.
The alarm is set for 5:15 (TokyoDave) and 6:00 (me) and yet it's after 2 before we stop chatting and turn out the lights – this will make TWICE in the last 30 days that we've had an overnight – both less than 18 hours each.
Oh well – four hours of sleep in a REAL bed is better than 8 hours in a recliner in a lounge.
[? ? ?] Between the carbs and all the walking, who knows what Friday's numbers will look like.