Another day of trying to get at least 12 hours of sleep – basically another day of laying low trying to get better.
Got to the shop at four, expecting to work until seven… but as the customers slacked off it became apparent that maybe we should have closed at five on Christmas Eve. I took off at six and headed north to Swandas for dinner.
The Turducken had been in the oven for 4 hours already when I arrived, with another to go. Must be time to open presents then!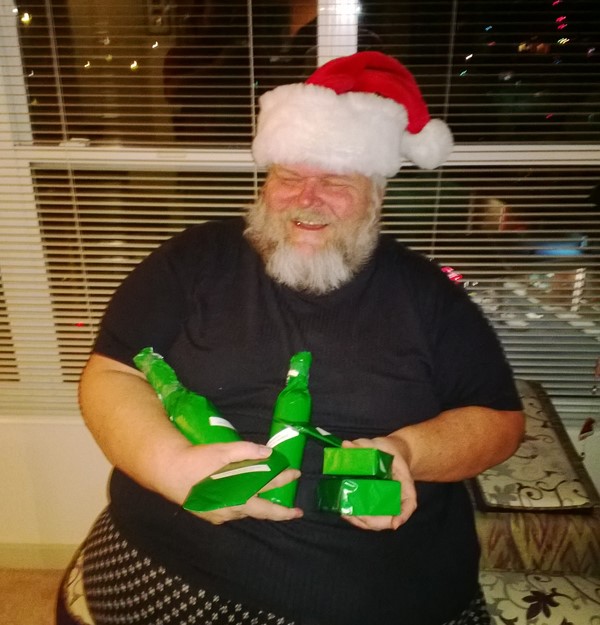 If it isn't Jolly Old St. Swanda with loot from under the nonexistent tree.
And now for the food shots: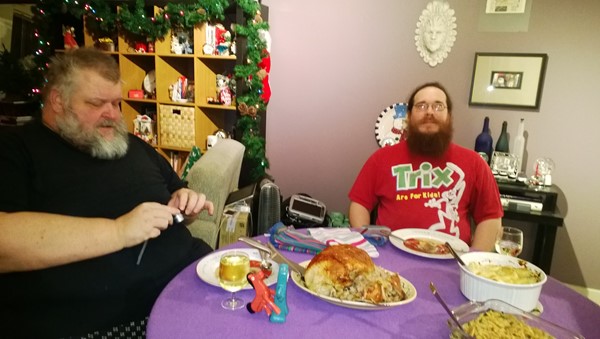 The only course missing is the ensalda caprese that we had with a Blanc de Blanc (bubbles) while waiting for the TurDucken to finish cooking. Green bean casserole and a cauliflower dish rounded out the evening. And what ARE Pokey and Gumby up to?
I bailed out before the Cranberry Jelly slice – I don't need the carbs, and I don't want to be out driving late on a night full of amateurs (amateur drinking and driving folks). Something happens tonight, everybody gets breatholized regardless of who caused the mess.
Home a little after nine – opened presents at midnight, then it was off to bed.
[06.6]