This week I'm off to Oregon for a couple of days – after dealing with cancelling my Microsoft Alumni Network medical insurance now that the Washington State Health Exchange has figured out what I deserve. I could have saved $375 if they'd gotten their act together in December. At least I'll have MUCH cheaper coverage going forward. At least I saved almost $500 by protesting a damage claim by the Enterprise Rent-A-Car Bozeman unit. Me thinks they are looking to pimp out their cars before selling them… mine (see post) had almost 30,000 miles on it AND the inner side of the front tires were bald – bad alignment, previous wreck? It certainly wasn't the vehicle I requested.
All that is water under the bridge – of which I'll pass over many on my Oregon road trip to deliver the Winter Faerie Gathering directories to Breitenbush Hot Springs. Here is the route: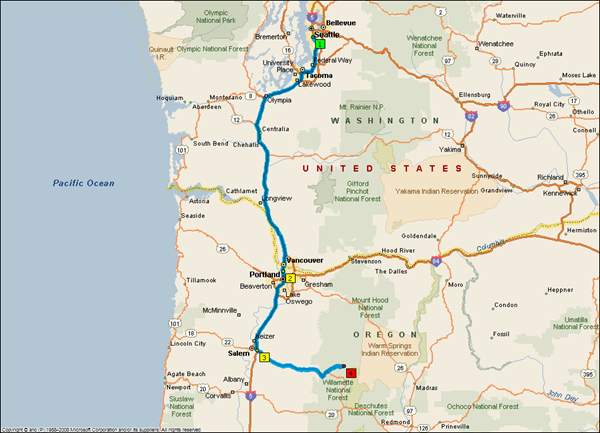 Lots of time on the freeway – 3 hours to Julian's house, 2 more hours to the Breitenbush.
Left Seattle around 12:30 for a slow leisurely 10mph over the speed limit drive to Portland… but had to stop for lunch, then a Goodwill, gas… got to Portland a little before 4pm at the nephew's place (after a further stop at the liquor store for more supplies – I only brought 6 liters of wine!)
I brought down salad fixing, four massive steaks: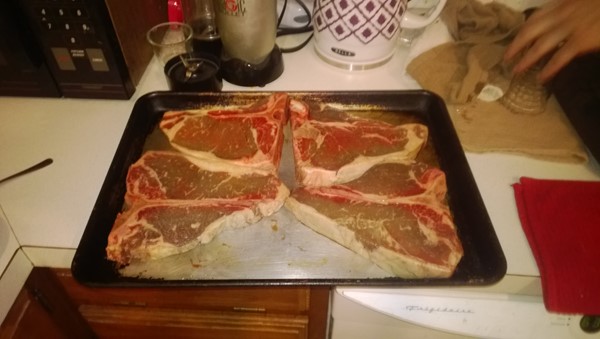 Julian did a couple of additions – a marinated radish, red union, red wine vinegar salad topper (along with the feta crumbled and yellow pear tomatoes), and a stir-fry of zucchini, bell peppers and onions. Here is the radish dish: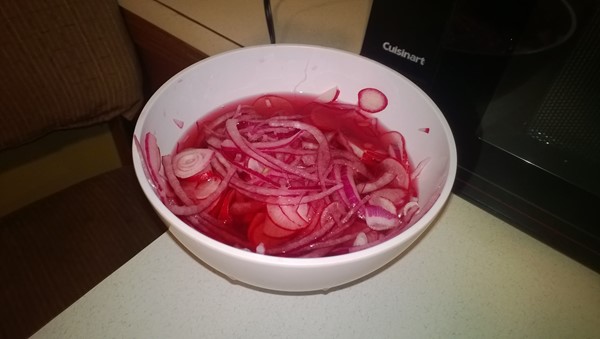 These are REALLY tasty – try them sometime.
But before dinner could commence, we (Mark & Onyx, Seth, Julian, Me) had a craft project to do. Wine charms made from foreign coins Julian has collected in his travel and ring binders.
Tools:
Pliers (to hold coin)
Drill with bit large enough for the ring
Leftover coins from foreign travel
I think they came out really good – might have to produce them for the shop!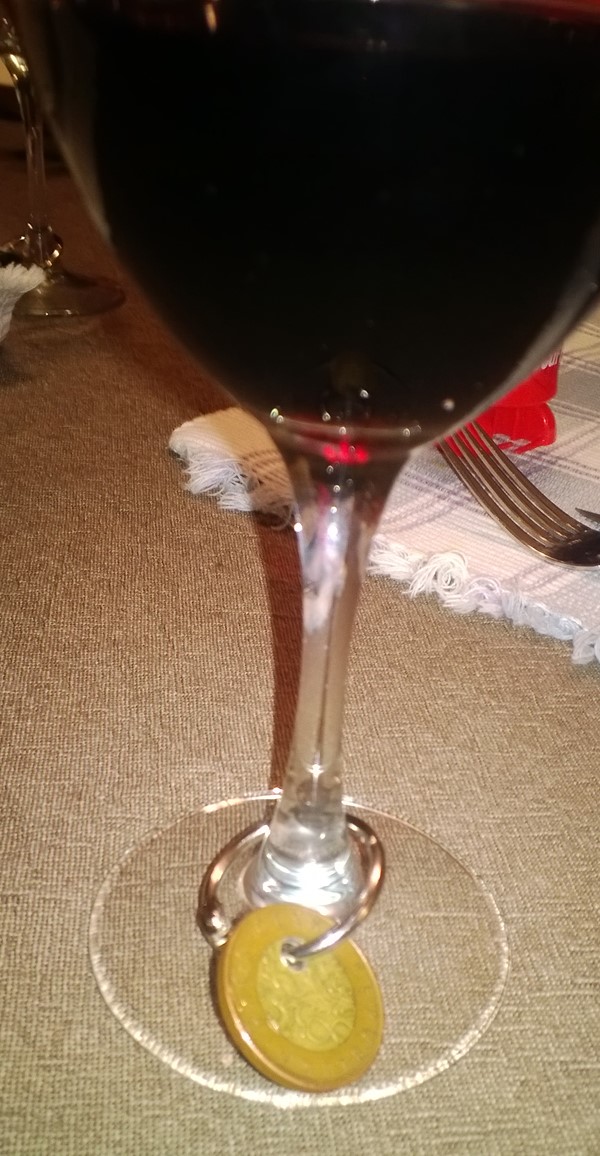 Pick your coin – get it drilled, apply. I actually think they would go through the dishwasher with no problem.
We were having too much fun and totally spaced on the after-dinner activity, going through Alan's discarded shoes – two garbage bags full of lightly used 10-11 (Men's) shoes. Damn.
Slept in on Wednesday morning until 10am… joy of joys… and slowly rambled out the door around 12:30 to grab lunch at The Fishwife – my North Portland favorite restaurant – for their $6 Daily Fish and Chips Special and a fresh-squeezed grapefruit mimosa (also $6). For $7 I could have gotten the Oyster Shooter/Bloody Mary combo. No Julian to join me – on Sunday he was sledding in the snow and pulled a Sonny Bono (sideways into a tree, though I think Sonny did a face plant – and now I read an article [looking for a link] that it wasn't an accident, but I digress) resulting in some seriously bruised ribs.
Went back to the house for a bit – then a little before 2pm it was off to the Bush to deliver the directories for the Winter Gathering that JustJack, HisPartner, DancingBear, and I put together on the night before I left on this trip. Talk about cutting it close: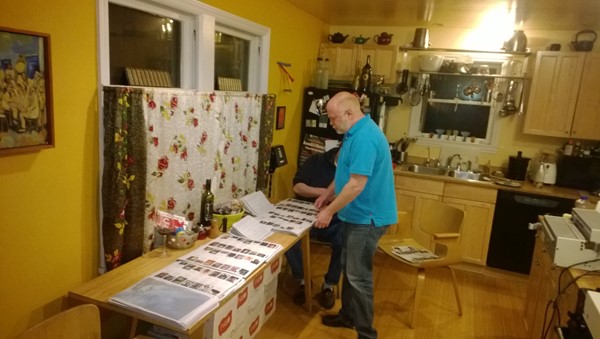 Here is the final result, first closed: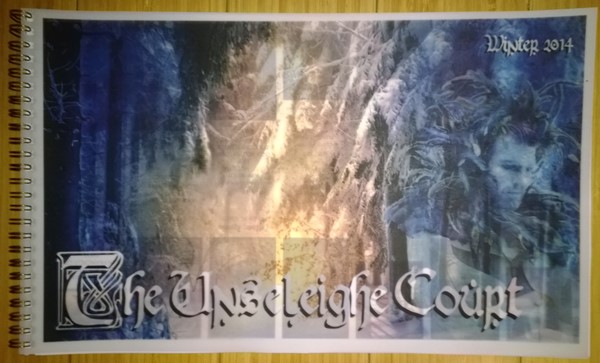 8.5×14 edge wire-o bound, vellum cover weight stock (translucent) with 60# Springhill Digital Gray for the interior pages.
Now open:

No other photo directory for the Gathering has looked like this. 8.5×28 when laid out open – and it reads from each direction signifying "no beginning and no end". Though I haven't talked about it no "call" to the Gathering has looked like it either – usually 4 pages or so, the one for this Gathering… 14 pages. MUCH on-line drama about "changing" the gathering. A better phrase would be, a different vision.
Got to the gathering a little before 4pm, shortly after my cabin-mates: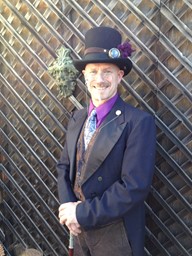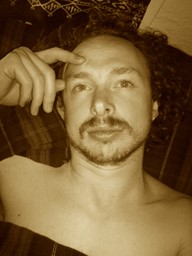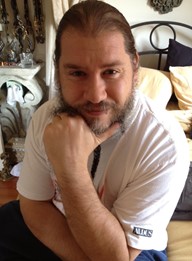 But the work wasn't done yet – the QR's (Queens Registrar) had more plans for the directory… double wrapped as scrolls with ribbons. That was the after dinner work. Don't they look pretty in the wooden boxes I used to haul them south in?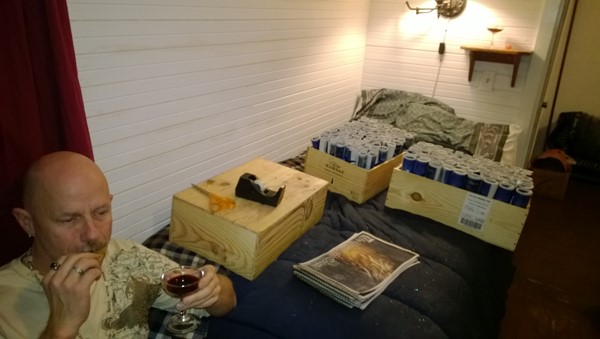 All wrapped up scroll-like and ready to be delivered on the opening day of the Gathering.
The highlight of my night is a cuddle date with Seth before beddy-bye time, yes, I have a bit of a crush on him. I have a crush on him even though he has a 4-year-old wickedly cute precocious daughter.
Thursday morning was another luxurious morning of sleeping in – wish I'd just spent the night cuddling (don't we all). Seems neither of us sleep apart all that well. Lesson learned.
Had lunch in the lodge: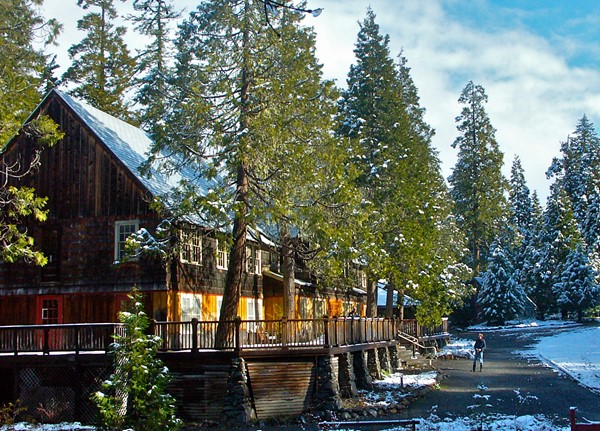 Though it's winter in this picture, it's not this winter… add 18″ of snow. They almost cancelled the Gathering. But it does show the lodge where the meals are served.
A little after 3pm I was on the road home… just in time for hellish rush hour traffic, partly caused by a narrow 1-5 Bridge over the Columbia that Oregon and Washington are fighting over.
Washington State wants a bridge with light rail connecting Vancouver, WA to Portland, OR – the rail line already goes within ½ a mile on the Oregon side
Vancouver, WA (the city) has council members opposed to Light Rail
Both Oregon and Washington are having troubles passing bills to fund the bridge
Meanwhile – it takes me an hour and 15 minutes to get around the "ring road".
Luckily at the north end is a Burgerville and a Safeway for groceries and gas. A nice Pepper Bacon Tillamook Cheeseburger and a glass of Merlot (yes, a burger chain that serves wine by the glass, at least at the Vancouver, WA location at the intersection of I-205 and I-5).
Finally home a little before 10PM – time to set the alarm to get up before 8 to take the Miata for new paws and an oil change.
Nice to be in my own bed tonight.
[210.4]