On the road with Xander and Roxy – headed for Redmond, Oregon for a couple of nights in a 3-bedroom "chalet" complete with BBQ grill and hot tub – the only way to stay. We will be meeting Julian and Megan who are coming from Portland to celebrate Julian's last week in Portland before a week in New Mexico and then flying off to JapanLand for at least a year of teaching English as a Second Language.
Here is a great selfie from the road: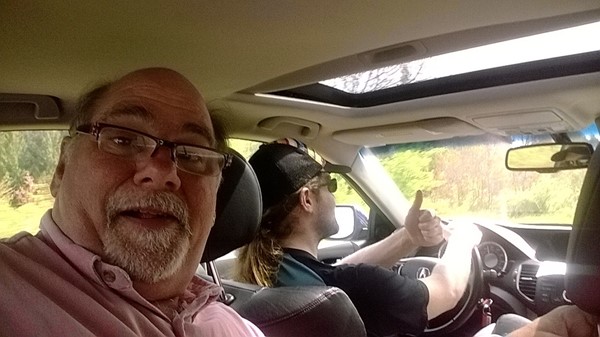 How nice to not have to drive the 6 hours in each direction – and unusual situation. And a pleasant one.
I forgot to plug in Burgerville into my GPS so we were out of range by the time hunger struck. But we did stumble across a gem: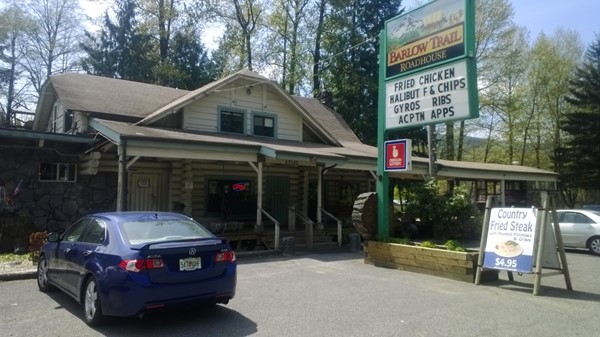 That would be the Barlow Trail Roadhouse on Highway 26 in Welches, Oregon. To hell with the diet – I'm having the Biscuits and Gravy (1/2 order) and a Manhattan.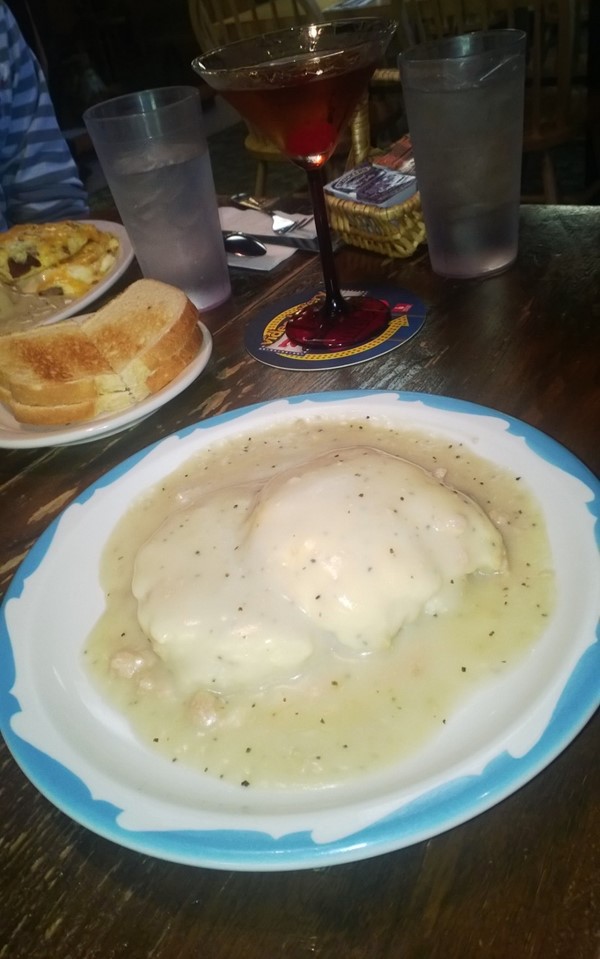 Xander went for the Miners' Meat Lovers Omelet with mashed potatoes (from scratch) and gravy instead of the breakfast potatoes: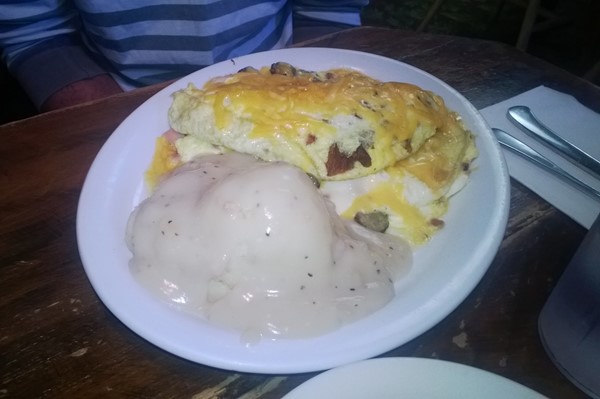 And Roxy went for the Stomping Mountain Toast which is Texas toast dipped in pancake batter, rolled in oats and sugar frosted flakes and then deep fried.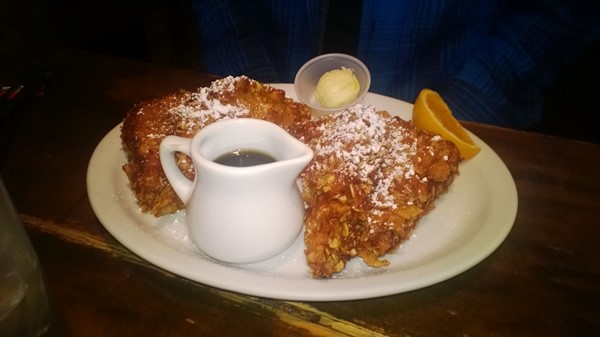 Talk about RICH – hello coronary.
It was 4:30 by the time we got to Eagle Crest, a WorldMark resort. They did a slooooow check-in which meant that the unit wasn't quite ready for us…not a good sign. But it was BIG: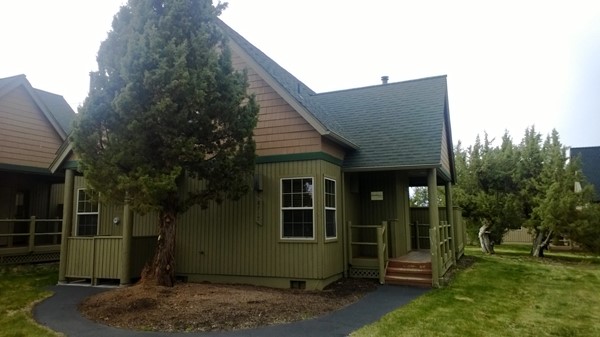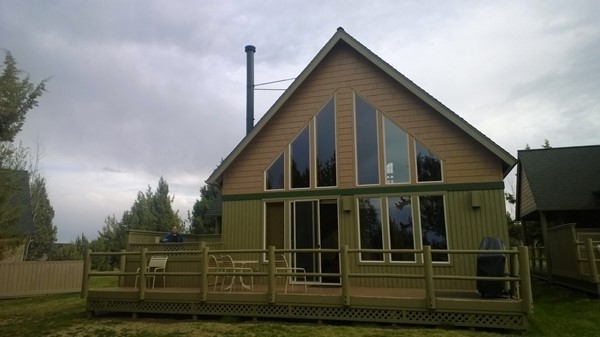 Julian and Megan didn't get there until almost 7 so dinner was a little later than usual… Salmon with a Ginger Wasabi Glaze for Rosy the Pescaterian, and little lamb t-bones for the meat eaters: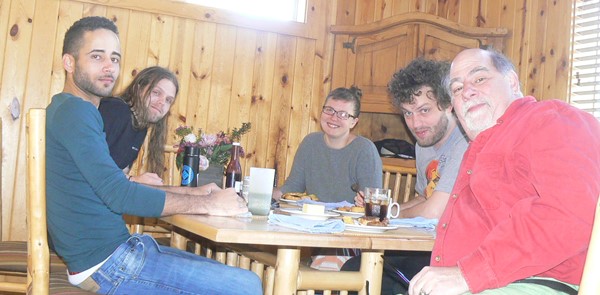 For our only full day, off to Smith Rock we went – no, not my idea. Really, hiking? Me? I did actually manage to get down to the river and back, but I passed on the longer route the rest of the folk took.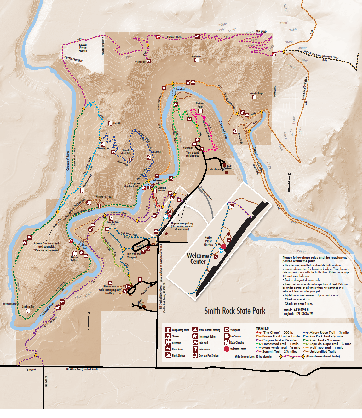 Needless to say, this place it set up for hiking…and rock climbing: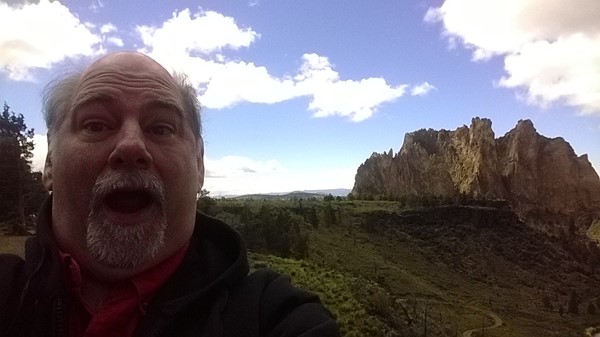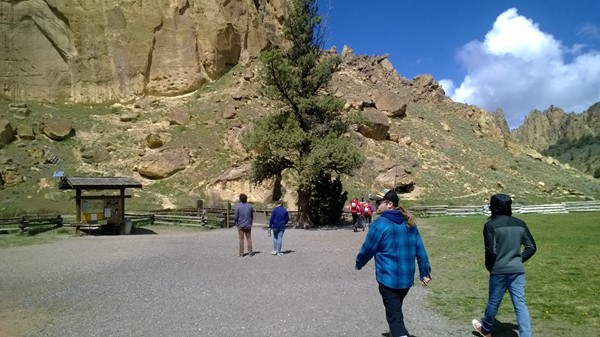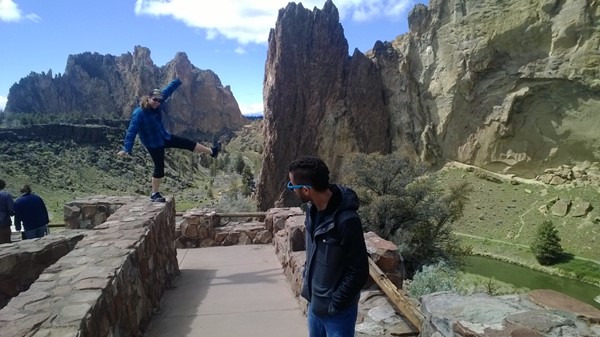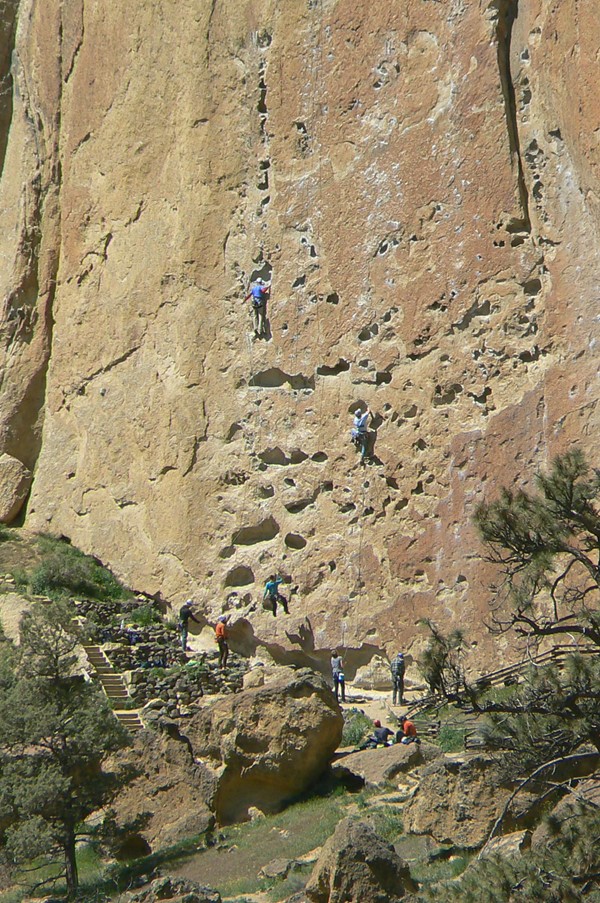 Man I love my 18x zoom lenses. Since I headed one way (on a shorter trail) and the kids took the longer route – I moved the car to pick them up at the other parking lot.
Tonight's dinner is a brazil-nut encrusted rock fish for Roxy with a spicy wasabi drizzle, and a couple of racks of pork ribs for the carnivores… It's really nice to have Julian in the crowd – he's a great cook and takes most of the load off me.
The breakfasts were rosemary challah French toast with South Park Blackberry Syrup (yes, I ate the carbs) with sausages, and the final breakfast was a eggs scramble with a side of bacon for everyone except for Roxy – no cheese, no bacon.
Check-out time is noon, and waiting for a load of dishes to get done put up right at that mark… back on the road again, this time with stops in Portland to drop off a book, and then to finally get to a Burgerville for my fix: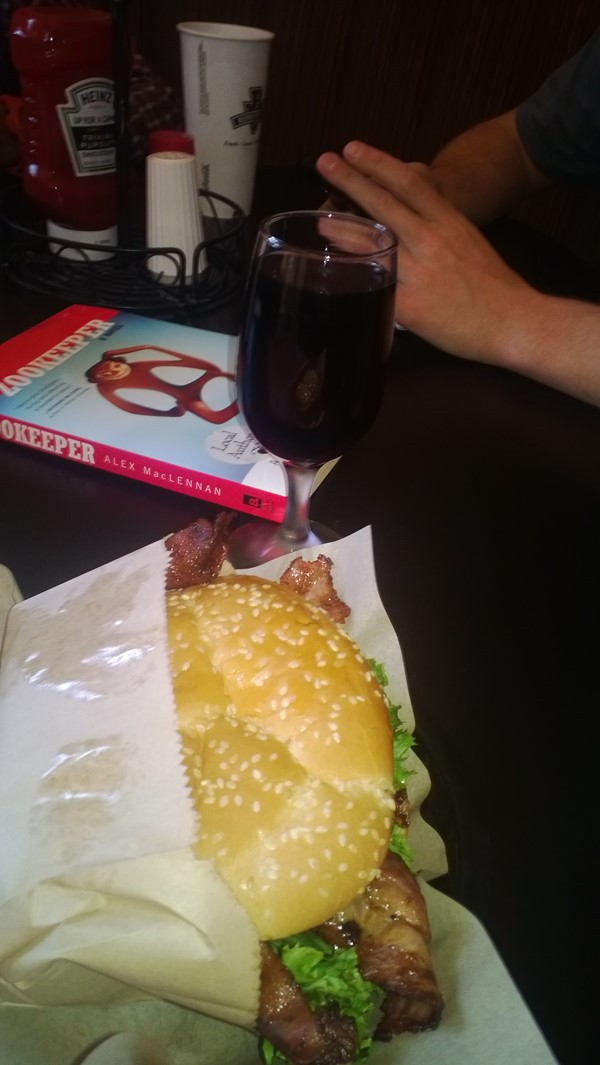 Yes, that is a Pepper Bacon Tillamook Cheeseburger with a glass of Merlot. Be warned – this might be the only Burgerville that serves beer and wine.
Got back home around 7 with Xander and Roxy staying for a couple of drinks to wind down from the road trip.
Guess it's time to plan some more travel….
[213.0]