With the summer travel season just around the corner, time to stock up on those miles before the deals go away. Today's deal is especially good. Double Elite Qualifying Miles on certain Alaska Airlines routes through the end of May. And with airfares of $138 round-trip, that makes them a cheap way to rack up elite miles. And then there is my 100% bonus for being MVP Gold on Alaska.
The math: 678 miles each way normally
05/06/2014

ALASKA AIRLINES
Flight 371 SFO SEA

Credited

678

1,356

2,034

05/06/2014

ALASKA AIRLINES
Flight 305 SFO SEA

Credited

678

1,356

2,034
So, for $138 you get 2712 EQM and 1,356 Bonus Miles which works out to 3.4 cents a mile. Not bad. Hence to trips this week and another trip in two weeks.
And the kicker – I got upgraded on all four flights – and even moved one of the flights earlier and still kept the upgrade.
So photos from my day of eating airplane and lounge food. The Seattle Board Room view:
Breakfast on the way to San Francisco: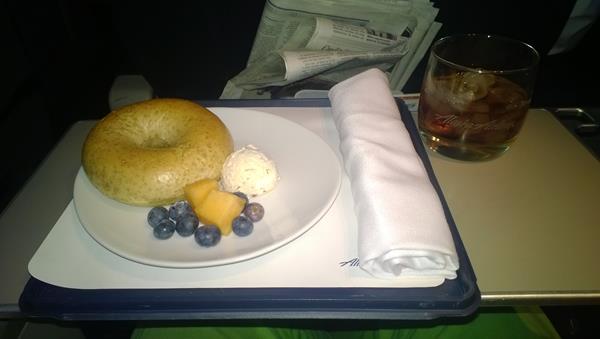 A warm bagel with a salmon/cream cheese spread some mixed fruit and a Jack and Diet.
The view from the San Francisco Board Room which they are permanently closing on June 24th as they move to International Terminal A. So far the replacement is the Delta Crown Room on the wrong side of security, but their new gates are right by both the Emirates and British Air lounges – both of who are partners: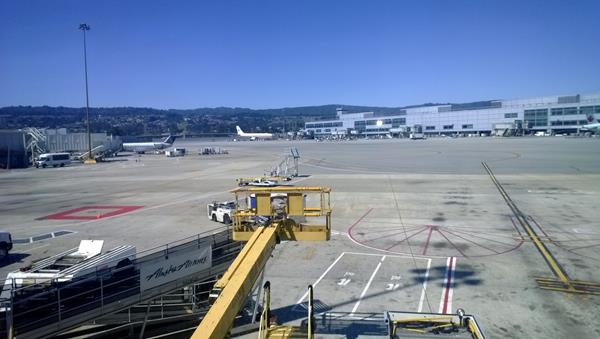 Lunch on the way back to Seattle: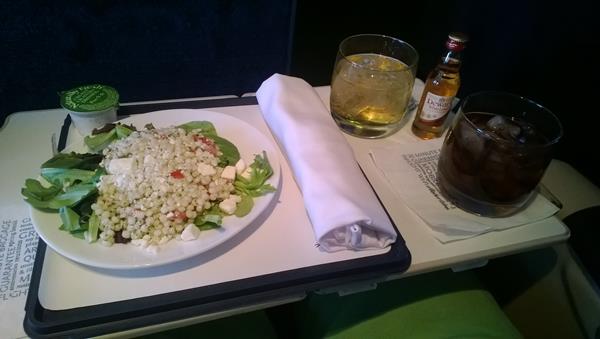 Quinoa salad with feta cheese and tomatoes on a bed of greens with a cilantro dressing, Dewar's on the rocks, Diet Coke on the side.
Back in Seattle, a little more lunch nibbles: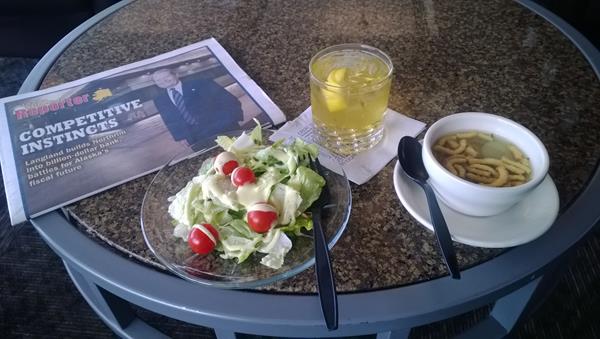 Chinese chicken soap with wonton strings mixed green salad, McCormick's Whiskey with Diet Sprite.
On the way to the gate I snagged this picture for Seaside Boy: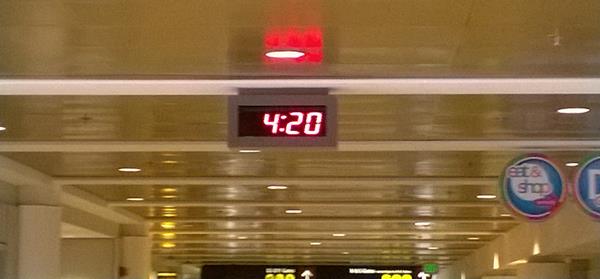 Back in the air to San Francisco for the second time today. Dinner is served: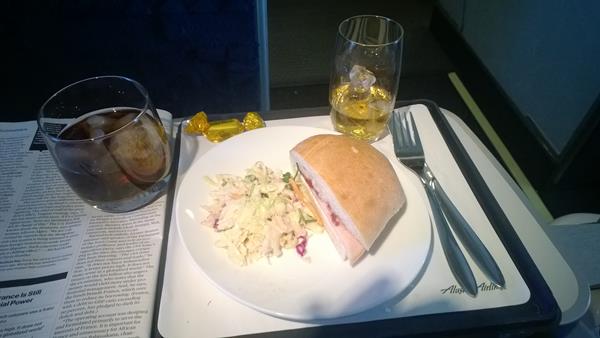 Turkey with cranberry spread on a warm ciabatta roll with slaw, a Seattle Chocolate, Dewar's rocks, Diet Coke on the side. As for me, I put the slaw in the sandwich.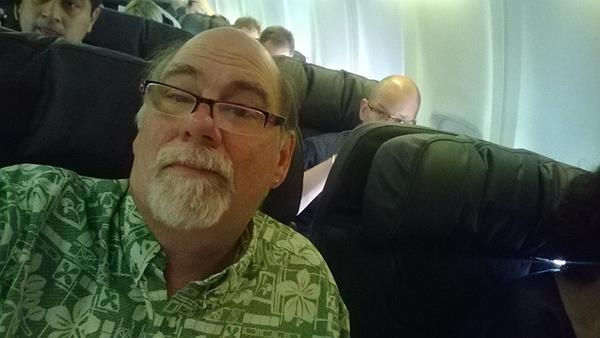 Since someone said I've been doing too many selfies – just one for this post.
We got to Seattle half an hour early to they sent us to Terminal A where the last flight of the day has been going out of since it comes in from Mexico and Terminal A is the International Terminal. The downside is that to get to the lounge you have to go out of security, cross the airport, got back through security – and then I'd have had to do it again since I was supposed to be on the last flight out. On a whim I ask if there was a first class seat available on the flight that I'd just come in on – and couldn't believe that there was one left. It will get me in an hour earlier, which will be nice.
And the final snack of the day – fresh baked cookies hot from the oven with the usual Scotch and Diet.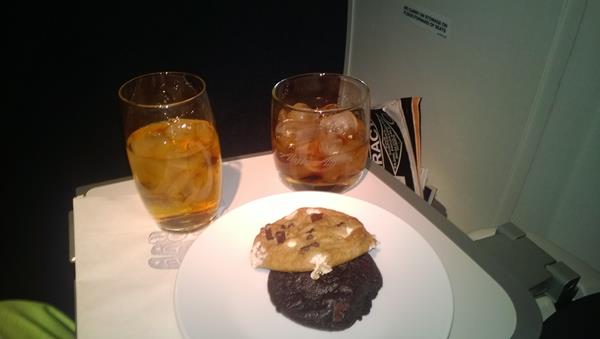 These trips will get me closer to MVP Gold for next year which means upgrades, bonus miles, a free drink even when I'm in the back of the plane and other goodies.
After this trip I'll have 31,261 of the 40,000 miles I need for MVP Gold – after the trip to Oakland I'll be up to 33,991 or so, leaving me a shade over 6,000 to hit my Gold Goal.
In an update the my quest for Million Mile Status on United, I currently sit at 993,099 and next week's trip to Orlando will add 5,850 leaving just 1,051 miles which I'll hit on my SEA-SFO-MSY flight. Too bad the flight that I'll crack the barrier on is a red-eye to New Orleans. Guessing that they aren't going to announce it mid-flight 373 miles into the SFO-MSY leg.
[213.0]