Decent flight time for my first leg – Seattle to Houston (Seat 1C). Travelling on Memorial Day is a little odd – there was NO ONE in the TSApre line and I didn't see anyone as I was walking there and I didn't see anyone coming up behind me. Then no one at the check-in counter or the Board Room. And upstairs, plenty of seats.
As for the Board Room itself – a few troubles:
Elevator broken (as it was on Wednesday)
Pancake machine down
Dishwasher broken
On the upside, they did get a new toaster – last Wednesday the right hand slots weren't working
But I did get an update – for years there were confirmed rumors (is that possible?) of an additional Board Room atop the North Satellite at SeaTac. In chatting with the bartender I discovered they have an interim plan to take over the old dark/dank former United Club in the basement of the North Satellite. Time line December. Stay tuned.
Here is the journey I'm embarking on: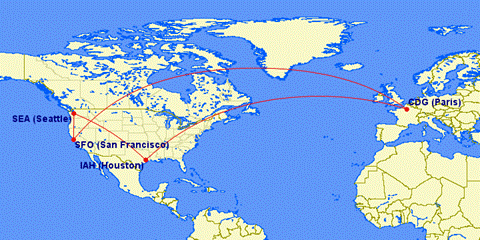 All to see an Exposition on the Orient Express.
Me in the Board Room…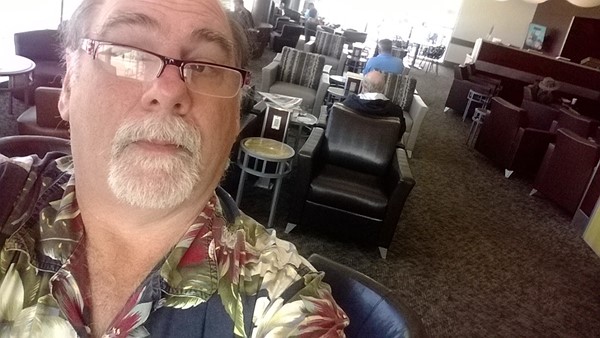 All set up to get a little last minute work done – note the new keyboard for my tablet: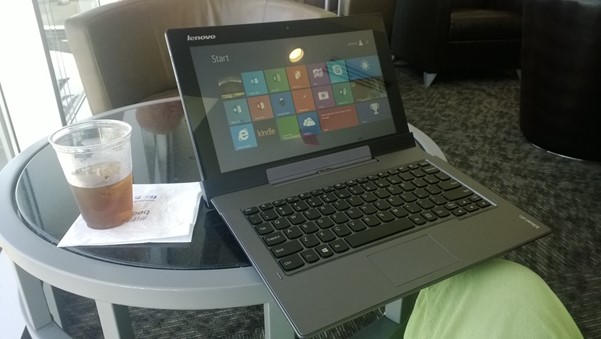 That was an eBay find, but still $165 – half of what I spent on the tablet. Also note the plastic cup since the dishwasher is down.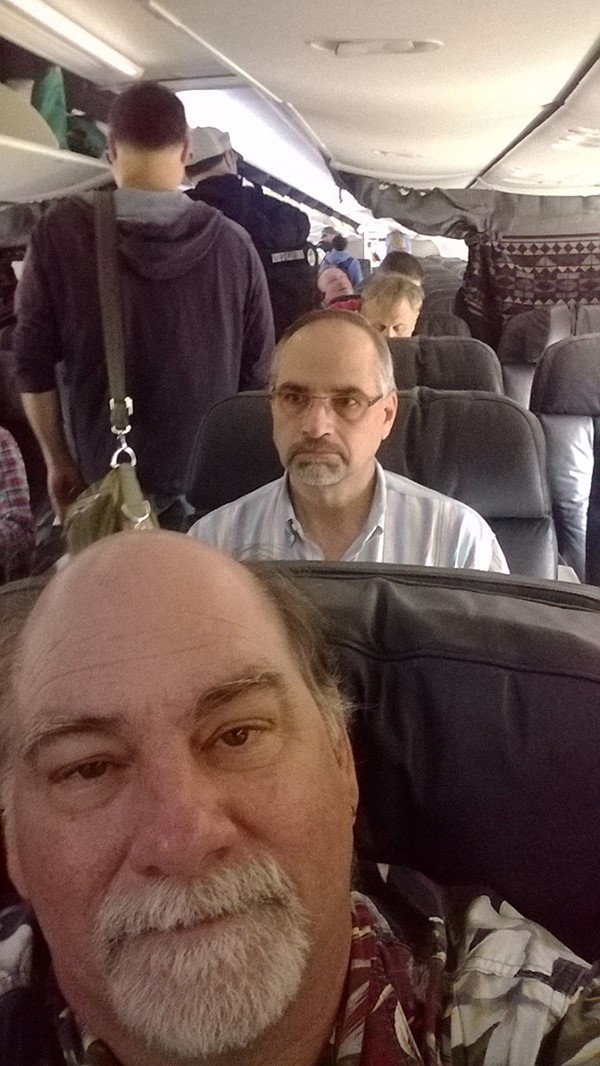 Selfie while everyone is boarding, and the first round of drinks while watching The Monuments Men on the Alaska supplied DigiPlayer.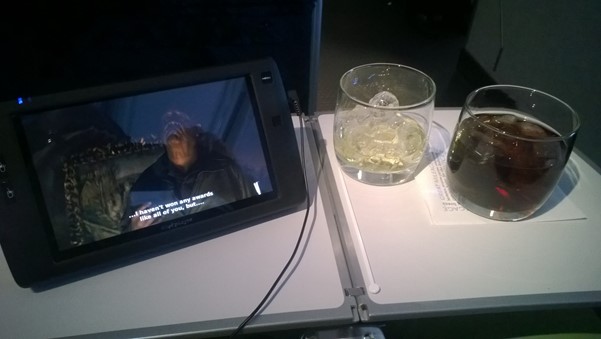 Got in a bit late – like a half an hour – due to storms in Texas. The actually sent us to Louisiana to come in from that direction to miss some of the worst of it. Since I don't have a connection until tomorrow afternoon, no big deal to me.
Called the hotel for the shuttle – that would be the Day's Inn in Humble, TX. I never expect too much from the chain other than a clean room, but I was pleasantly surprised at my room: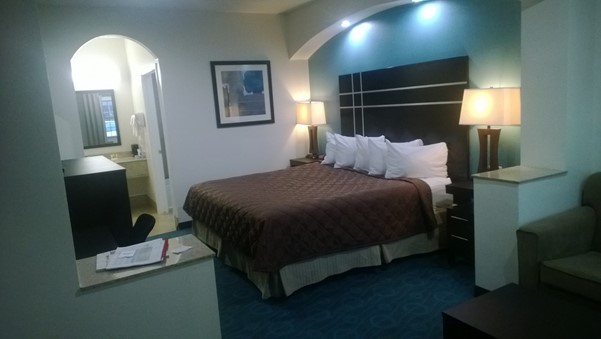 Not bad for $58 including tax.
Off to dinner and the liquor store for supplies….and it's lightly raining…and there are no sidewalks in this part of Texas…and where I'm headed is the equivalent of six city blocks away.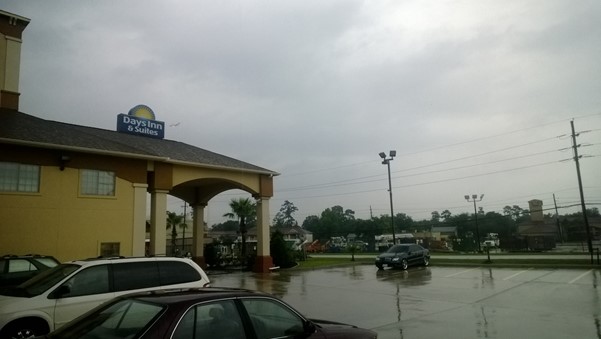 I'm moderately soaked by the time I find Goody Goody Liquor/Beer/Wine. As they say, "everything is big in Texas"…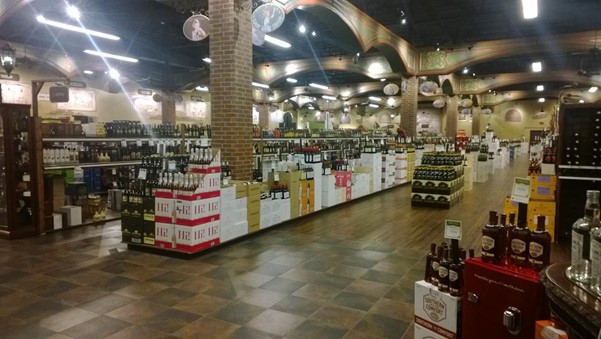 They had one of the best selections of whiskey I've seen in years. I took a 54 second video of the walk down just the US and Canadian aisle:
 
I didn't even walk the Scotch/Irish aisle, which was almost as long.
Here is what I came out with….go in for a pint, come out with a fifth – luckily I have TSA approved 3oz. bottles for the leftovers: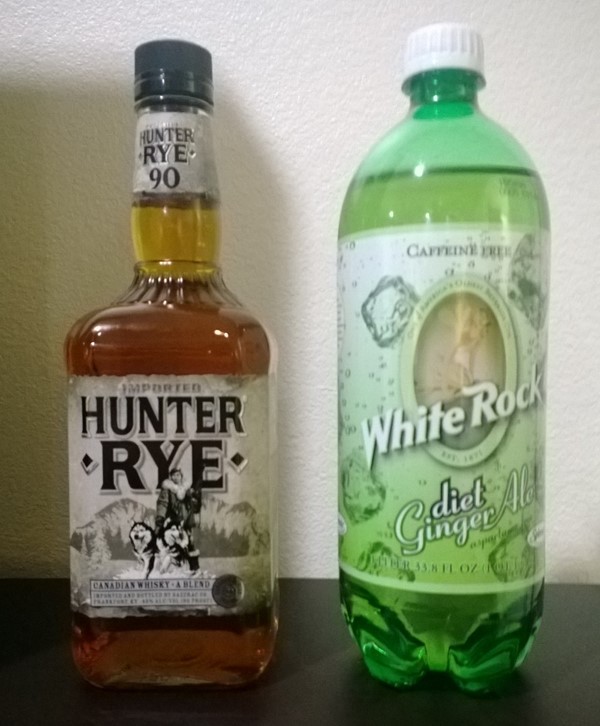 I'd never heard of Hunter Rye – imported by Sazerac (Buffalo Trace, etc.) from CanadaLand…and it was nice that they had Diet Ginger Ale – and even a decent brand.
As I was tasting some Barbados Rum with this nice lady: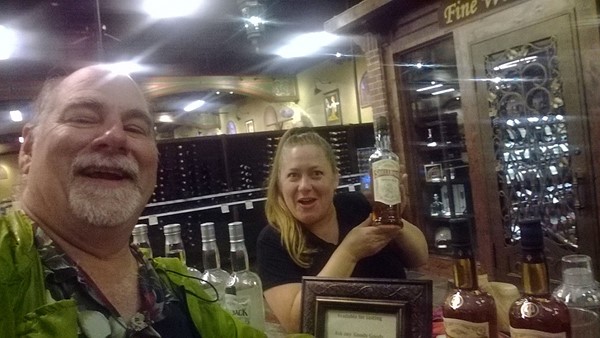 All hell broke loose outside including the tornado warning siren: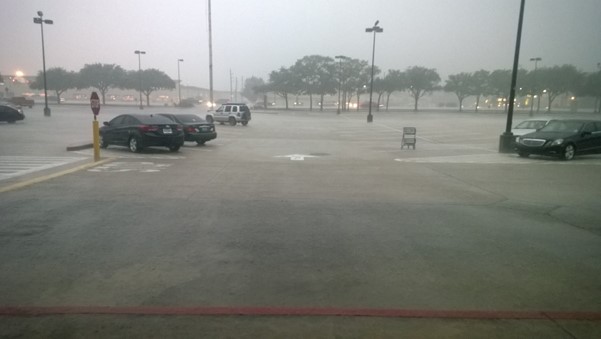 That would be a Texas-size downpour. And Texas-size hospitality followed – an offer of a ride back to the hotel when she got off work.
I grabbed dinner to go at Dickey's BBQ – a chain, but not too bad, and fast. By the time I got back (soaked again from only the 20 feet in each direction that wasn't covered) all she had to do was sign out and off we were.
I spent the rest of the evening watching TV, drying off my clothes with the hair dryer, and patching my favorite green pants which apparently weren't made with the strongest denim: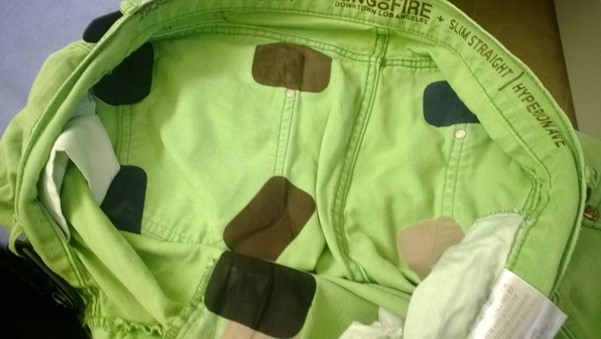 When you don't have an iron or an ironing board, these are the things you do on the road.
Off to Paris tomorrow afternoon.
[? ? ?]