Well, it really isn't about San Antonio, more East and North – think New Braunfels.
We Alaska Airlines moves into a city, it's usually with a nice mid-day flight. Often the planes start in Anchorage with a red-eye, then move east with the same plane coming back from whence it landed.
No exception today with an 11AM flight to San Antonio, with the plane returning to Seattle the same day, though I won't be on that flight until Thursday.
Board Room for food and drink — they really lose out with me as a member with how often I visit – one year I should record how much food and booze I go through just for shits and giggles.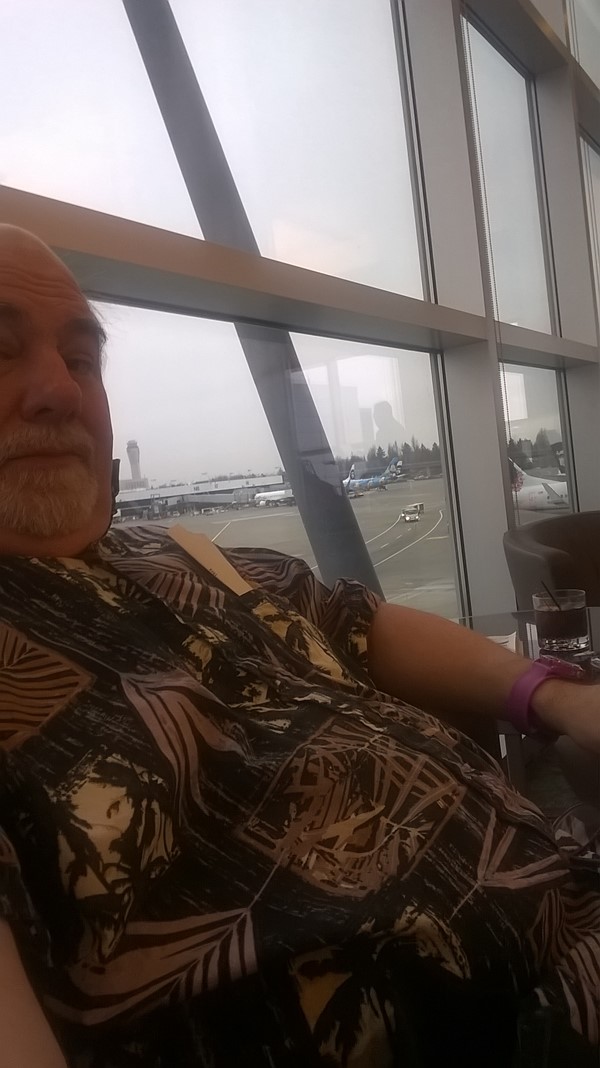 Got bumped to First which is always nice because it comes with food, drinks, and a Digi-Player.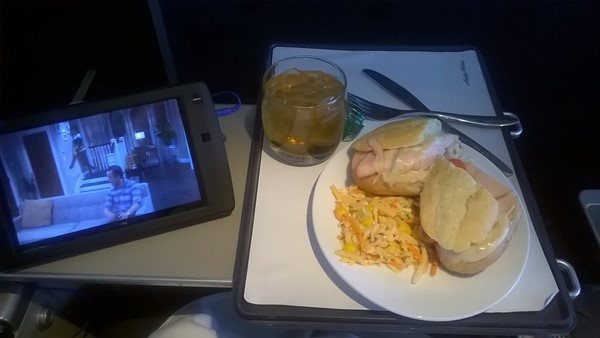 That would be the warm Turkey and Provolone Sandwich with slaw that I then add to the sandwich. Tasty.
Grabbed my bag (contained a bottle of wine for dinners) and then it was off to pick up the rental car, which to my surprise was a VW Beetle: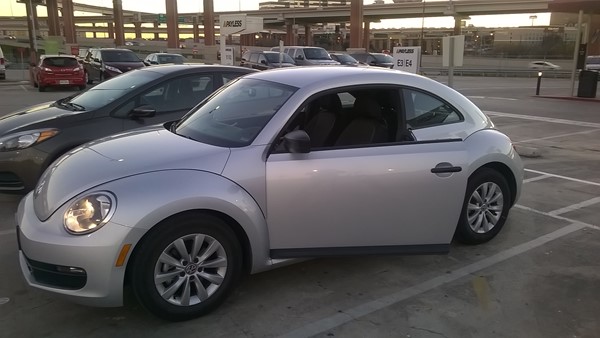 Always nice to get to drive a car you haven't.
It was dark by the time I got to the WorldMark New Bruenfels which is actually closer to Gruene which is listed on the Historical Register. The stops I made along the way were for whiskey (cheaper than in Seattle) and groceries for my two-night stay. I was a little concerned when I saw the receipt – Polloks Wed(ding) Garl(i)c Saus(age) Ri(ng) – kinda racist even for Texas. Turns out Polloks is the name of the company that makes the sausage: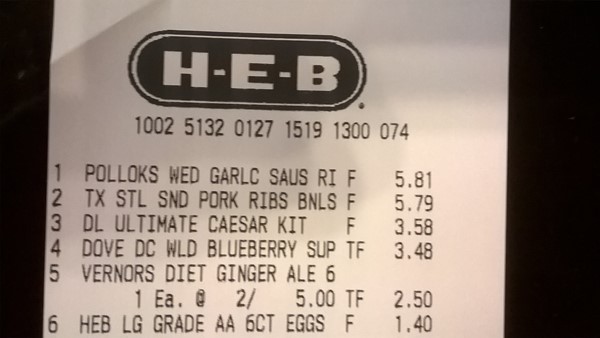 The WorldMark is a nice place – maybe not my style, and at 2-bedrooms, 2½-baths, WAY too much room for me (sleeps 6). But it was the smallest unit they have and at $60 a night, who's complaining.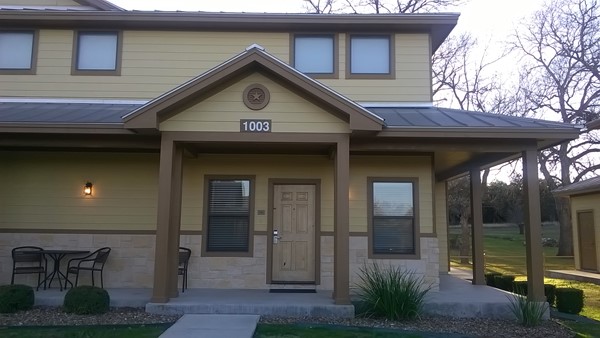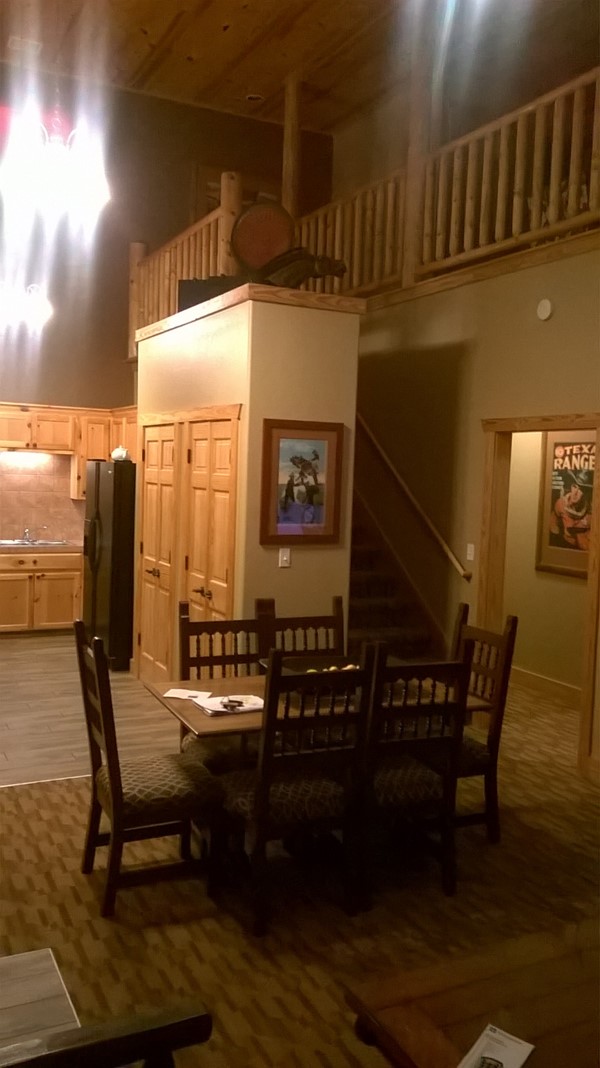 I put the pork spare ribs on the grill (unfortunately by the pool rather than the unit):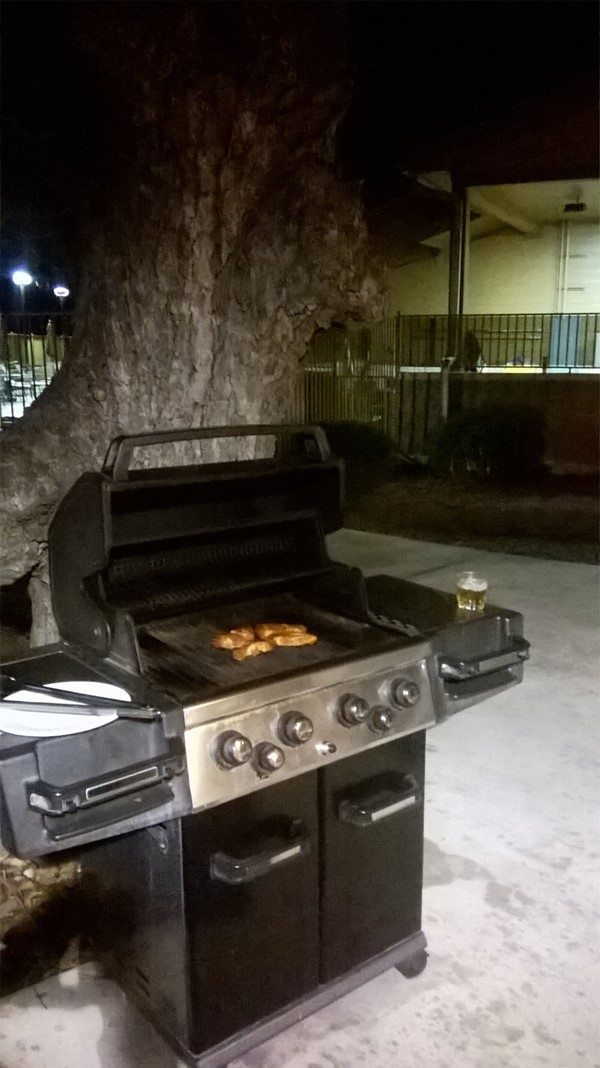 Made a little salad, opened the wine….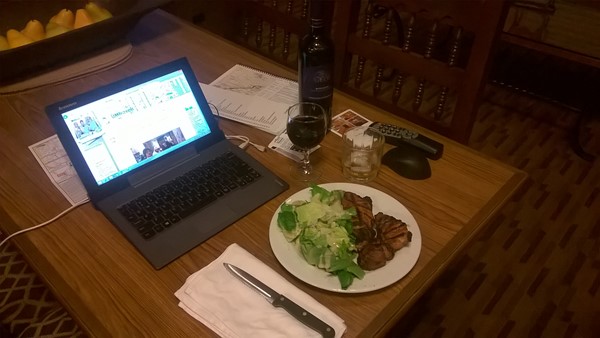 Off to bed late, and slept in… making it leftover pork and eggs or breakfast.
Today's mostly about wondering around the area including historic Gruene which is on the banks of the Guadalupe River which is famous for river rafting in warmer wedding. I did get one shot of Gruene mostly for my friend DancingBear: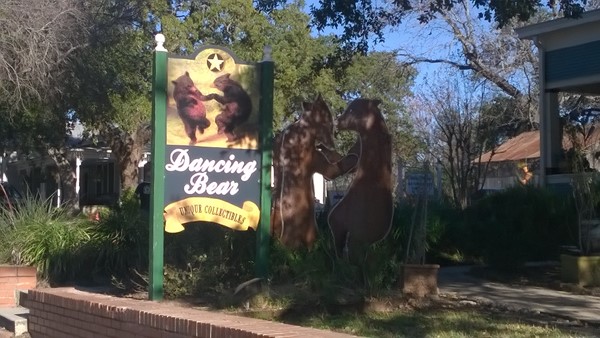 But since the weather is warm, I couldn't help myself with a little "me" time poolside: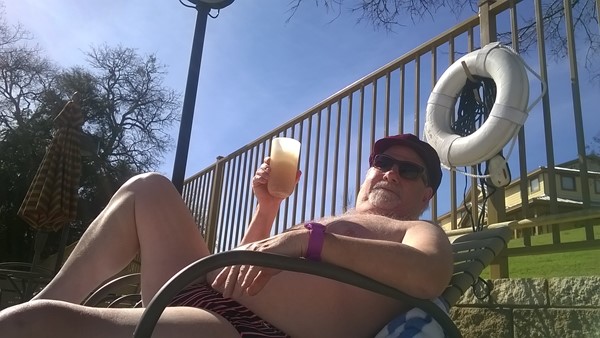 Life is HARD!
Thursday found me in the unit until the noon check-out time before heading to the Natural Bridge Caverns for a little "cave time".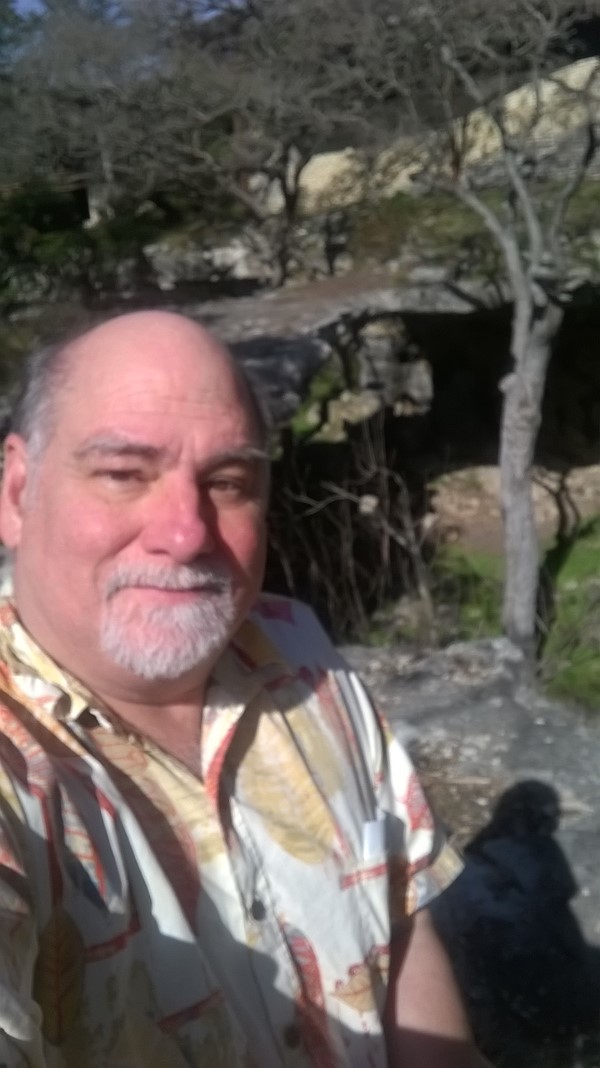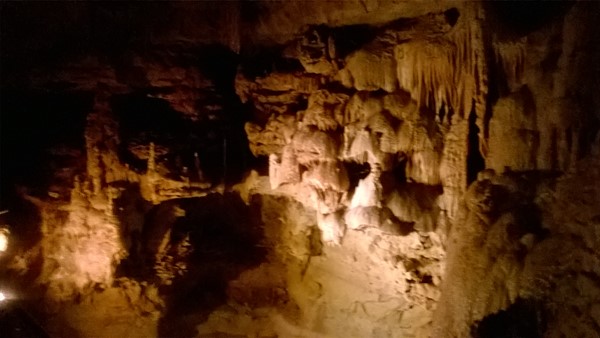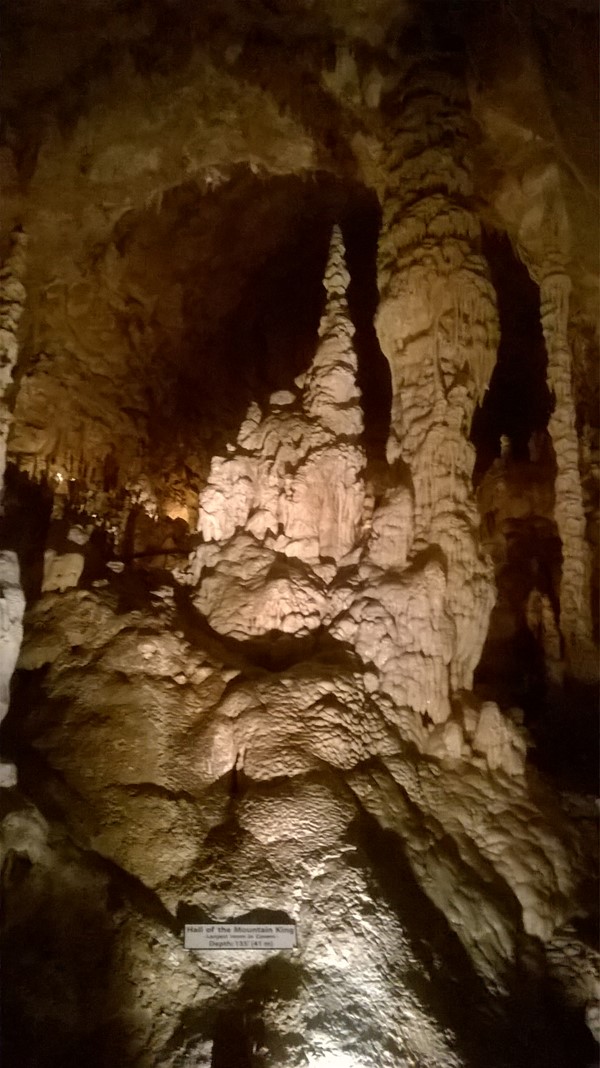 I'm sort of amazed at the pictures considering my new phone (Nokia 635) doesn't have a flash (or a forward facing camera).
A nice little stop on the way to the airport. Privately-owned so it wasn't cheap at $20 for the standard tour. I think the Colonels would have liked the caverns, but not all the walking and steps.
To the airport way too early, which when your airline only has one flight a day, forget checking in more than two hours early… and forget that upgrade – I was number ten on the list. Wonder why? Here is a list of all the MVP Golds and 75K fliers on my flight. WOW!
And there are only 12 First Class seats on the 737-700 that they use on this route. And so much or the empty seat next to me…I found it (and the window seat) filled with what Wonderful called PPPs. Pasty, Pudgy, PlainsPeople.
Oh well, it's only a 3½ hour flight, and I brought extra mini's to add to the free one they provide for MVP Gold flier.
In those 3½ hour flight I learned more than I wanted to know (after hours of research on the ground) about this couple married almost 38 years….
Here is a report that I sent to several friends after soliciting their opinions:
So, I'm sitting next to this couple – a little annoyed because as of yesterday the seat was vacant, and now it's filled with a PPP as Wonderful would say… a Pasty, Pudgy, PlainsPeople in a Seahawks shirt sitting in the middle seat with his wife of almost 38 years next to him. Both sort of frumpy, definitely not flashy – but you could also tell that they were still in love with each other from the way they were kidding around.

I didn't get the impression that either of them was too bright, let alone charismatic.

So, I'm watching what's coming up on his laptop — things like the Drudge Report, making advertisements and PowerPoint presentations with the Blood Moons book in it (see below)…

And we are occasionally chatting – wife likes wine so who knows, they might become customers, which would be weird. That came up after he said he was in the ministry which I followed up that I was in the "Blood of Christ" business, which he chuckled at.

So we are chatting about travel – he (and the wife) are hosting a bible cruise through the Mediterranean, a trip to South Africa, and he's asking about visa and stuff which brought us to vaccinations, of which I inquired about his thoughts on the measles outbreak — he supports the right not to, but on the questions of the yellow fever/malaria vaccinations for South Africa (which usually includes a booster for MMRV [measles-mumps-rubella-varicella]) he said, of course they are going to get them.

He wasn't trying to see me his vision or anything which was nice – but it did make me curious about him, hence the email. He mentioned a board of directors, and that they pay for all his travels for him to preach – his main congregation is in Tacoma where he does a Shabbat Service Saturday mornings (10-12:30) using the Church of All Nations semi-mega church. I noted he isn't on their calendar so they are probably just renting space.

Weird thing is that there seem to be LOTS of El Shaddai (God Almighty) foundations out there supporting churches in Haiti, children's cancer – most based out of Florida and looking a little shady from some of the Board of Directors pictures I've seen…

And anytime I see something like this on a website: We do not want to convert Jews to Christianity or Christians to Judaism… it raises red flags, as does when ones resumé is done in Comic Sans (http://www.elshaddaiministries.us/MiscPDF/MarkBiltzbio.pdf)

And some interesting reading about the second coming and this guys involvement…

http://en.wikipedia.org/wiki/Blood_Moon_Prophecy

So – that is the reason for the question that took me down the rabbit hole of spending a morning stalking him online to see what he is really about.

So, that was San Antonio, a little mid-week adventure. $158.60 round-trip with one first class upgrade.
[224.8]