All good things come to an end, hopefully in first class – which I'd prearranged with a coupon and a few extra dollars. They give me 4-6 a year, unfortunately they no longer work on the cheapest fares, but if I have to travel at the last minute (or month), they are handy since I'm already paying a premium.
New Orleans is trying to upgrade its facilities, but it suffers the same problem as Kansas City's airport – it was designed BEFORE (or during, in which case it's too late) hijacking, 911, radical security. The plan in those days was 50 yards from the gate (in Kansas City's case) in concentric rings. The problem with New Orleans's airport is it goes out like fingers with security at each beginning of the finger – with no way to get between terminals behind security (LAX also suffers from this problem). If you happen to be connecting from one airline to another – you are shit out of luck and need to exit and go back through security – or in my case, wanting to hang out with Dan in Terminal B, when I'm in Terminal C, and the airline club I have free access to is in Terminal D (I have no idea what is in Terminal A in New Orleans).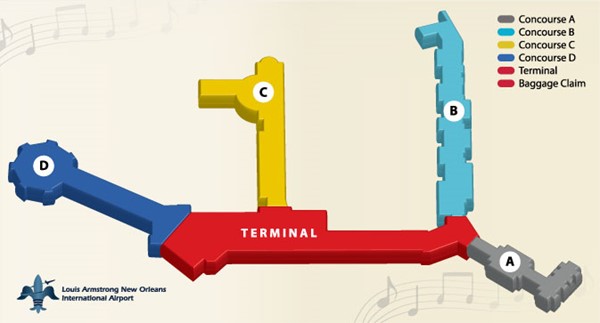 The problem with most airport designs is that they aren't "blank slate" designs – they are cobbled together over years. In the case of the Kansas City airport, they had a "blank slate", but as they were building it, the world changed. Here is their original plan – one that they are thinking about rebuilding at the other end of the runway and tearing down the current one. In each of the rings there are four+ small screening things for each 4 gates, so that's four screening areas PER ring – forget TSApre (and forget any services POST security – you'll be lucky to get a bathroom or a vending machine):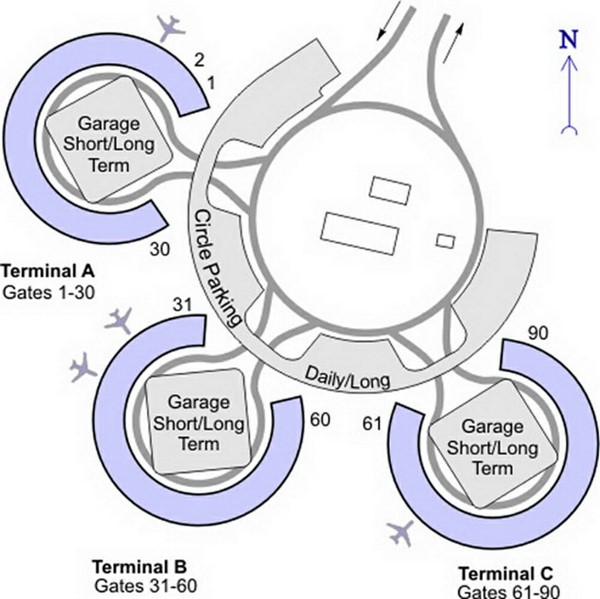 It was a great plan – before security concerns. Time to tear it down. But I digress….
So, arrived on The City of New Orleans, leaving on Alaska Airlines. After killing some time in the airport, which to be generous, is a pit. The problem with the "finger" layout is that most terminals don't have a "sit-down" restaurant. In my terminal there was some "buffet" food, and a "bar" with a walk up window and plastic glasses – not what one would expect from the Food Capital of the South. I got a dog here – though they were down to one model (again, not good):
Like I said, I wasn't that Lucky – no Cajun Dogs left at 3 in the afternoon. Luckily, this was a "tide me over" snack before the flight where there was real food (I know, I just said that about airline food).
It was worth the extra couple of bucks for the guaranteed upgrade rather than sweating it out an upgrade at 72 hours, then 48 hours, then 24 hours, then at the gate. It much nicer to be greeted with this: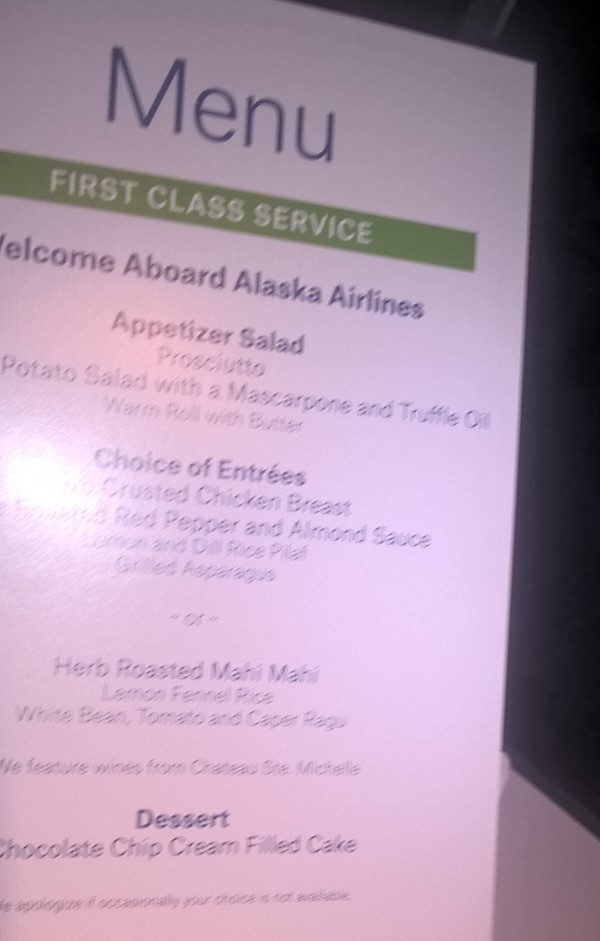 The starter (HOT nuts, Jack & Diet, DigiPlayer):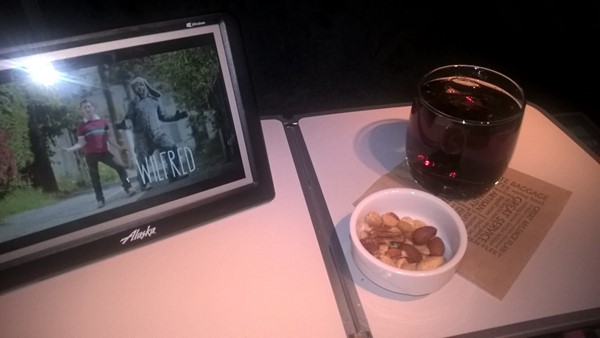 The mezzo (bun, prosciutto, potato salad with mascarpone and truffle oil and a random tomato):
The main (herb roasted Mahi Mahi, lemon fennel rice with white bean, tomato and caper ragu):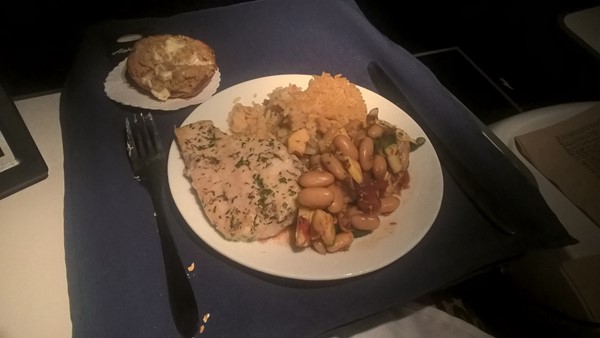 The dessert I shouldn't have eaten (chocolate chip cream filled cake):
THIS, on a three hour flight. And this is why I love long flight up front.
Luckily I had someone (Thank you, Kurt!) picking me up at the airport!
[? ? ?] The next day I got on the scale after 9 days on the road and was SHOCKED – I didn't gain any weight. There is no god. Or I was walking multiple times more than usual.