Planned this trip months ago, and as the timing turns out, perfect since my buddy I'm going to visit is returning state side in a month…but first I have to get there.
The bag is packed with 10 short-sleeve Hawaiian-esque shirts, all nicely rolled in a line: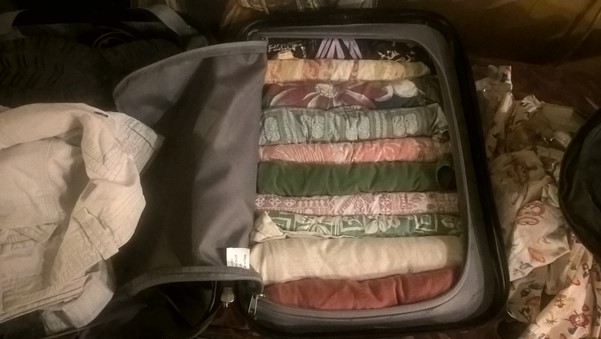 Add cotton bathrobe, shorts, sandals, a few socks, toiletries, beef jerky (request from my buddy) and we are set to go.
The first leg is Seattle to San Francisco for an overnight and dinner with friends. When you redeem miles to get a free ticket in business class, you aren't picky about the routing. The other request from my buddy, that Pigletté join me for the first time in years (13 to be exact, though I had to look that up), leaving BóBó and Mr. Lobster to hold down the home front: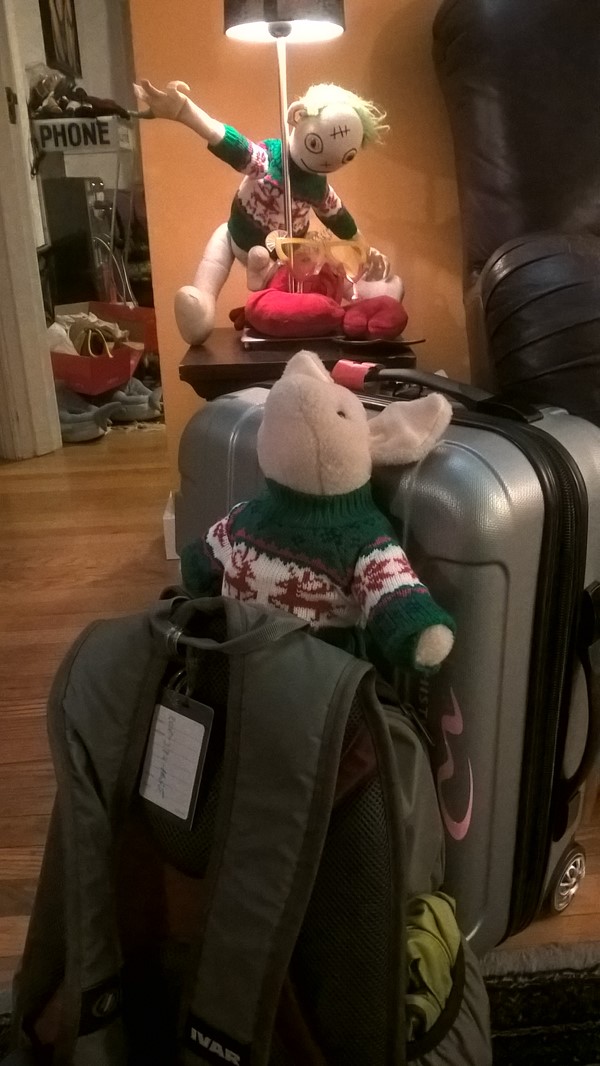 Pigletté looks pretty comfortable with a Red Baron in the Board Room…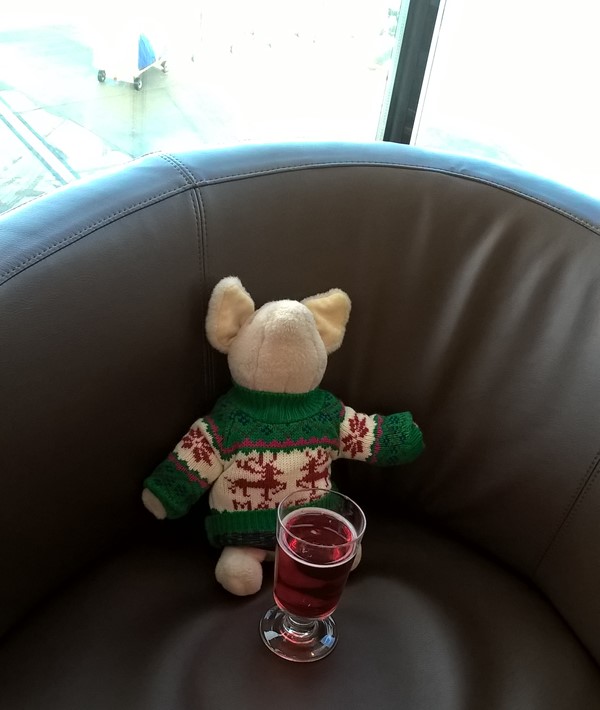 And the plane is here…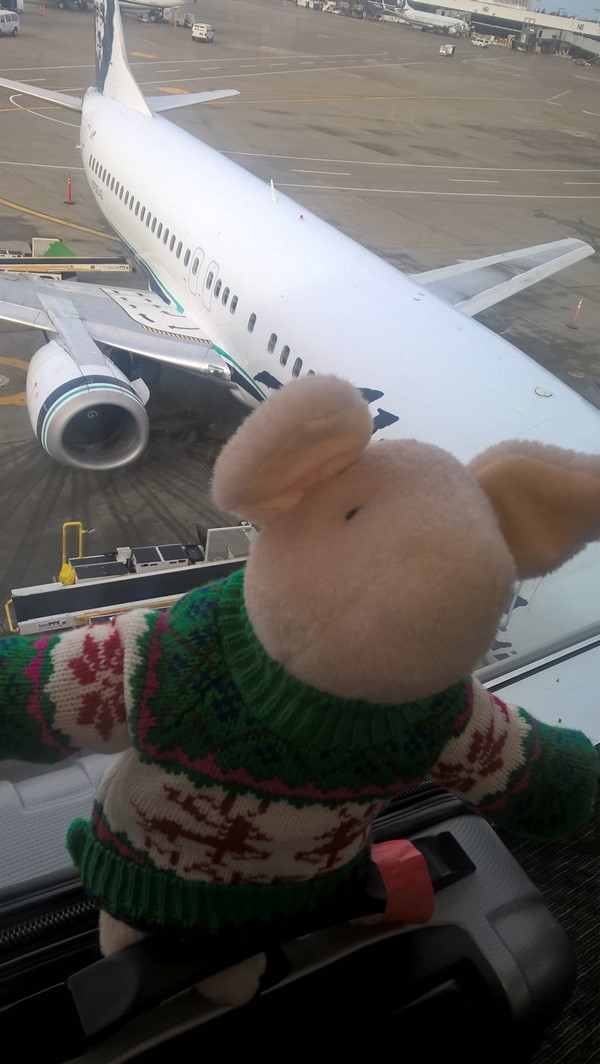 Now just the weather needs to clear in San Francisco to get all the backed up planes in safety – add 50 minutes to the departure time.
At least Pigletté and I are in my favorite seat – 1C – doesn't he look comfortable!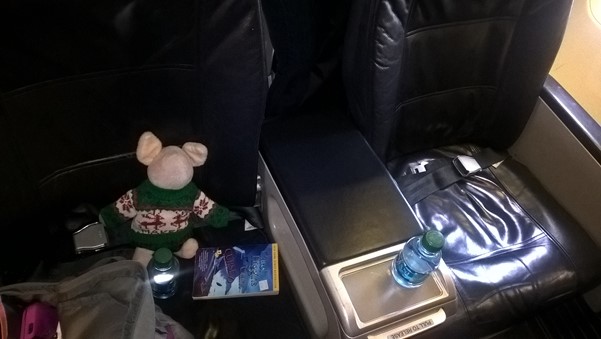 Sadly, the seat next to us does get filled, so Pigletté has to ride as a "lap pig" – think "comfort animal".
A nice Cobb Salad on the way down – healthy food!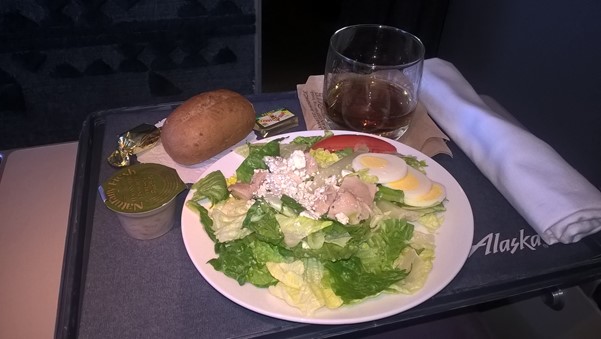 Luckily, Alicia and Devon pick me up at the airport and off to Bernal Heights for Peruvian food (Piqueo's) with Pigletté in tow.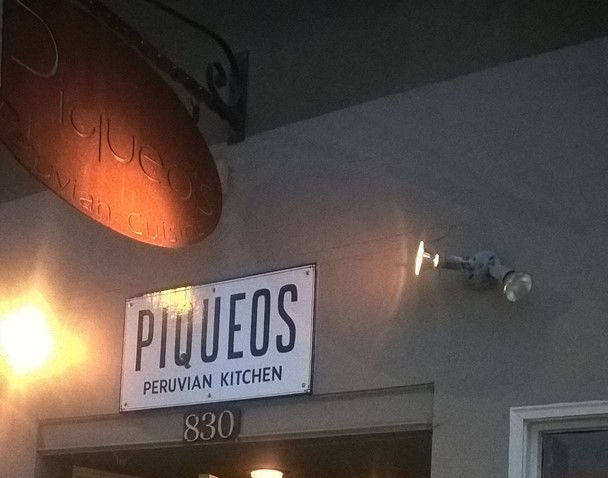 GREAT COMPANY!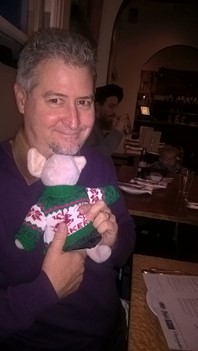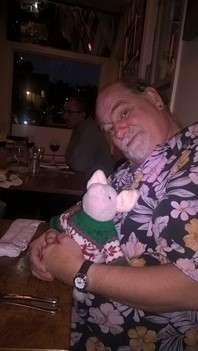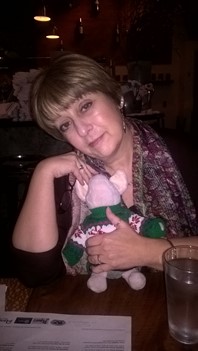 GREAT FOOD!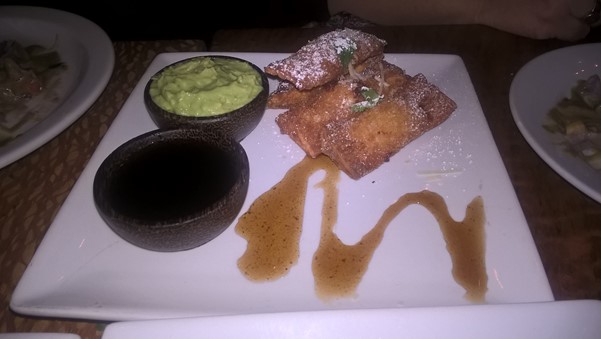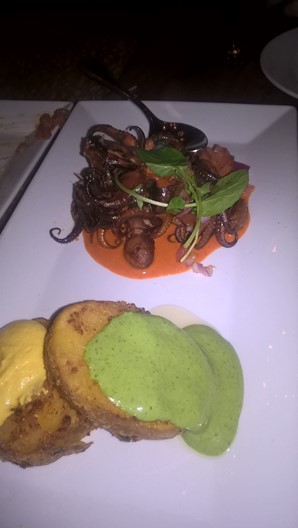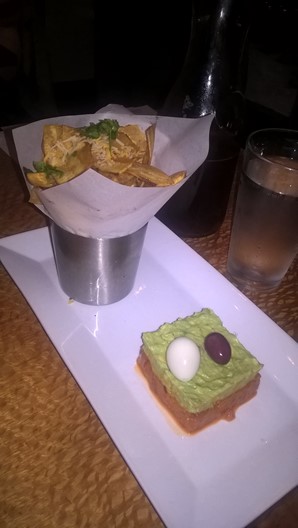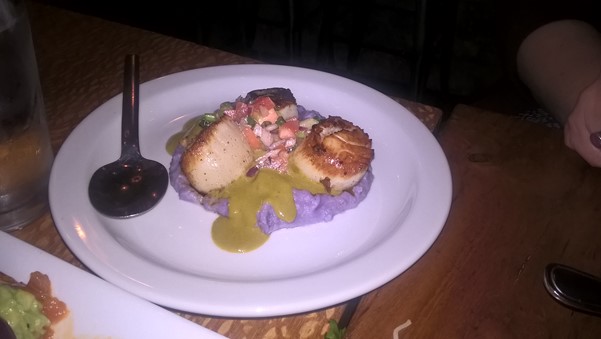 With a fine meal over (and the pitcher of Sangria – best damn Sangria I've had in ages), it time to head up the street to a neighborhood institution – a gay bar called The Wild Side: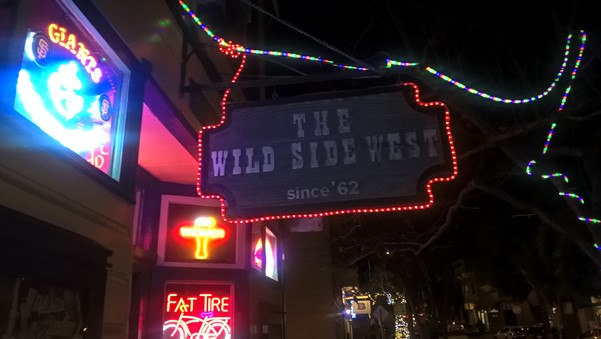 It's a cash-only bar, luckily Pigletté has cash and a desire for a Manhattan or two: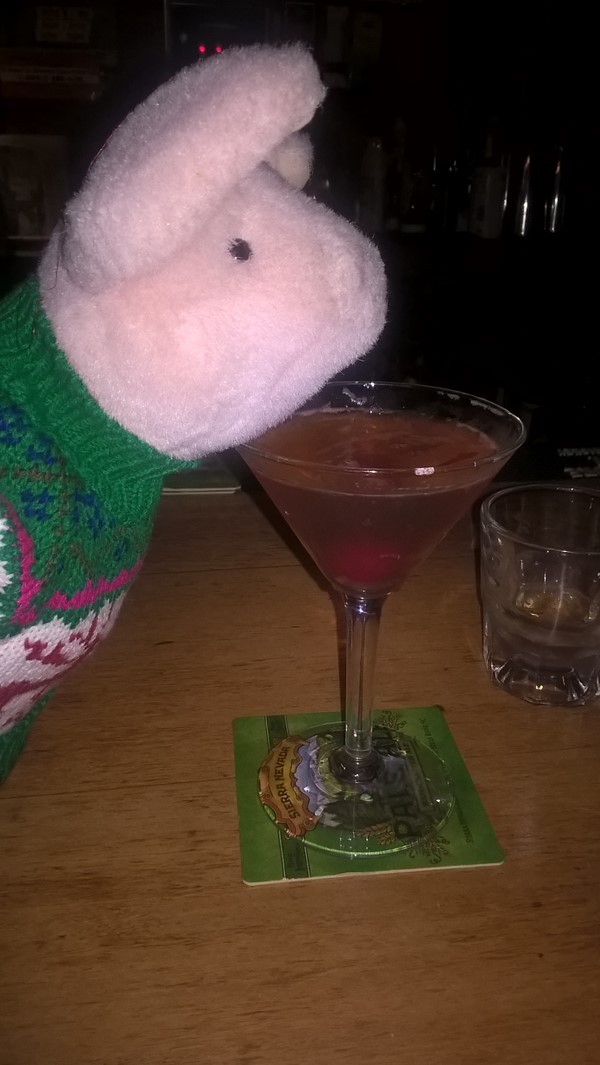 The bartender "warms" to Pigletté when there is money on the bar…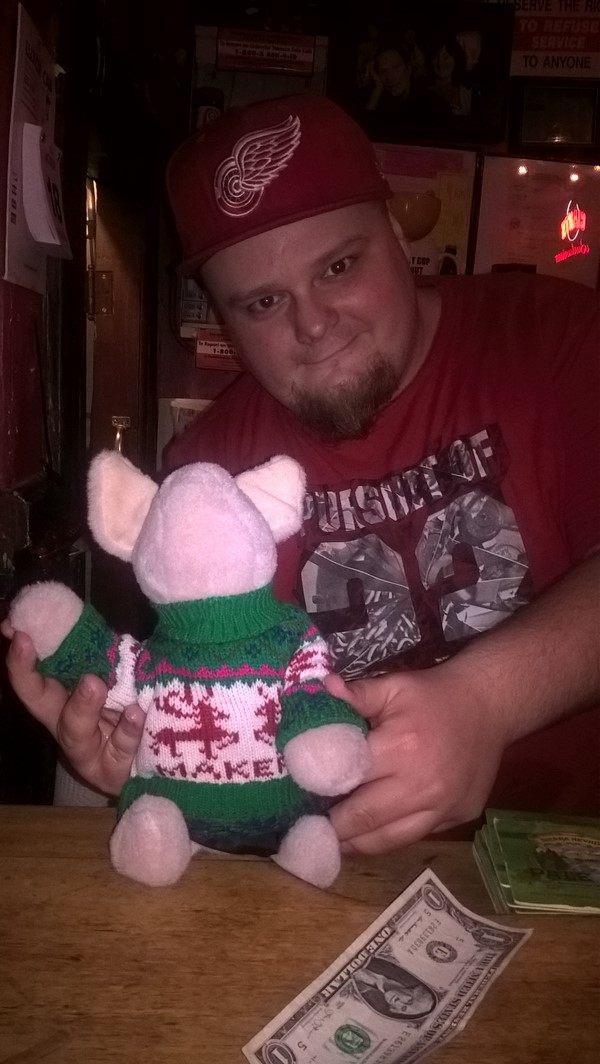 Running low on cash, time to head to the WorldMark San Francisco to tuck in for the night.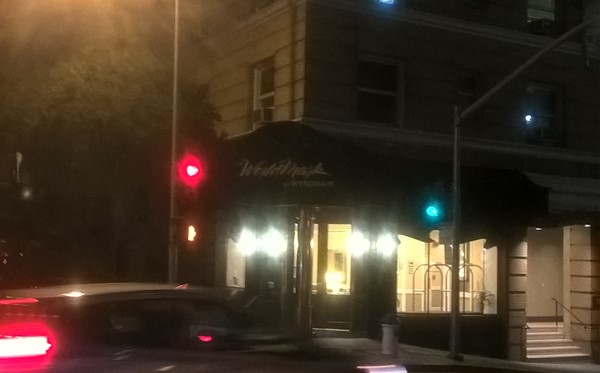 I just got the Studio Unit since it was just for one night…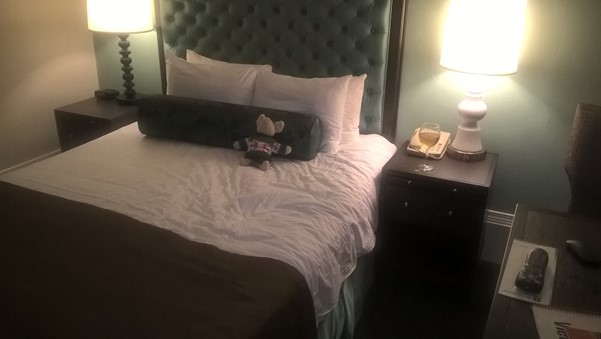 A little tight…maybe I should have sprung for the one-bedroom, two-bath that was only $20 more (studio was $68 which is CHEAP for being just off Union Square).
Up too late, but luckily tomorrow's flight doesn't leave until 3:30pm.
[? ? ?]