One of my biggest worries of this trip was that a delay in arriving into Saïgon would screw the trip to Cần Thơ the following morning as there was only twelve hours between landing and getting picked up for the tour. Alas, no worries, even with the delay at the Visa Desk.
In the morning Sean and I head out for an early breakfast – leaving Pigletté at home since it's Pork and Rice for breakfast (and iced tea):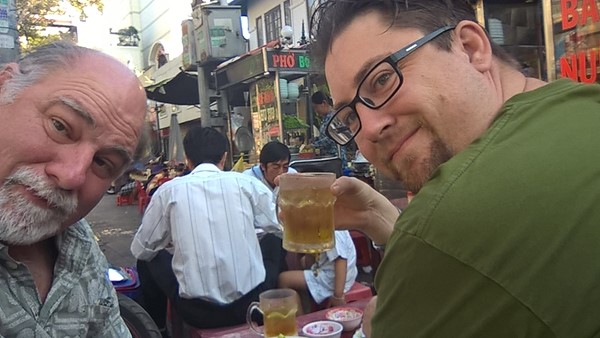 Here is the guy cooking our pork on the side of the street at 7:30am in the morning…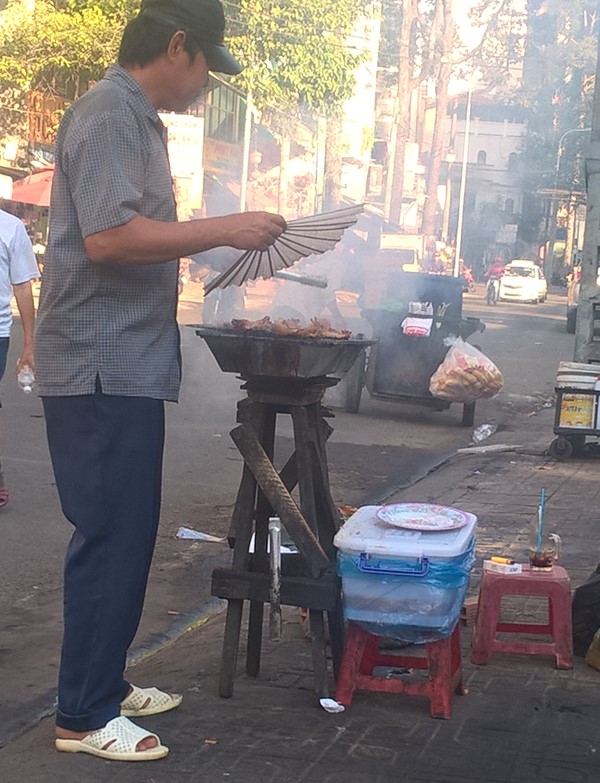 And the end product. I think I could get used to this. 34,000 Dồng (Vietnamese Monetary Unit) a person ($1.52 USD):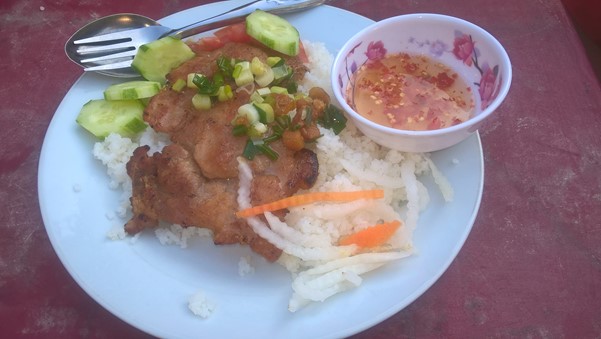 Our driver was right on time at 8am – and even came down the narrow street to pick us up in front of Sean's apartment: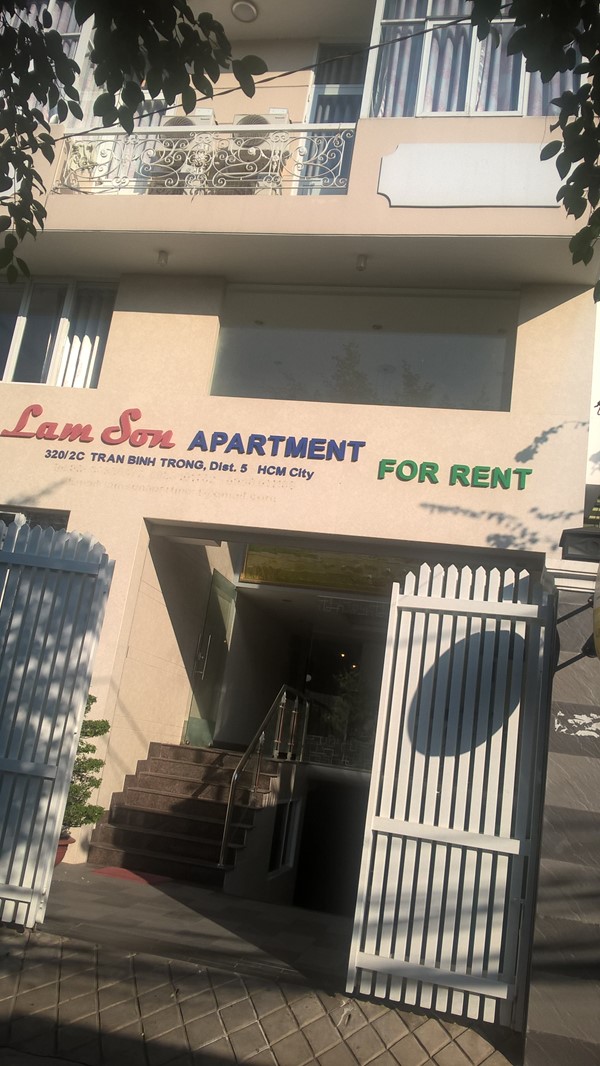 He had to back down the alley as there was no room to turn around. But off we go for the 4-hour drive to Cần ThÆ¡. After we got out of the city, there was a bit of tollway that quickly turned into two lanes in each direction separated by a "Jersey Barrier", with scooters/motorcycles going both ways on the shoulder – all accompanied by various small businesses lining the road, with the occasional break for rice paddies, banana farms and other agricultural stuff.
Part way in we stopped at what I call a "tourist rest stop" that all the tour buses stop at (though we were in a chaffered car) – a "shopping opportunity" as The Colonels would say – and a chance for a freebie for the driver. Sean mentioned that he prefers to stop in "hammock cafes" where you have your tea (or whatever) while lounging in a hammock in the shade.
All said, Pigletté enjoys his Vietnamese Coffee (Robusta-bean brewed coffee with sweetened condensed milk):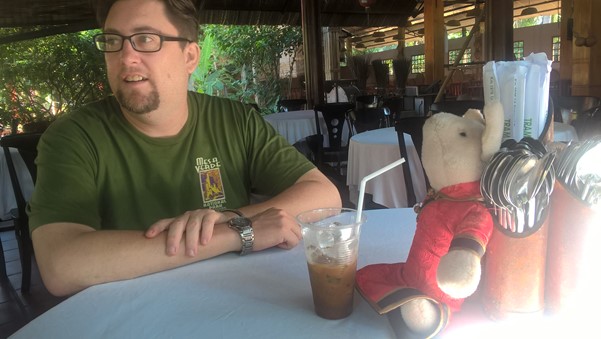 And the surroundings are pretty – but it took us a bit to find our driver again…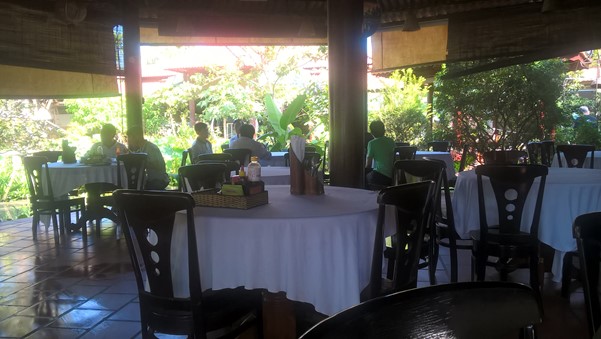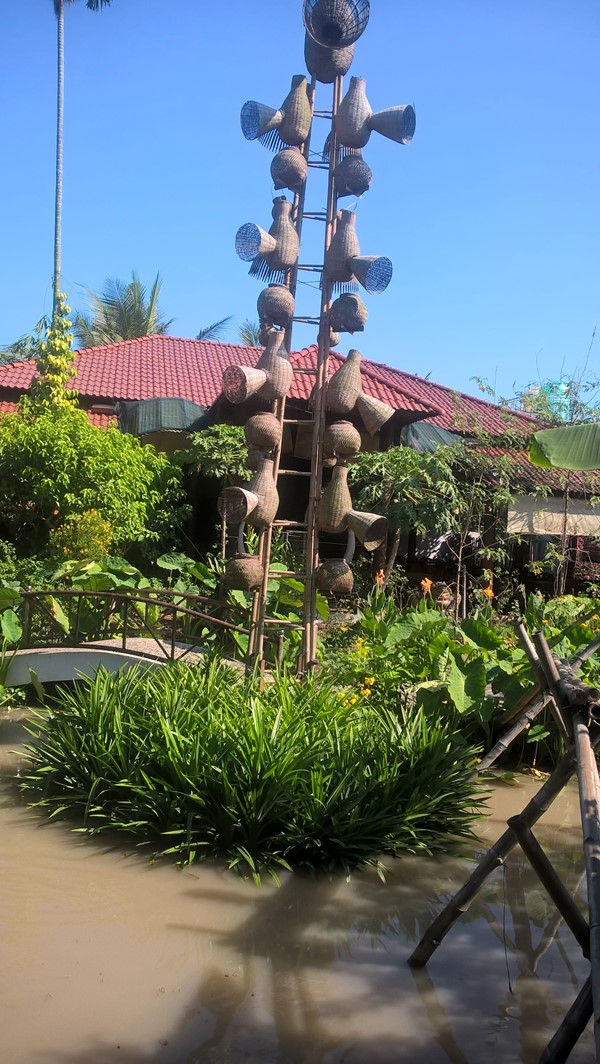 Before you knew it – and Sean snoozing after his tea — we are approaching the new (as of 2010) bridge over the Mekong River to get to Cần ThÆ¡. The old method was a ferry that added HOURS to the journey. This and another bridge at the Cambodian border makes it possible to drive from Saigon to Phnom Penh, Cambodia in six hours.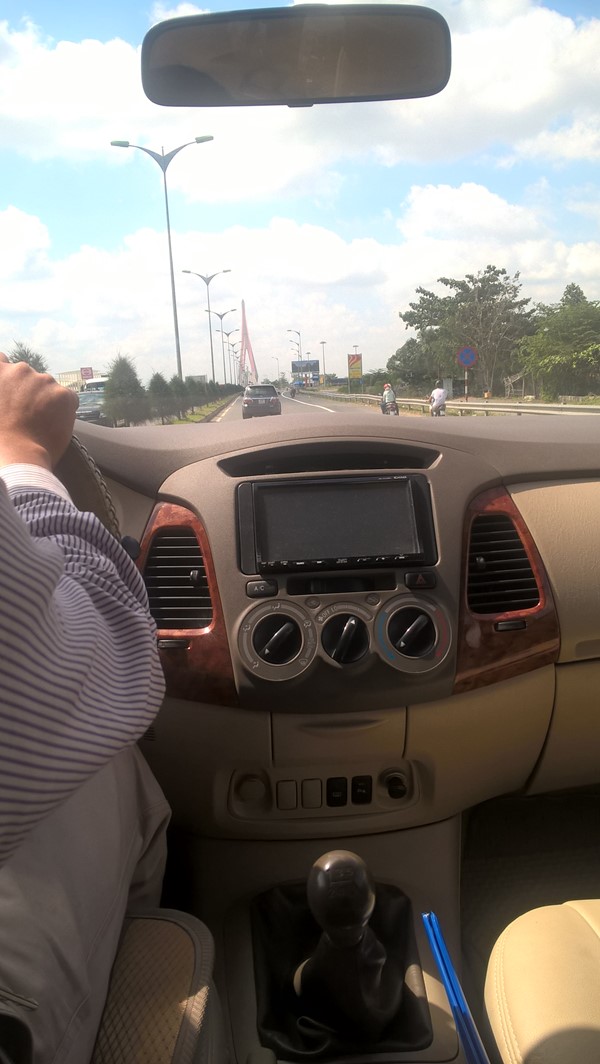 First stop when we arrive in Cần Thơ is our lunch stop of the day with a set Vietnamese lunch: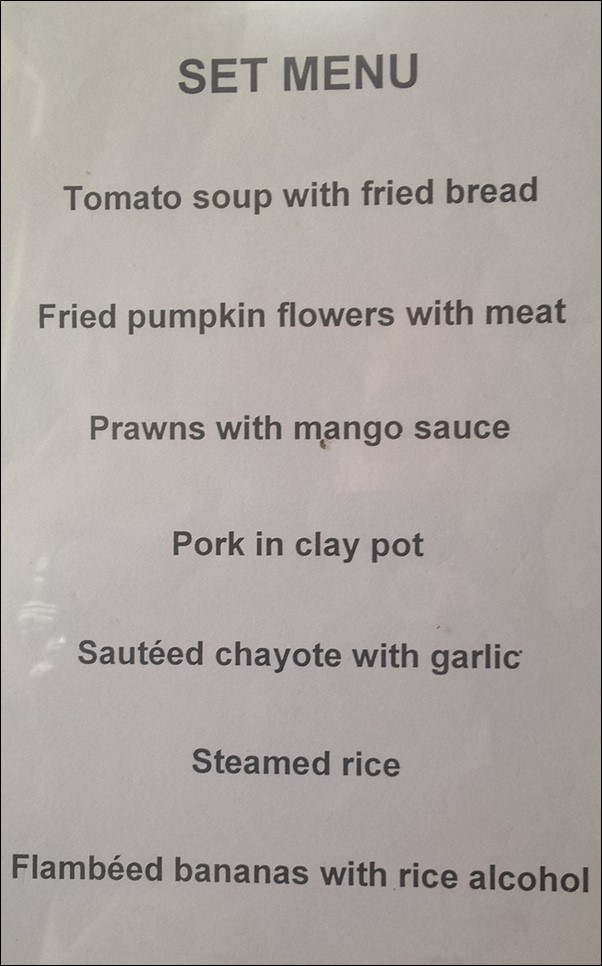 And it was tasty: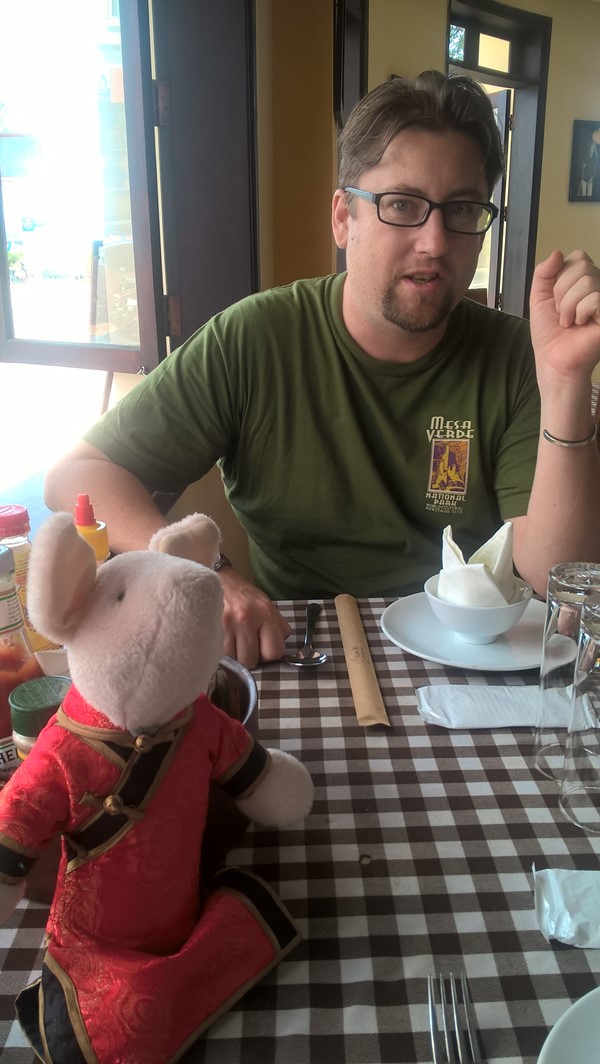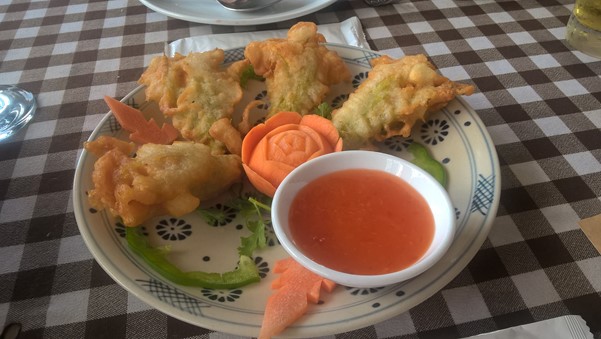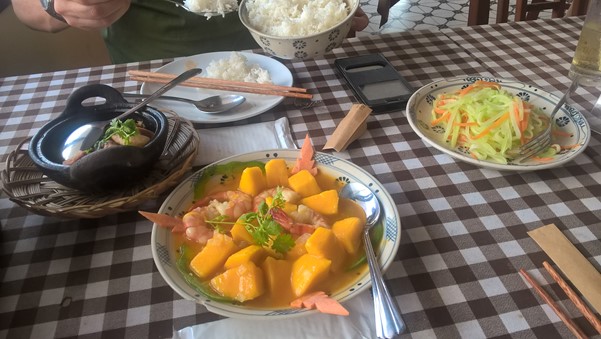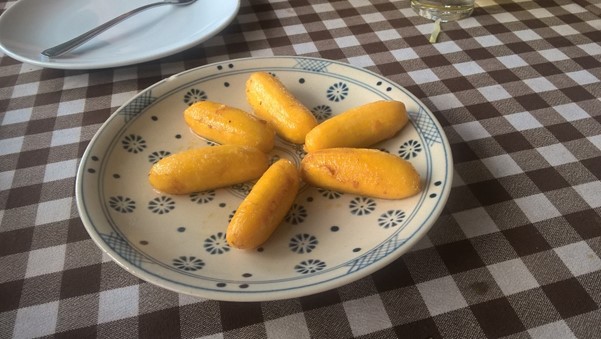 Luckily this was all part of the "package" I got from Luxury Travel Co., Ltd. So far, the tour isn't disappointing. With the lunch we had some Vietnamese Red Wine (Vang Dalat, served chilled and considering it was 90 degrees outside, a good thing) by the glass (50,000 Dồng each — $4.49 USD for both glasses, NOT included in tour price). There is a review of the Van Dalat STONG wine (16% being fortified with Mulberry Wine here), but I don't think it's right to compare a fortified wine to a regular table wine from the same producer, but it is an interesting interview.
After lunch (and an ATM stop for Sean – he's my "bank" this trip so far, not having changed any money at the airport on the way in), we are off to check into the Victoria Cần ThÆ¡ – a Colonial-era hotel (think French occupation of Vietnam). You have to love a check-in process where they say, "take a seat", turn over your passports, and while they do all the paperwork, you get a shoulder massage: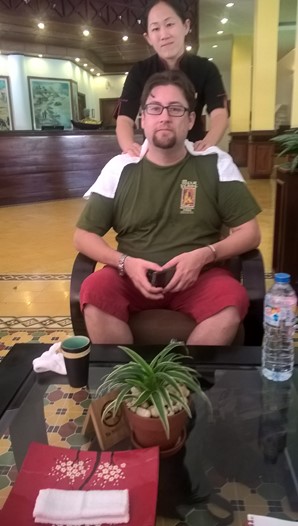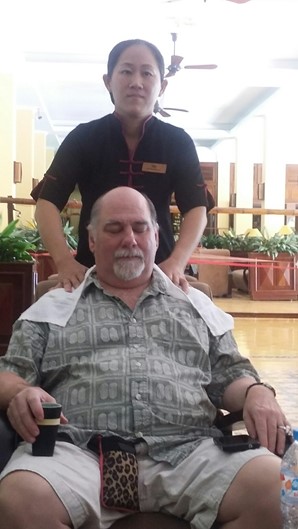 Again, part of the "package" apparently – and there is a spa on premises if we want a "couples massage". We have the afternoon free, so we settle into the room to craft a plan…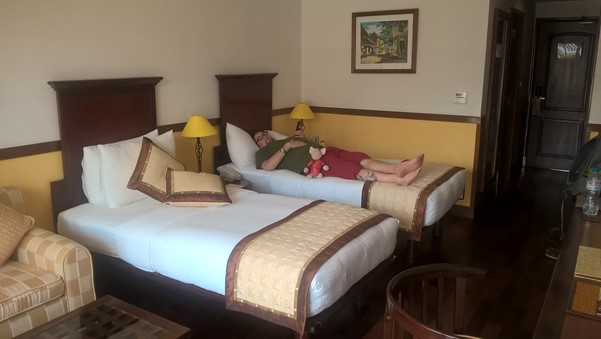 Even the bathroom is nice…they even put a condom in a little envelope on the top of the toilet…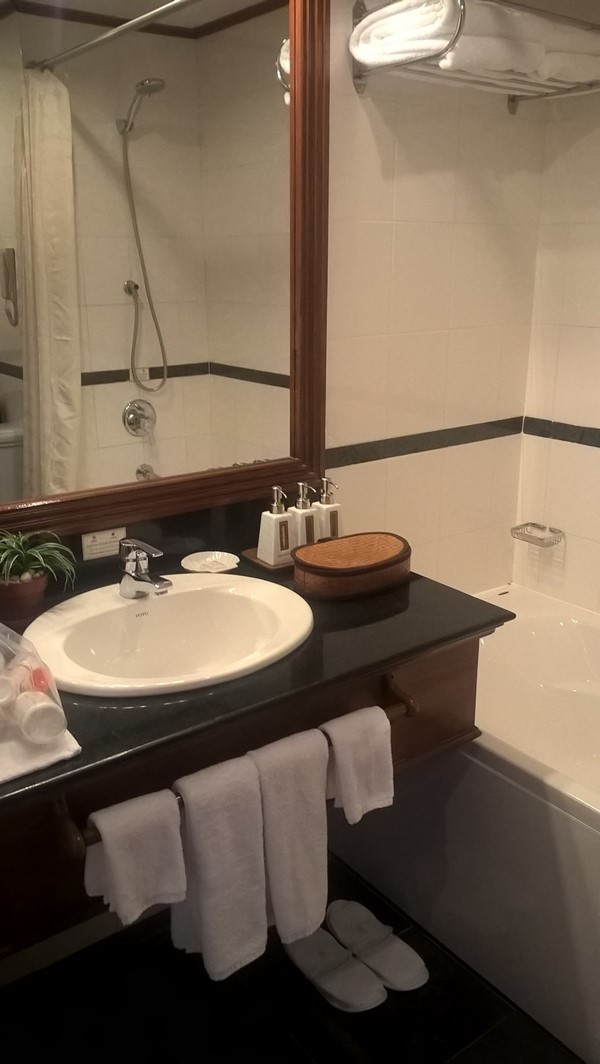 They even sent up a fruit basket!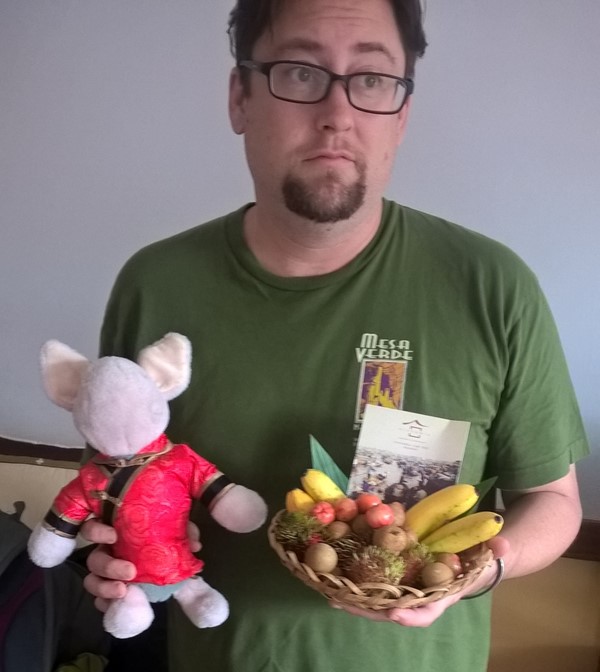 We had to call down for ice for the flash of whiskey I brought (flask was included with the liter of Jameson that I bought at Dubai Duty Free):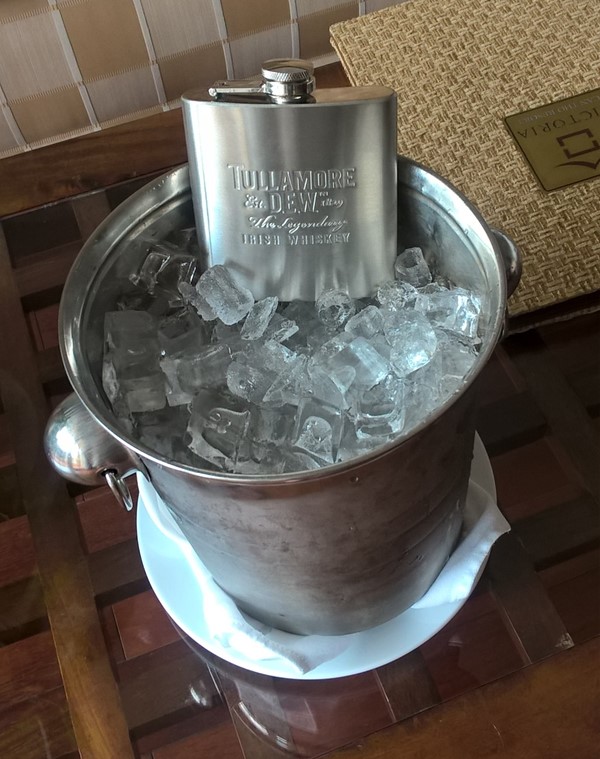 Internet and nap time rule for the afternoon – at least until happy hour in the bar downstairs…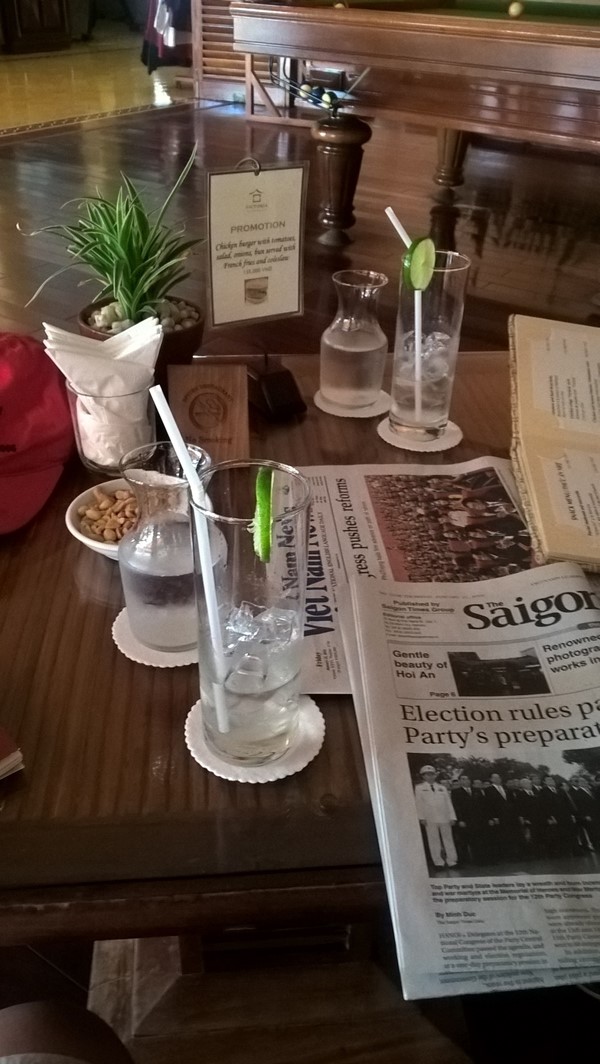 And a little reading time (unless you want to play billiards):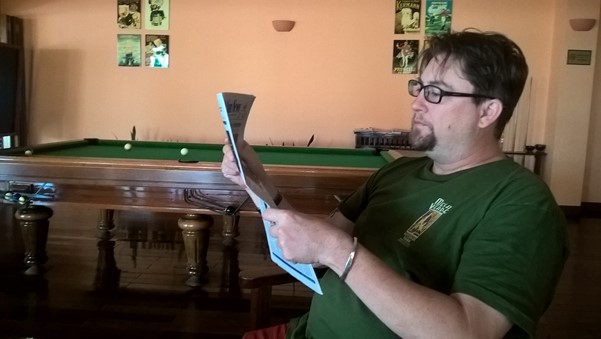 We could have played Backgammon as well….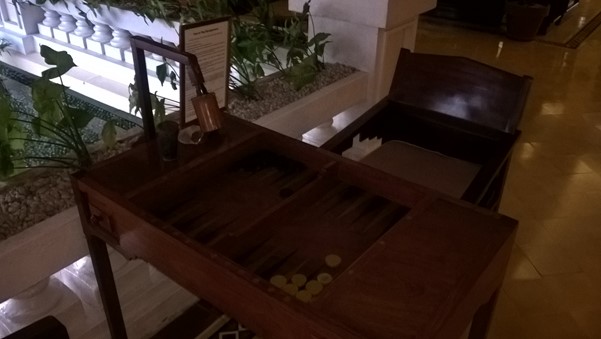 Happy hour wasn't THAT good a deal – 2-for-1 Gin & Tonics at 4-star hotel prices, but we did need the nuts and a little snack before taking the water taxi to Cần ThÆ¡'s city center…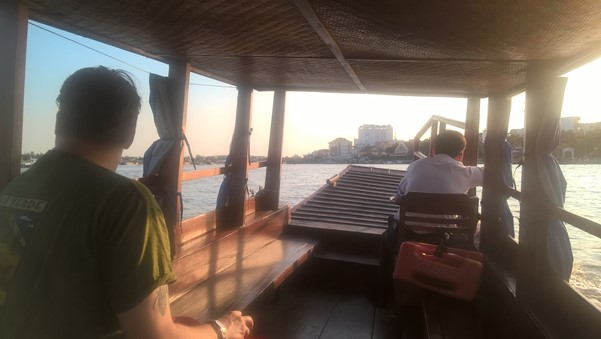 Our objective was to find some supplies – whiskey and diet for me at retail rather than hotel prices…and explore some of the city center. The water taxi is run by the hotel and they just need 10-15 minutes' notice on the hotel end, as the boat is moored in the city. Turns out we stumbled into one of the few shops early in our stroll that sold both – but hoping for a better deal, we explored further. Note the Microsoft Storefront in the background…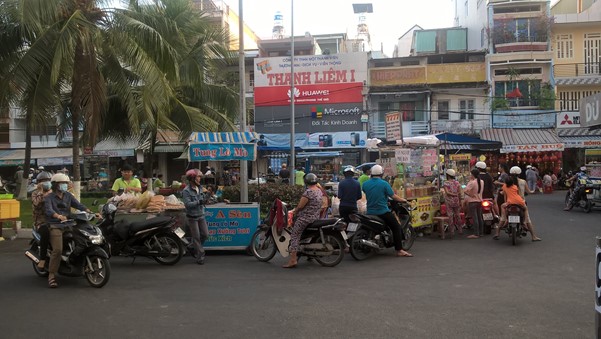 And a picture from Sean's collection. GREAT picture of me.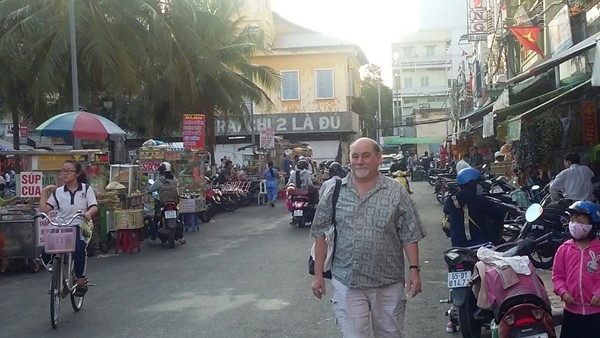 Fresh shrimp anyone?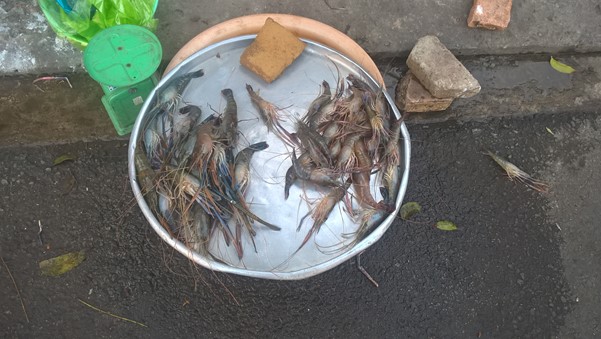 Or may some Tết (Vietnamese New Year) stuff – we bought some!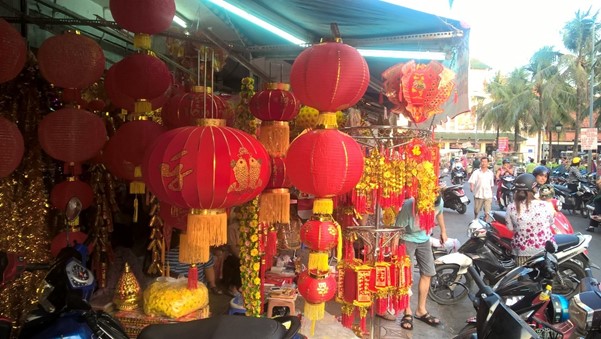 But soon it was time to head back to the hotel with our Scotch (Johnny Walker Red – not my first choice, but the best of the lot) and some Coke Light (Diet Coke for those in the US). We have a 6:30pm dinner reservation (also included in the tour price), so time is of the essence…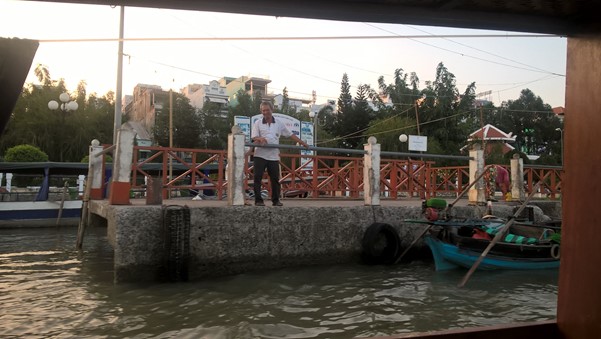 I thought I'd show you some shots of where we were staying – stunning grounds and facilities. Headed to the resort from the dock…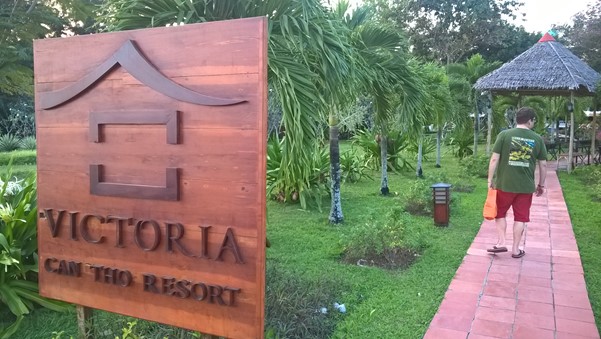 The river side of the place…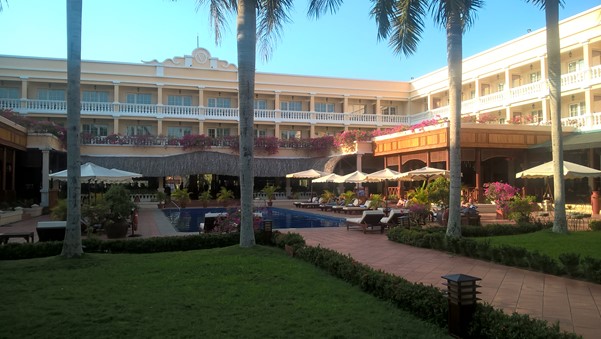 The view from the lobby to the pool…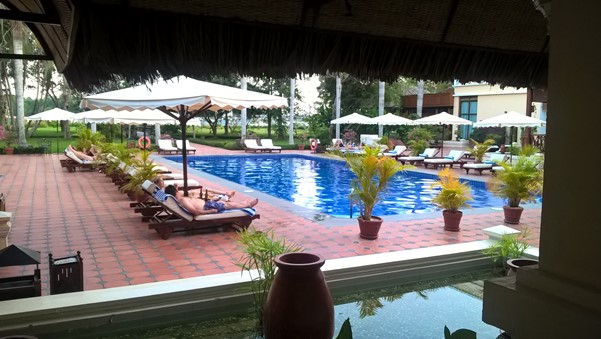 The lobby (open-air – rooms have AC).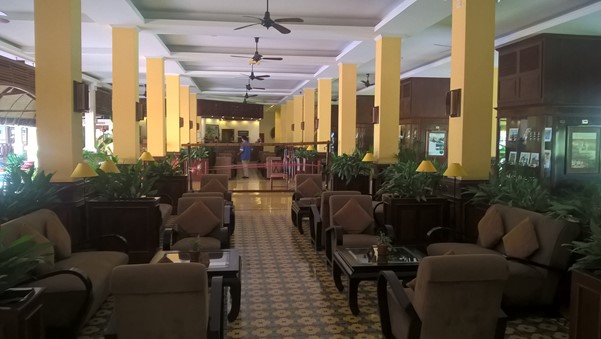 Time for dinner! Listed in the brochure as "candlelight dinner" it was true to description – complete with a custom printed menu for us: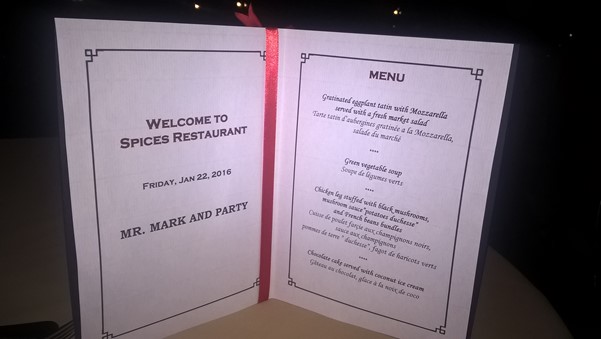 Guess that makes Sean "and party"… love the attention to detail: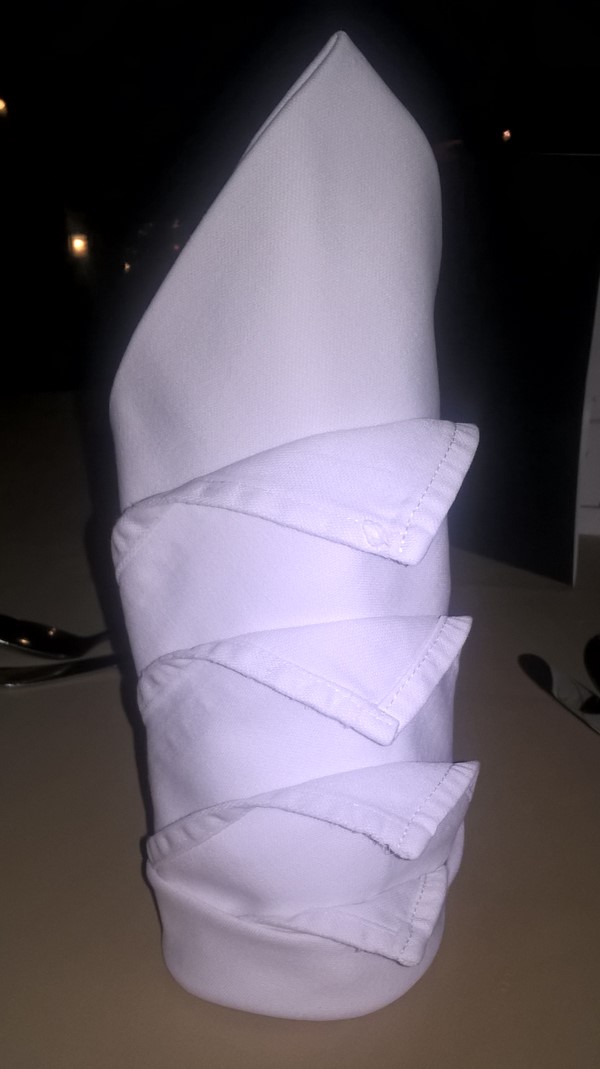 And the food was a stunning as the napkin. The "starter" – Eggplant Tartin with Mozzarella and fresh garden salad (please notice the "balled" butter):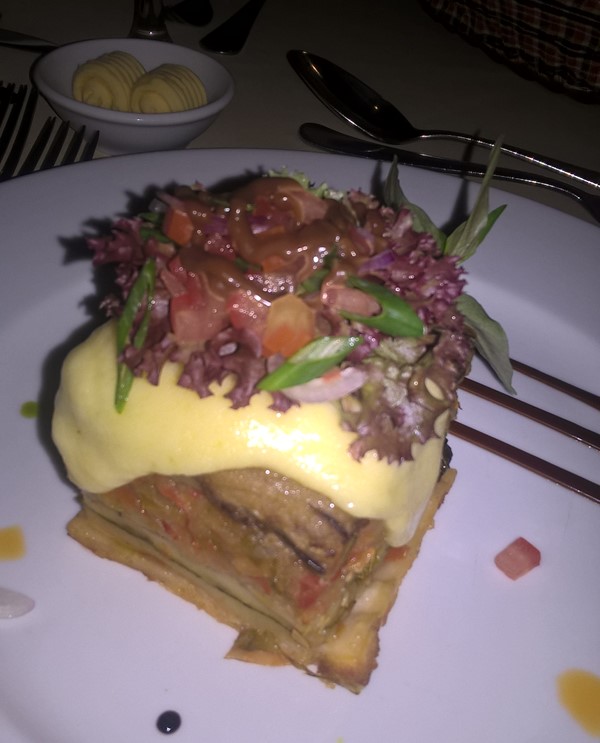 Green pea soup (soup de legumes verts)….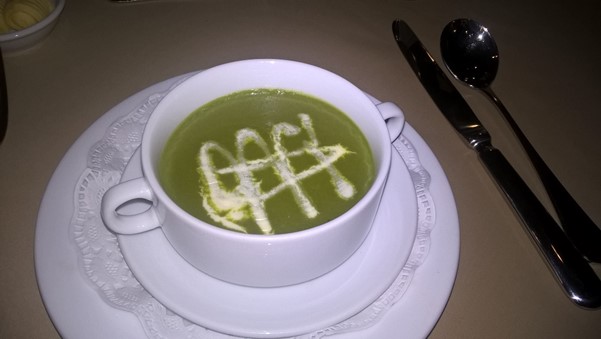 Chicken leg stuffed with mushrooms, and mushroom sauce, Duchess Potatoes, and a faggot (bundle of sticks) of green beans….fagot de haricots verts as they say in France.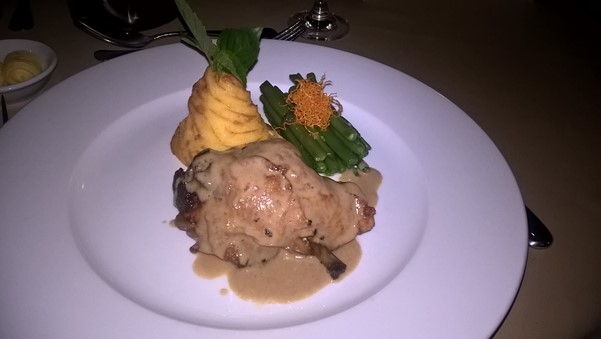 And dessert…. chocolate cake served with coconut ice cream…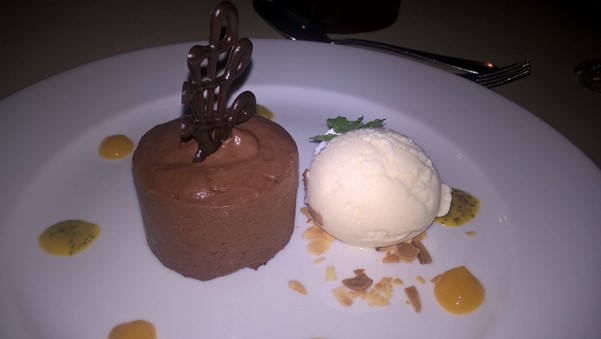 All washed down with a little rosé from Provence (that's in France you know – and Vietnam was a French Colony for a couple of year). It's a Saint Roch Les Vignes which is sustainably-farmed 50% Cinsault, 50% Grenache from 225 acres from select domains in the villages of Cuers, Puget-Ville and Pierrefeu with the average age of vines at about 30-years-old.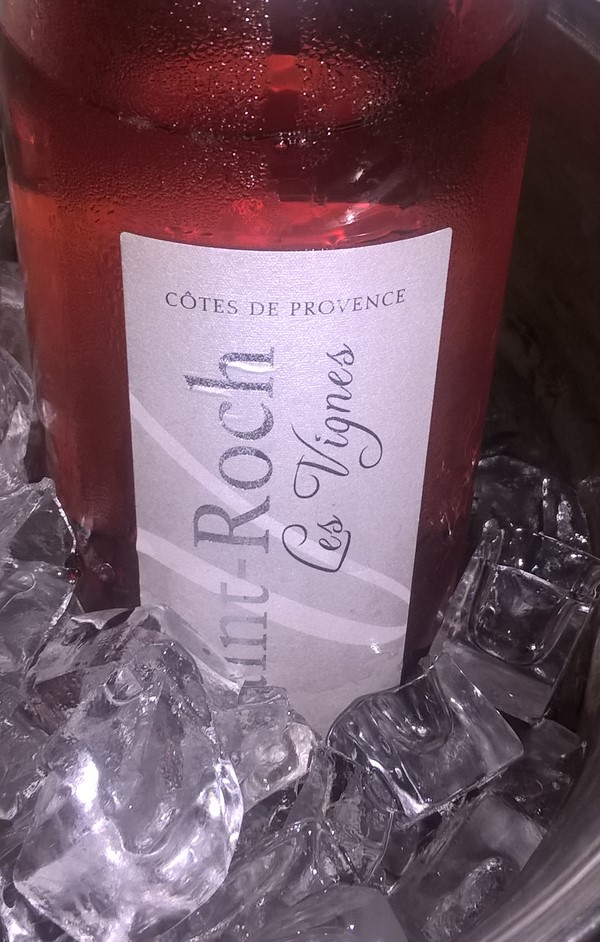 Love a good rosé in a hot environment! Even if it did cost almost a million Dồng. Fun fact – the Dồng has the second lowest redemption value right behind the Iranian Dinar.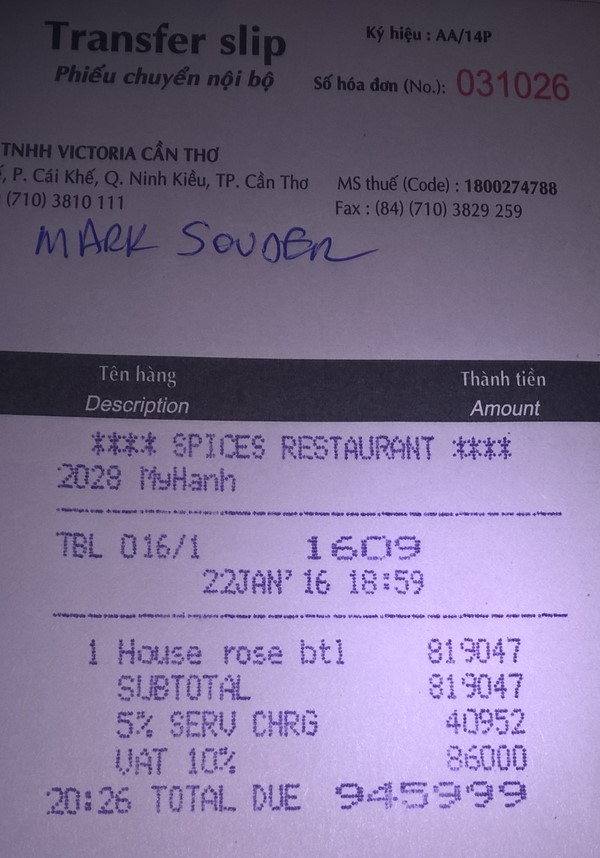 That said, the USD total was $44.45 – like I said – 4-star resort prices. At least I know what the mark-up at the restaurant is – that bottle would be $15 on the shelf at my shop. Considering how little we have been paying for other things on this trip, it was nice to have a nice rosé in hot weather.
The restaurant also has an enclosed, sit-in wine cellar/bar: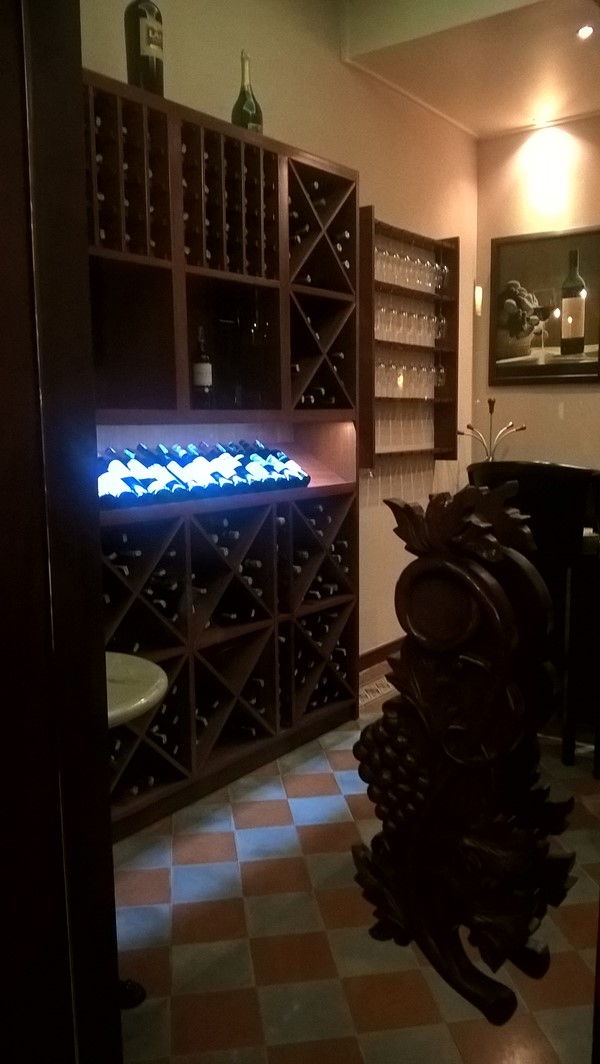 We got back to the room to find more attention to detail – a bedtime story scroll, and a couple of star fruit jelly roll snacks….but no new bucket of ice…that will make the third call today, or is it fourth: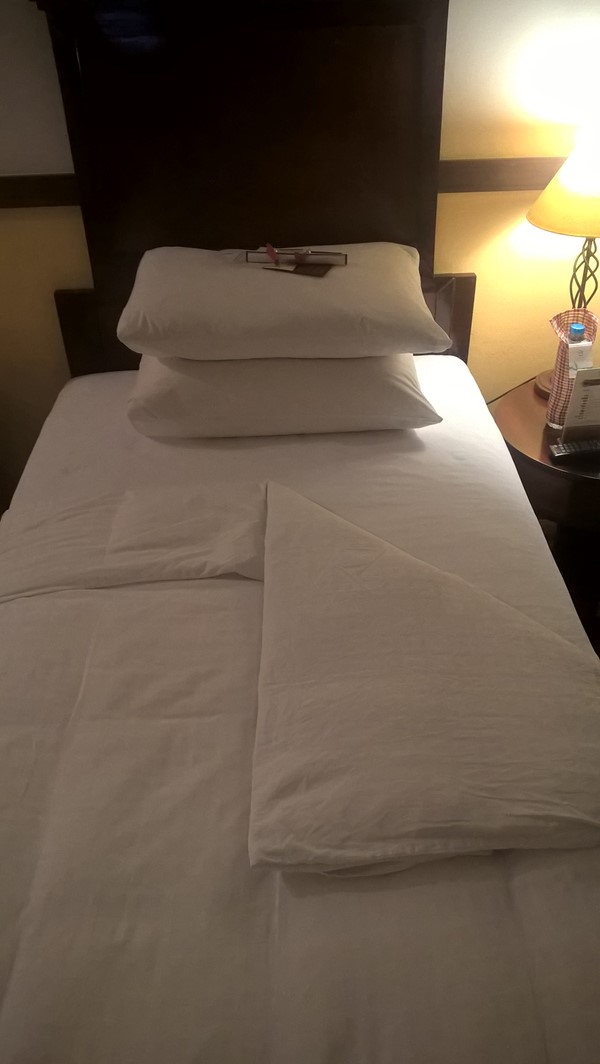 Also, please note that the bottled water has a cloth "cozies" around it. Condoms in the bathroom, cloth sleeves on the water bottles – they are serious about "protection", or is that "glove before you love".
Off to bed – driver comes at 11:30am for us, and breakfast is served until 10am.
[? ? ?]