Who would have thought I'd be up at 6am…guessing that it has to do with "early to bed". Or maybe it was the fact we pulled anchor and are under way again.
Breakfast is at 7, we need to be off the boat at 8 for transfer to smaller boats to explore the Mekong Delta a little more. At least there is coffee ready for us: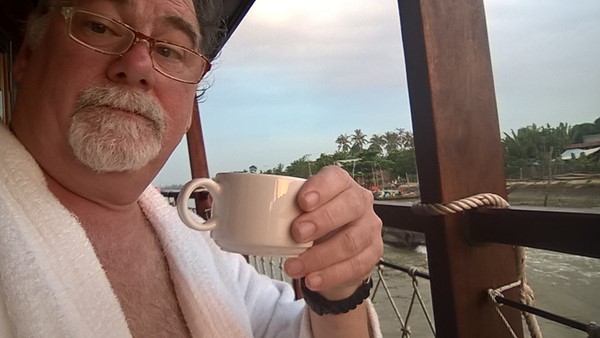 And a beautiful sunrise: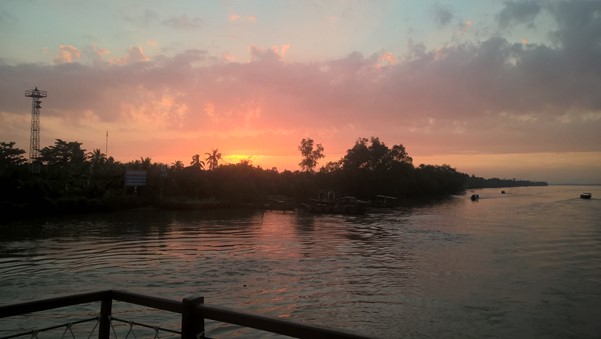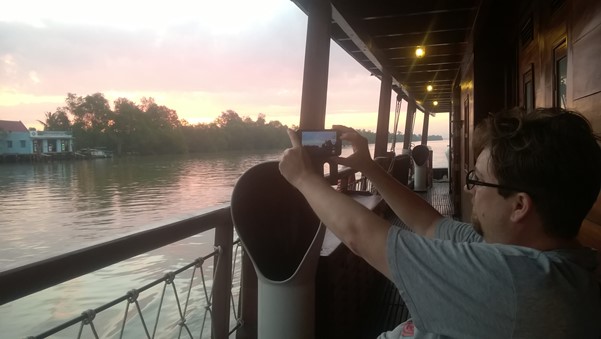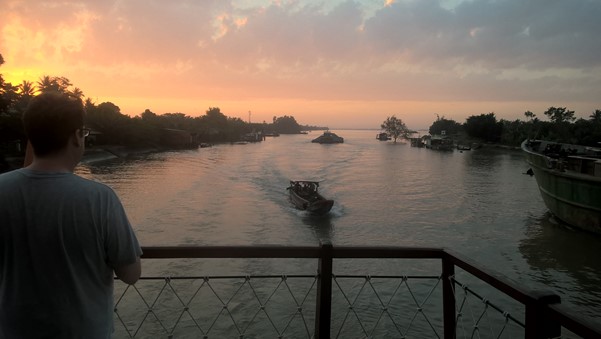 Good Morning VIETNAM! R.I.P. Robin Williams. I loved that movie – and Apocalypse Now. Maybe I should re-watch those on my return to the states. We still have more time on the boat – but I'm already thinking I didn't book enough boat time.
Pigletté is already at breakfast by the time we get there! No coffee for him, just juice.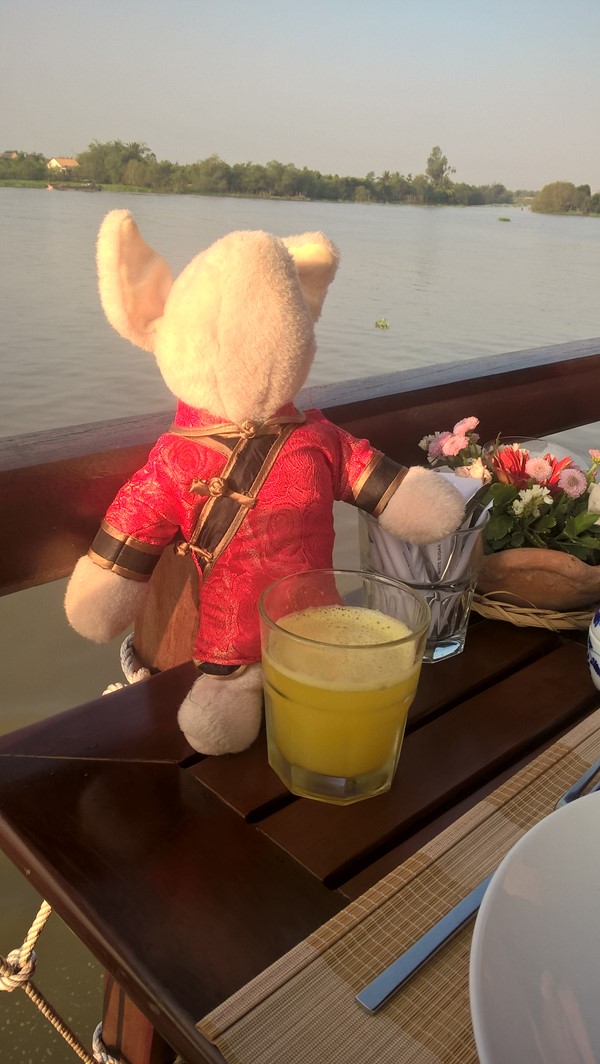 They advertised a "continental breakfast". I'm not sure what continent, but the options were English-style (beans, scrambled eggs, broiled tomato), American-style (omelet, bacon), European-style (breads, meats, cheeses), or Vietnamese-style (pho). When in Rome!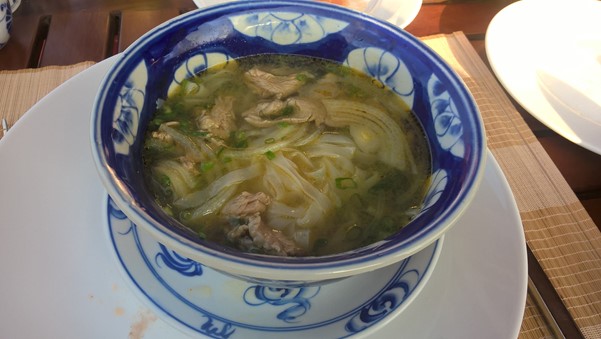 Yum!
When it's time to off-load, it's funny to watch the French people who each have one HUGE bag, and one roll-aboard – PER PERSON trying to get all that stuff into the boats. Here we are, headed away from our home of the last day…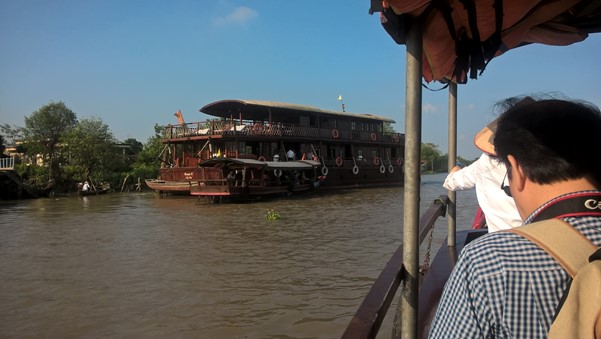 One headed up one of the many tiny waterways of the Mekong Delta: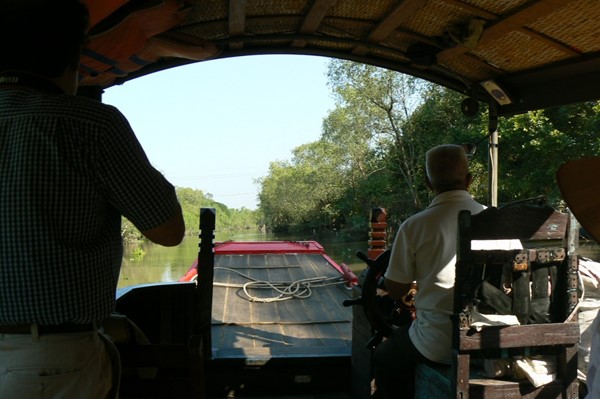 A word to the wise – a little mobility is required for this portion of the journey…think narrow ramps.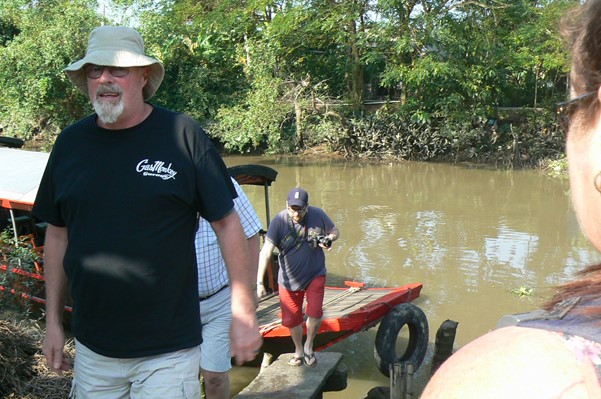 The poor lady from Singapore (on the English presented tour with us) was having some difficulties on this portion of the tour.
First stop was an open-air barn that they were roasting something…coal fires underneath, and pig pits above that guys with plastic shoveling moving product around – it didn't look like a fun job: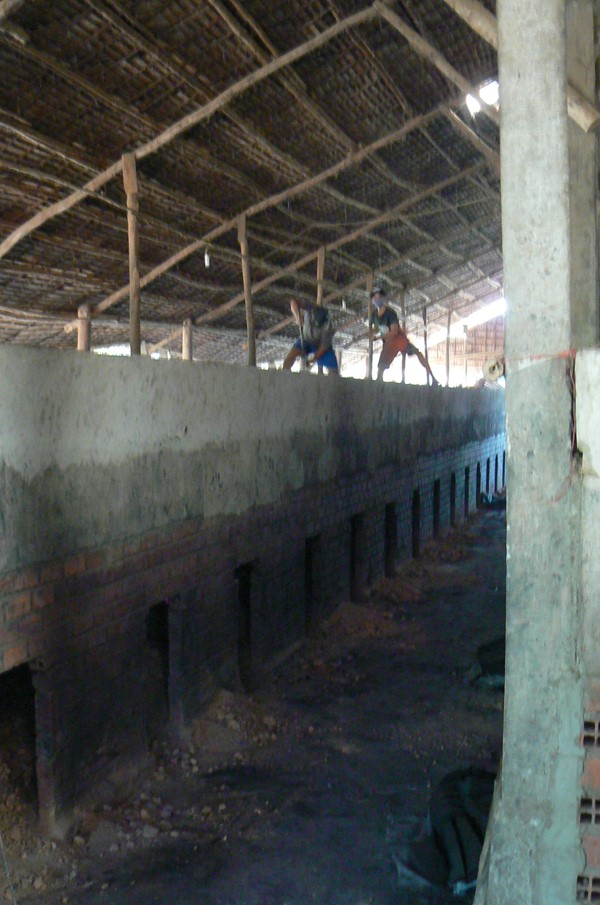 Even the back channels of the Mekong Delta are crowded with boats as I discover on the way to our next stop: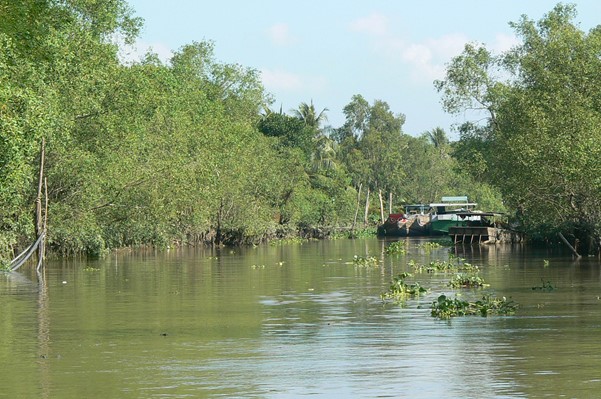 Next up – Vietnam's most pampered animals – Fighting Cocks!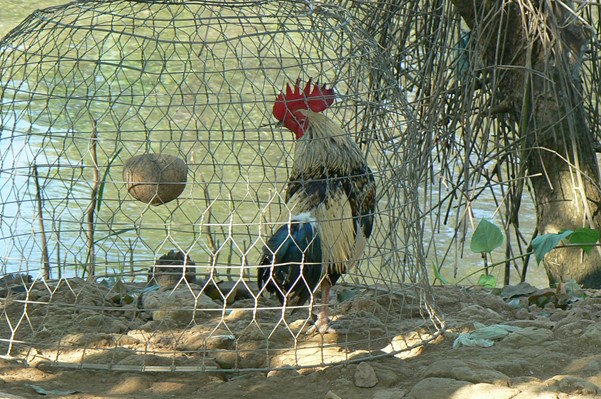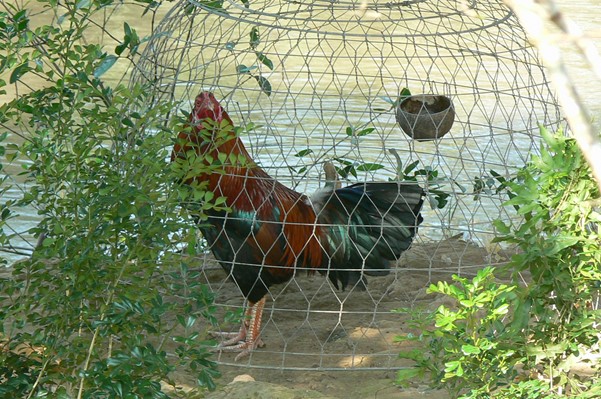 They are kept in wire cages to keep them from fighting with each other before there is actually money on the ground.
Here is a chicken getting a bath and a massage…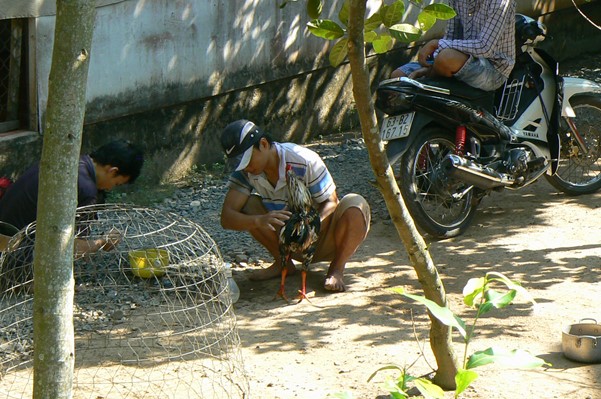 As in the rest of Vietnam – scooters EVERYWHERE…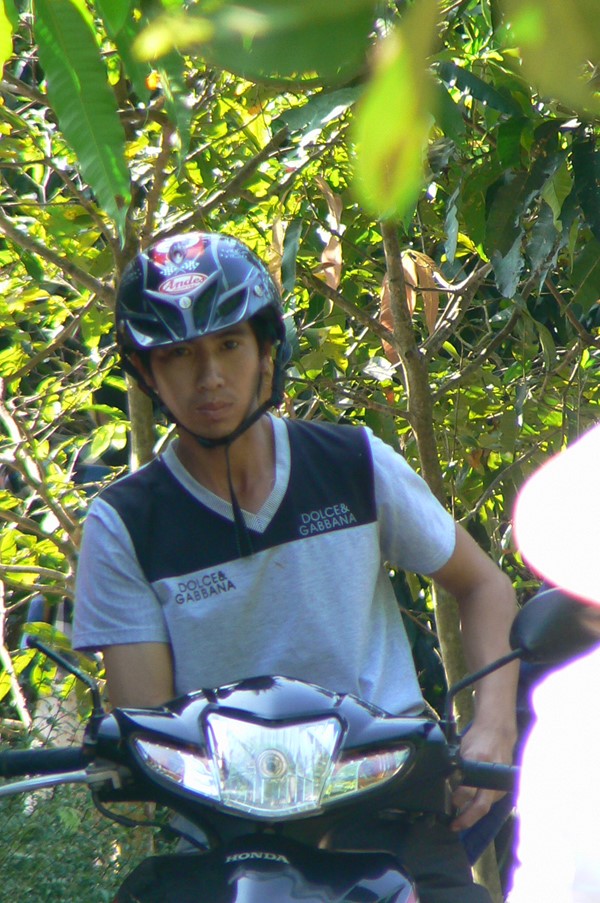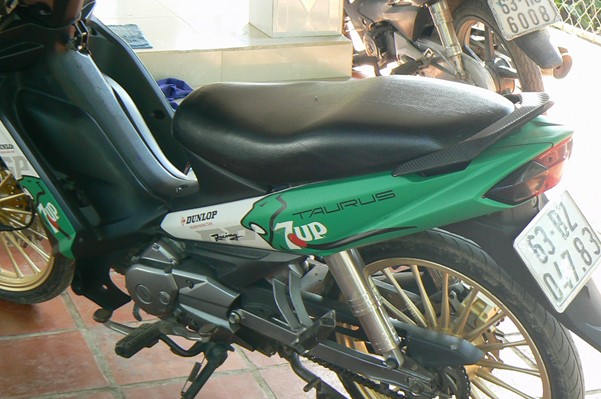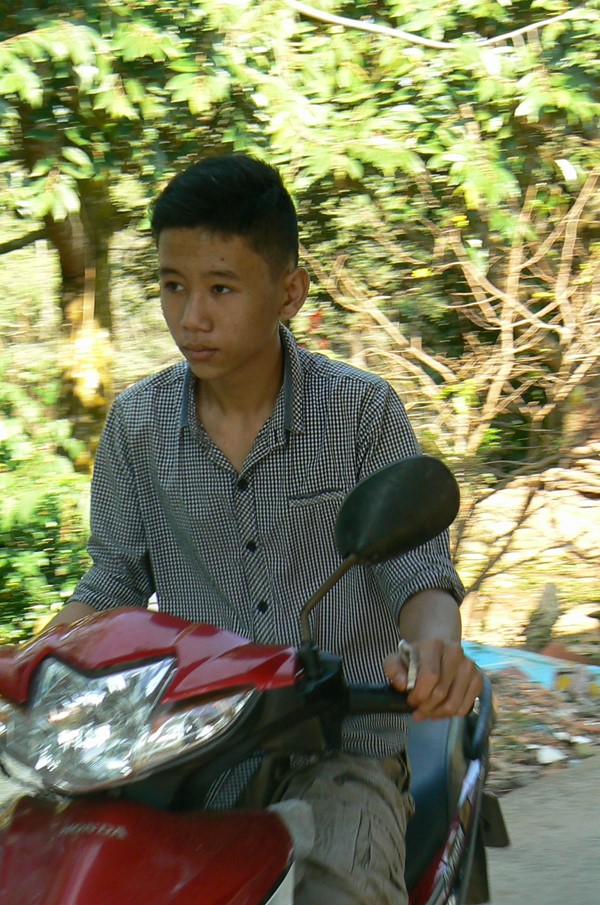 Even on the narrow village paths…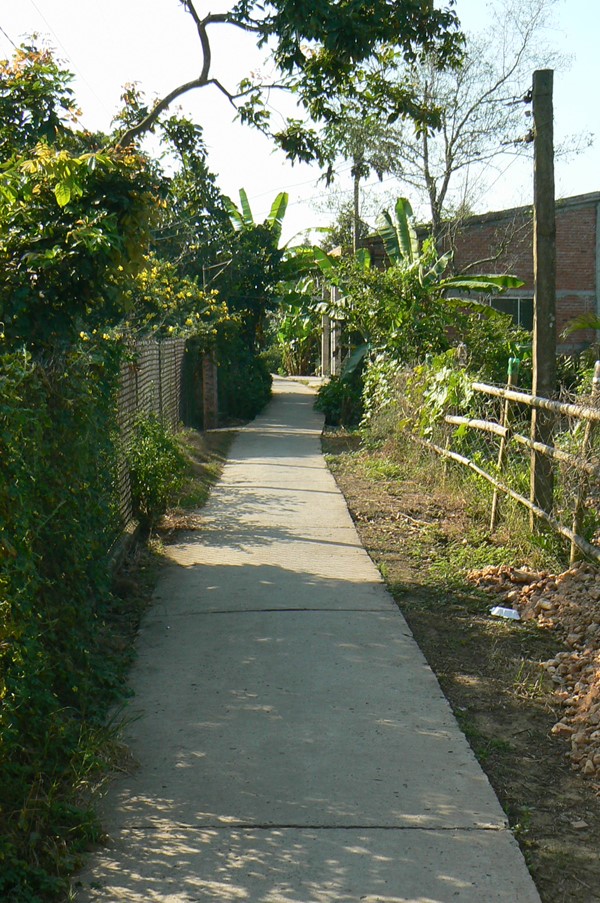 It surprised me that this one was concrete – the one yesterday was asphalt – but I guess in a country that has a monsoon season, paved is better than mud. My guess is that this village is doing OK judging by some of the houses: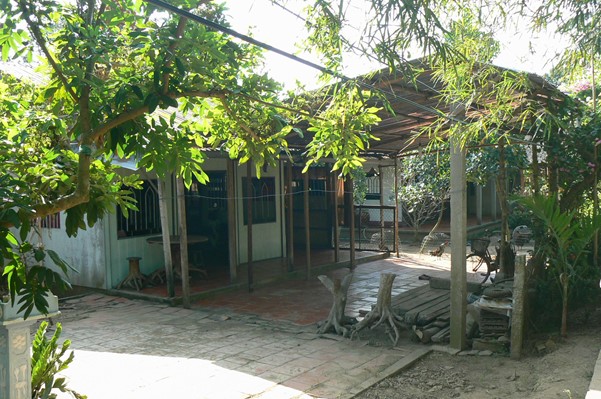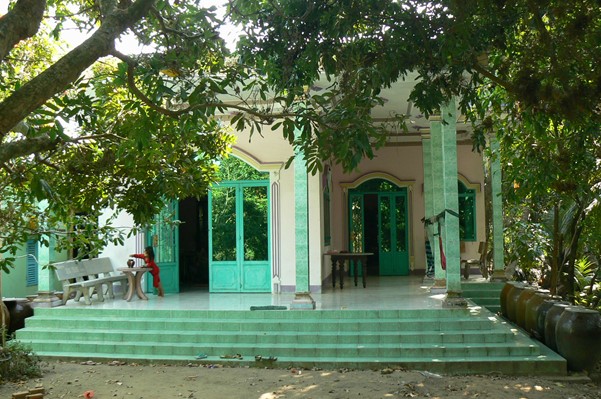 Next up is a sugar cane processing "plant":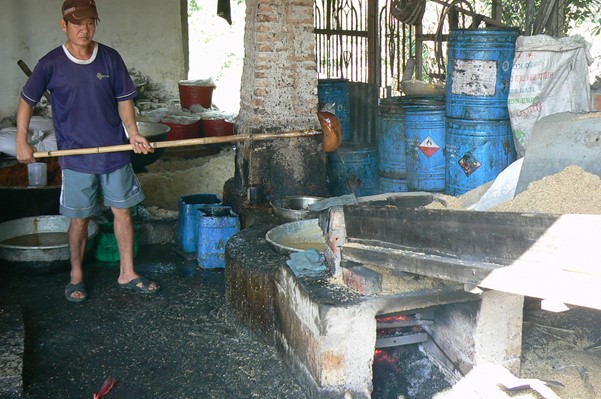 Remember I mentioned that rice husks are used as fuel? Above, there is a sloping pile of husks that is used to feed the fire below. And the pile outside that feeds it.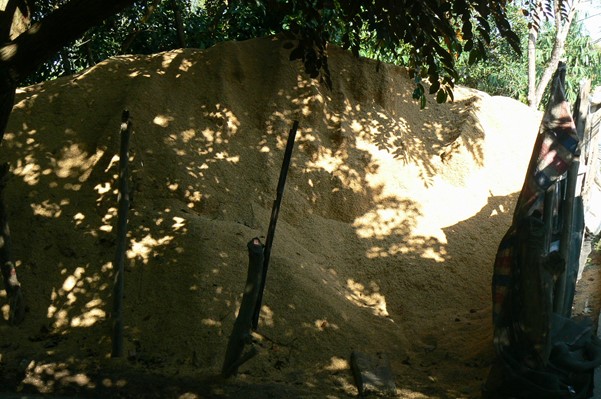 Lots of sloshing around…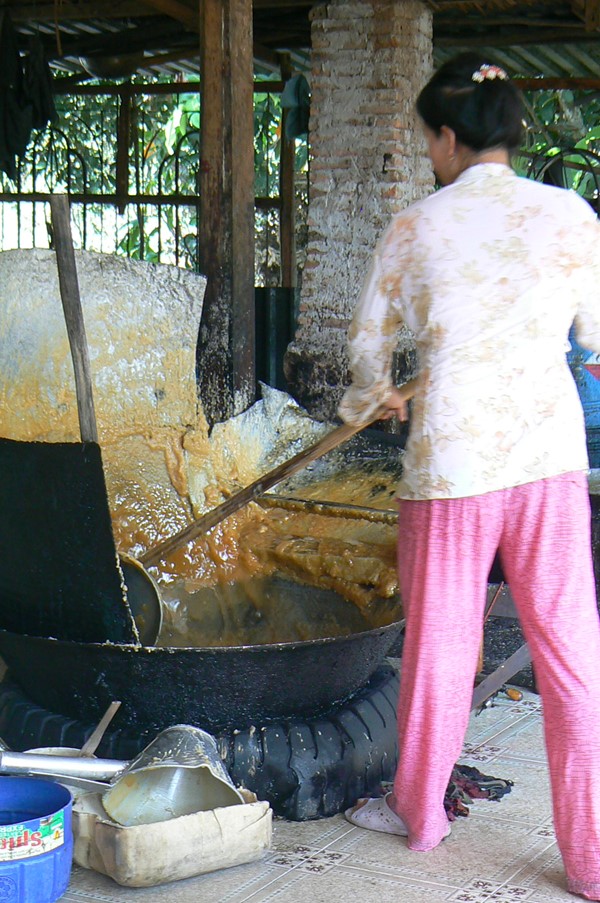 Before it gets poured in to plastic pots to cool and then be stacked and wrapped for shipment: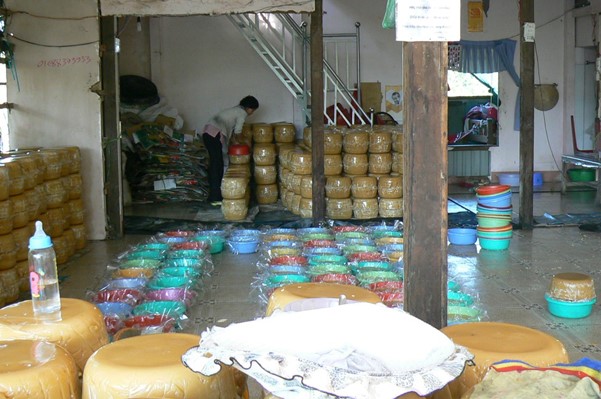 Apparently, it's a family affair judging from the water bottle above, and this scene below: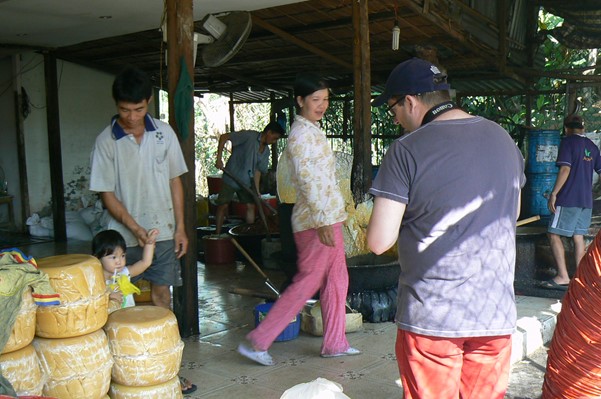 Before you know it, we are headed to Cái Bè and their floating markets – you can tell what they are selling by what is on a bamboo pole sticking from their boat: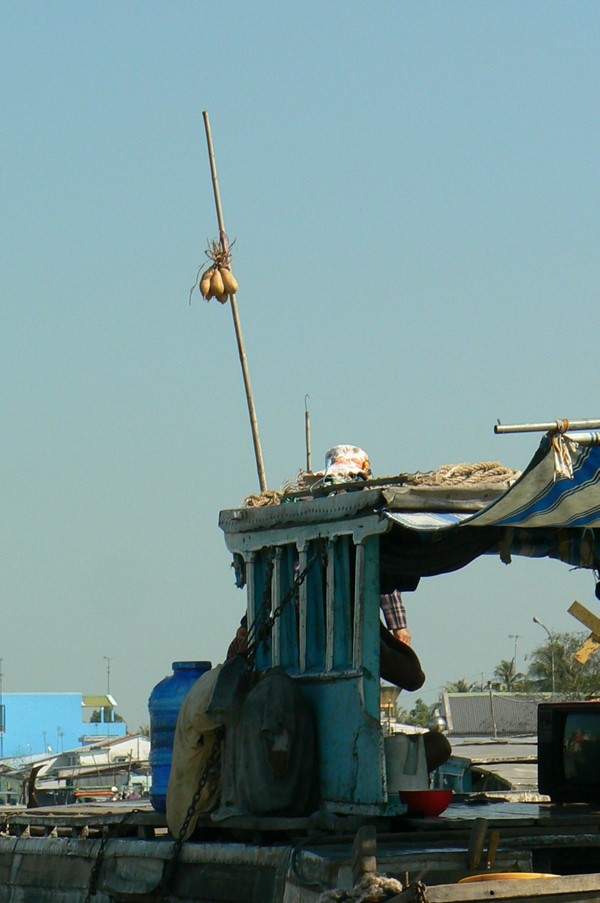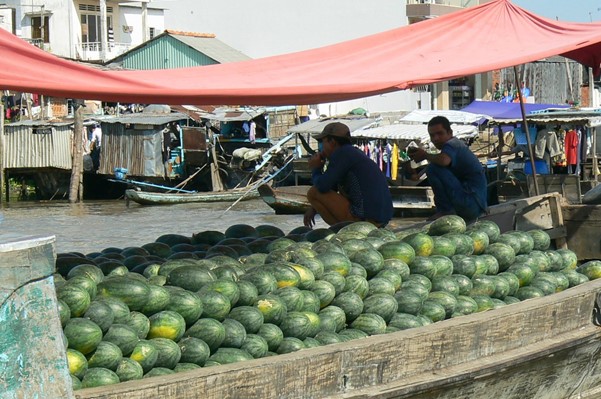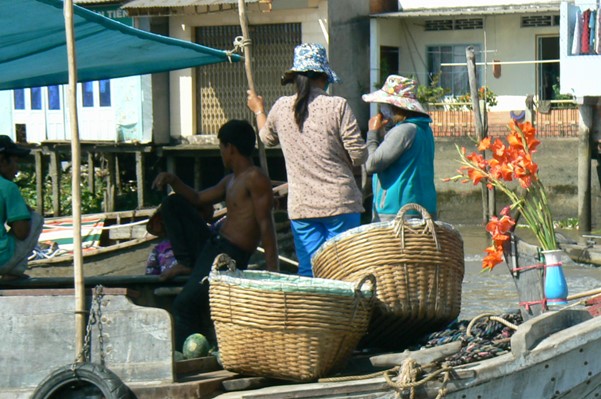 There is a lovely cathedral in Cái Bè – alas, it isn't on our itinerary.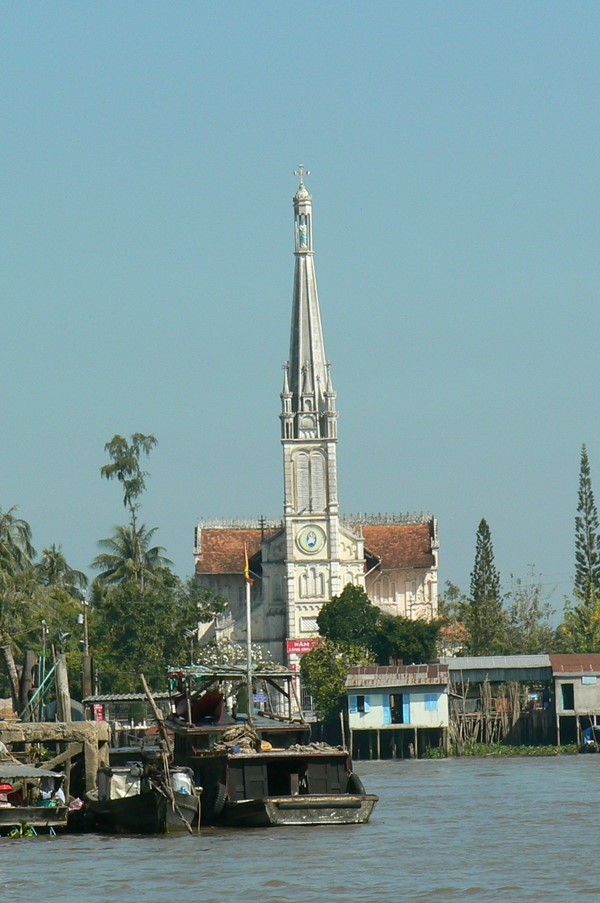 What is on our itinerary is a one-stop "folkloric" shopping opportunity – MUCH lower key than most. It features snakes soaked in rice liquor (I'm sure customs would LOVE that in Houston), and displays of candy making (using ingredients like we saw earlier), paper making, and rice popping (think rice krispies).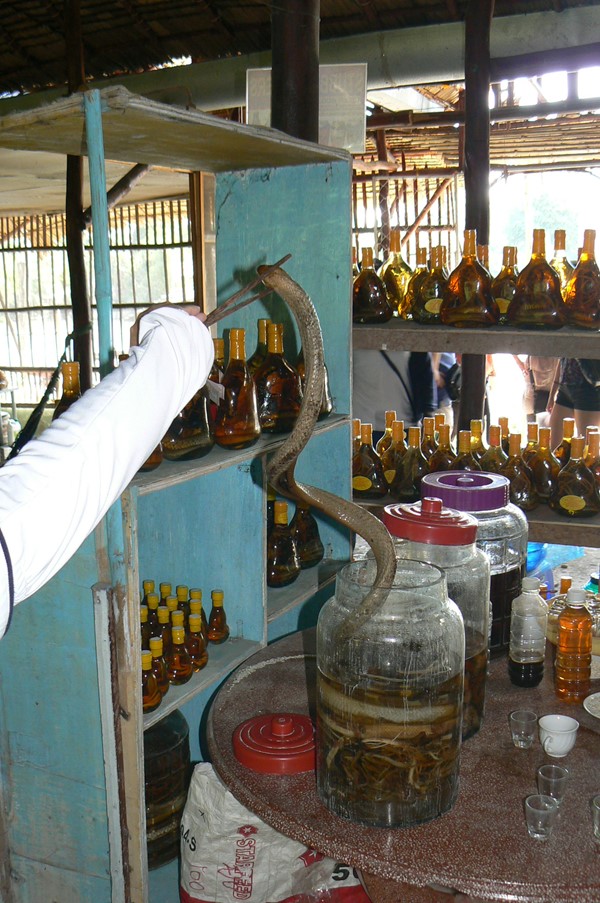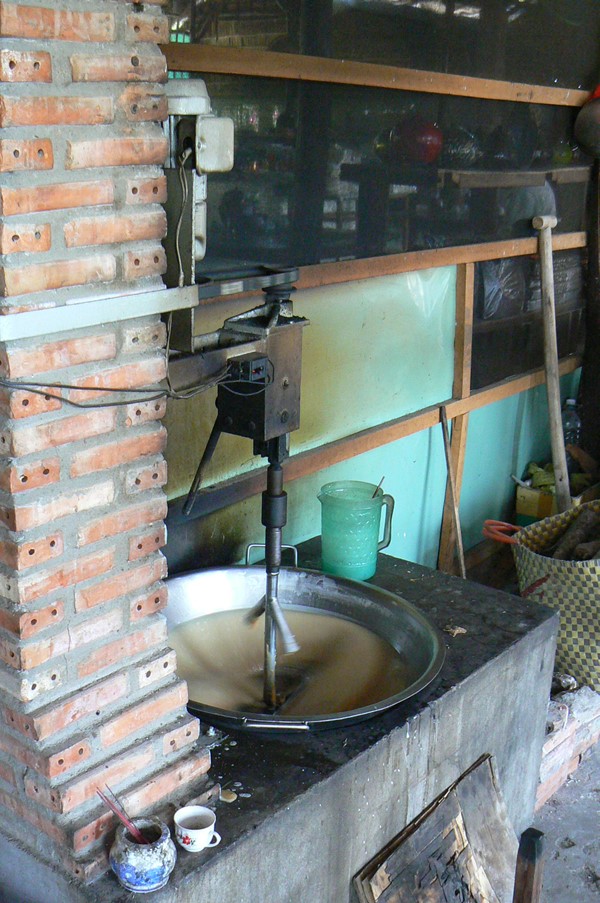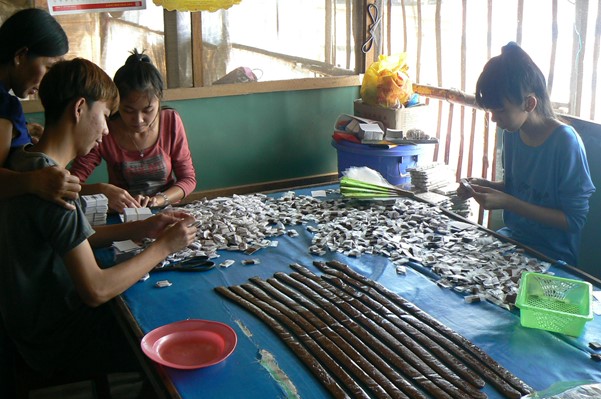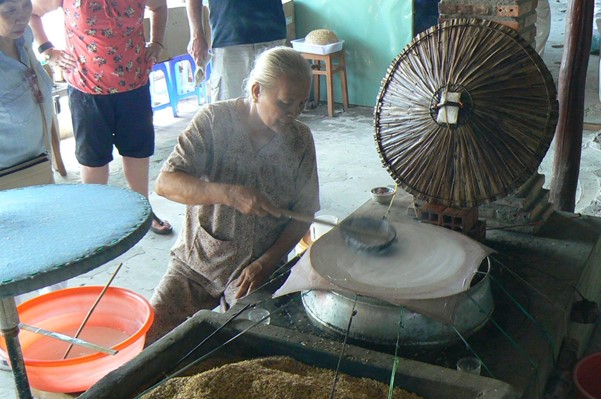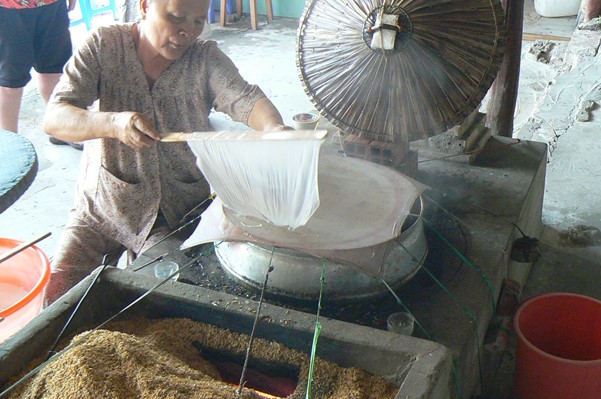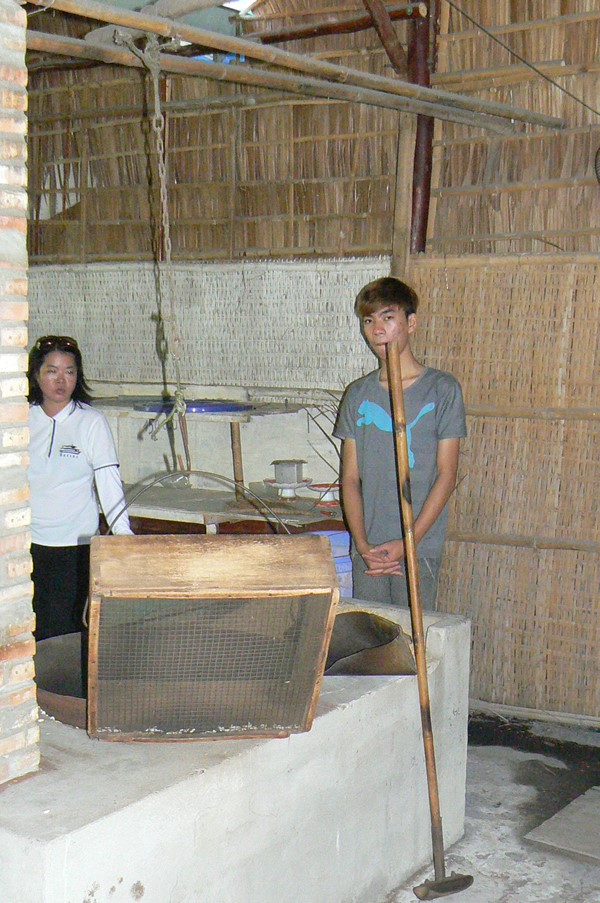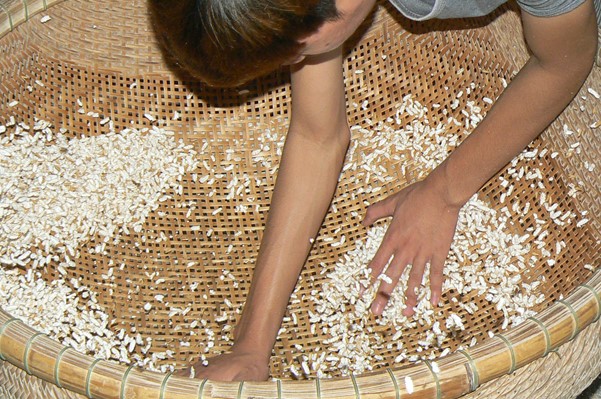 From there, we are off to meet up with our driver for the ride back to Saïgon – and here is a picture of our driver. Not much in the way of English skills, but Sean has some rudimentary Vietnamese.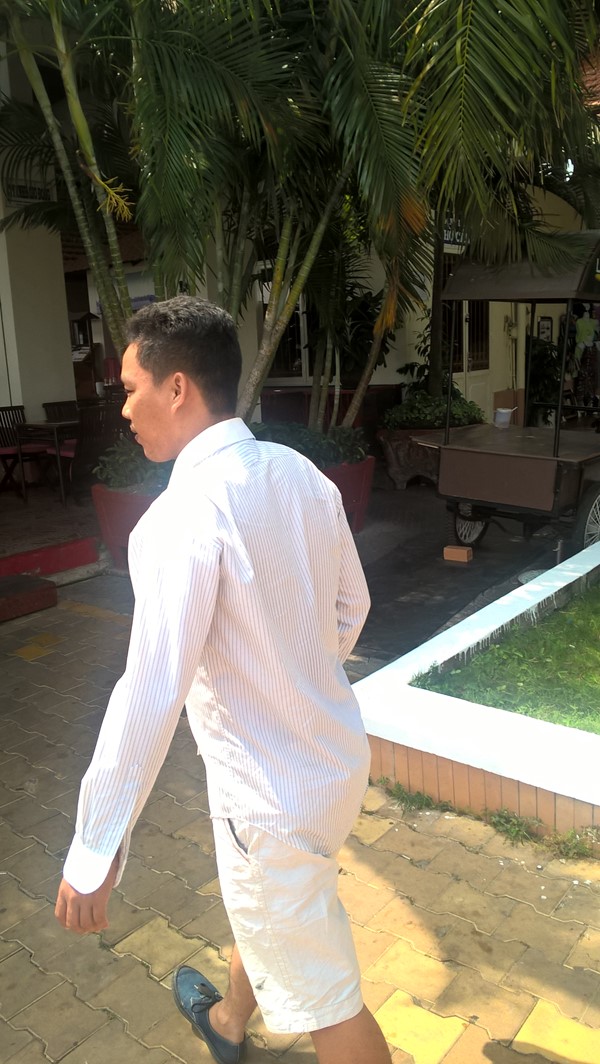 Confession – the picture was taken in Cần ThÆ¡, but it just didn't fit the narrative.
Got back to Sean's apartment a little after noon – dropped bags and off to lunch – with this amusing photo-op on the way.
Everyone is gearing up for Tết (the New Year).
And lunch!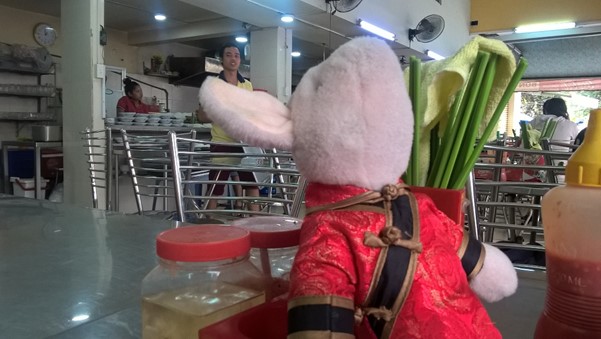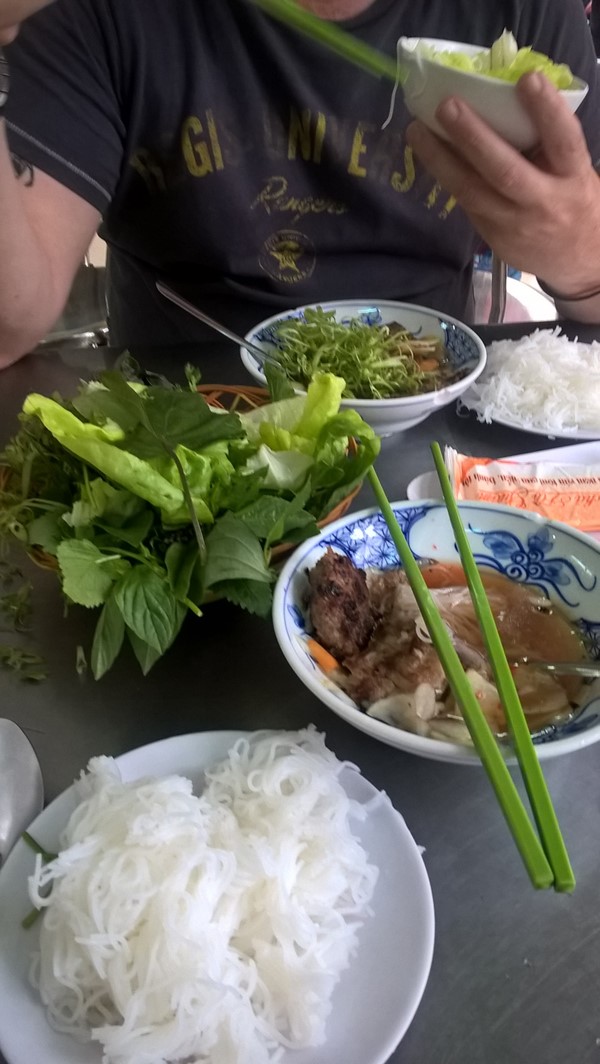 Did you need some hot peppers? Those were sitting on the table next to us.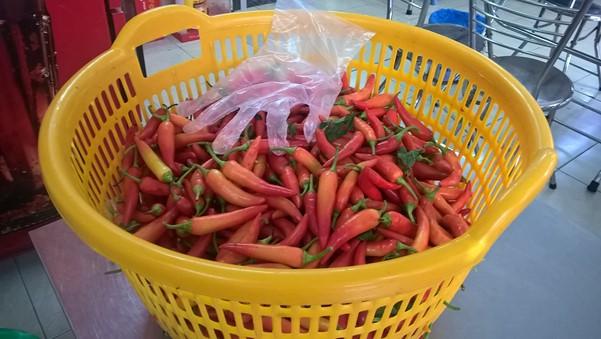 I just let Sean order – it's simpler, and I eat most anything. And I get to try all the local favorites.
One of my favorite things about third-world cities is the "amusing" wiring hanging off poles.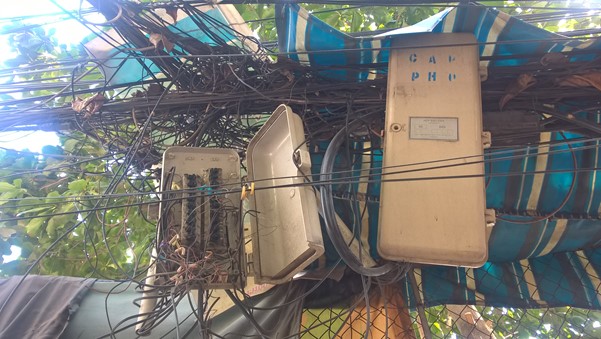 I'd hate to trace a wire in that jungle.
After lunch it's nap time – something about travelling Vietnam highways/streets is exhausting, even if you aren't the one driving. Then off to the store with a fistful of Dồng!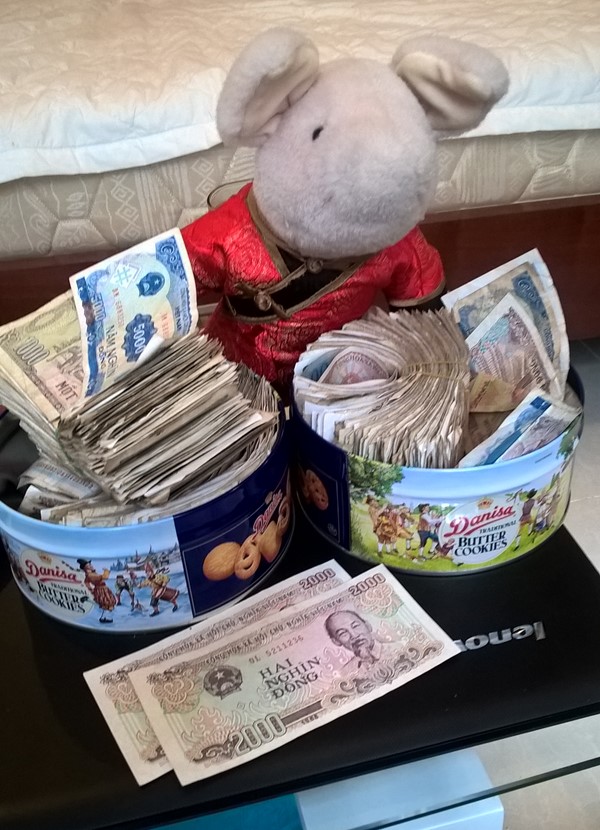 That 2000 note is worth 9 cents USD. The print bills up to a million Dồng– which is equal to $45 USD. The smallest note is 200 with a value of less than a penny USD. And look – you can buy casks of wine at the grocery store for about $30 USD.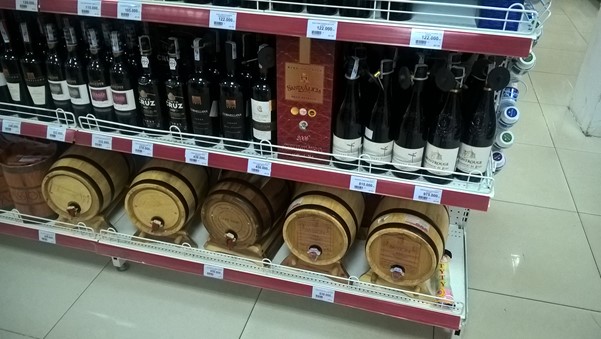 Sean is cooking tonight, which turns out to be a rarity with the inexpensive nature of going out to eat.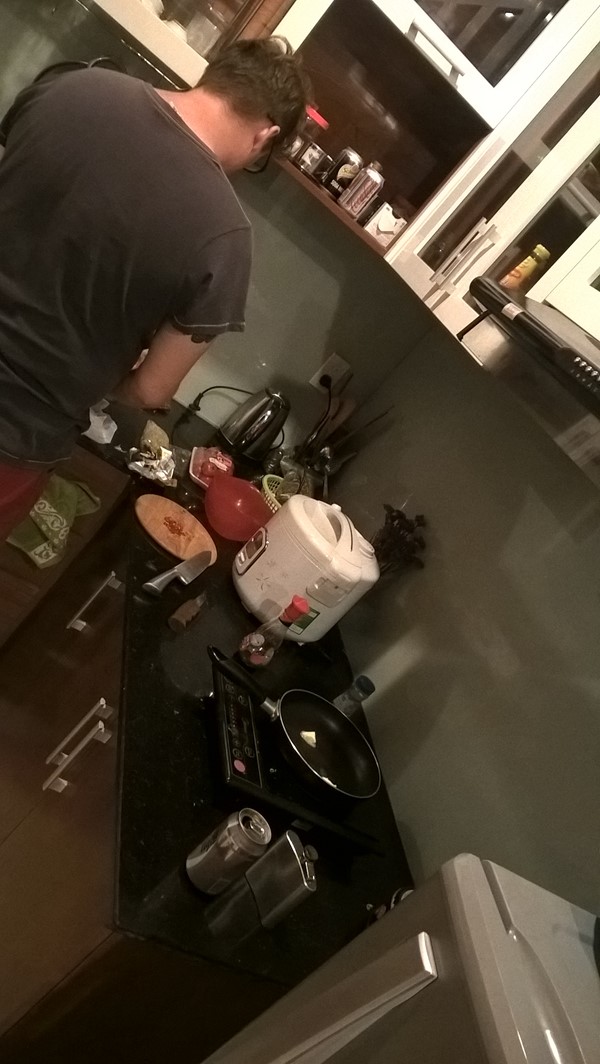 And it's tasty as well!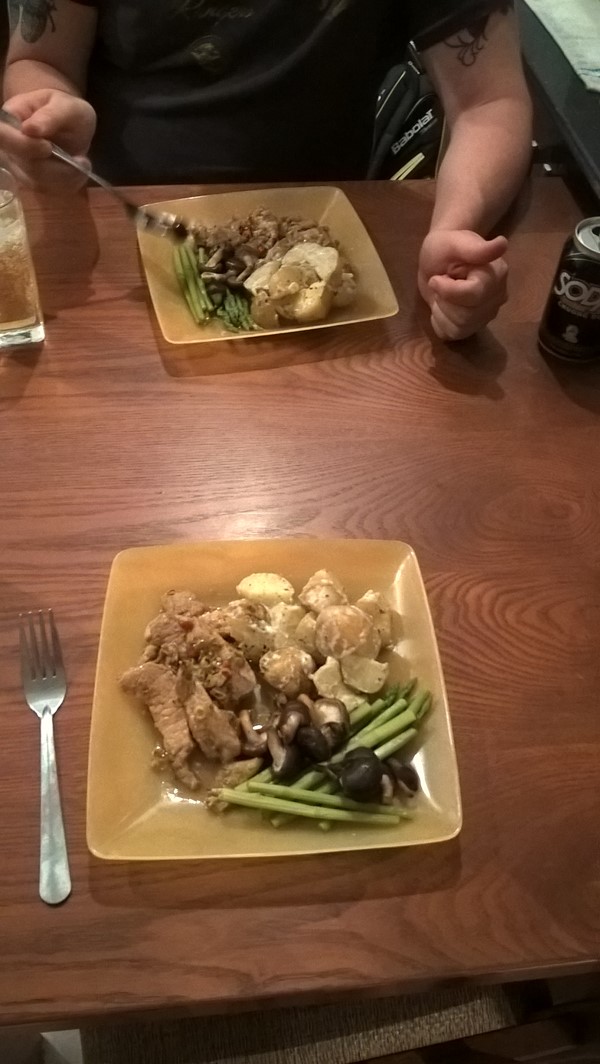 Time for a little work before bed…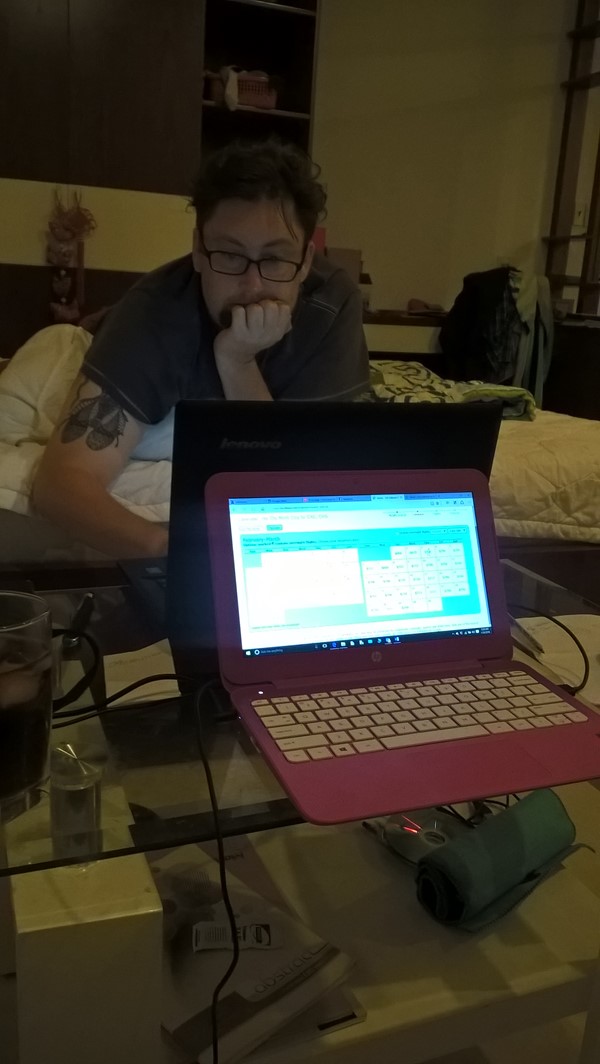 Didn't last that long before it was "hit the hay" time. Another big day planned for tomorrow.