After a lovely couple of days in Santa Fe, it's time for the relaxing train ride home – and our train is on time: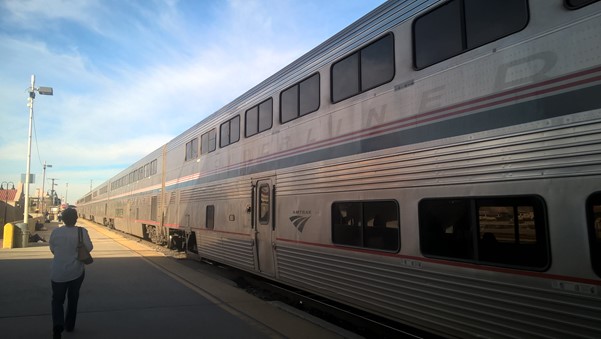 And before long, Bliss and I are settled into our compartment which is called "The Family Bedroom", meaning no toilet/shower en-suite.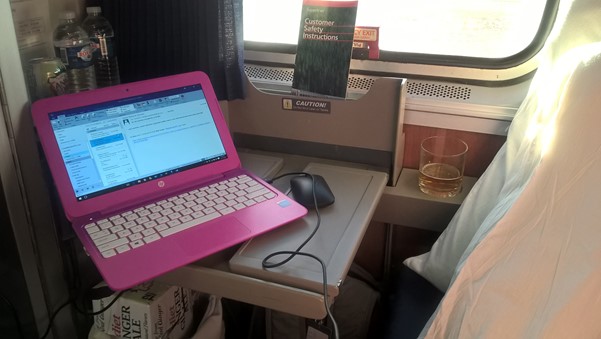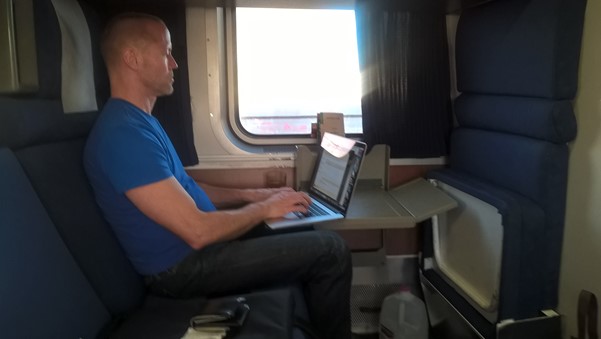 Here is the diagram from the Amtrak sight so you get a feel for the room configuration: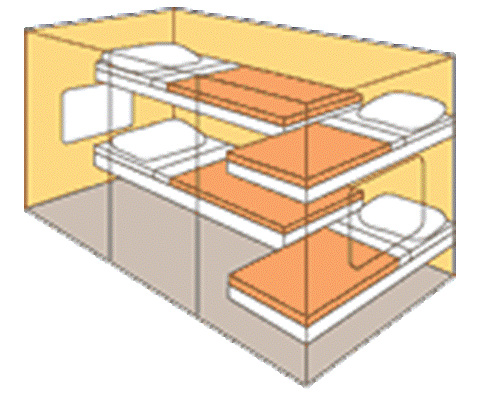 The Family Bedrooms are on the lower level and stretch side-to-side so you get lots of pretty picture taking opportunities: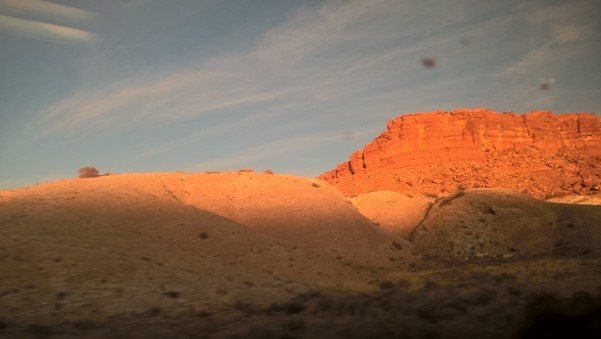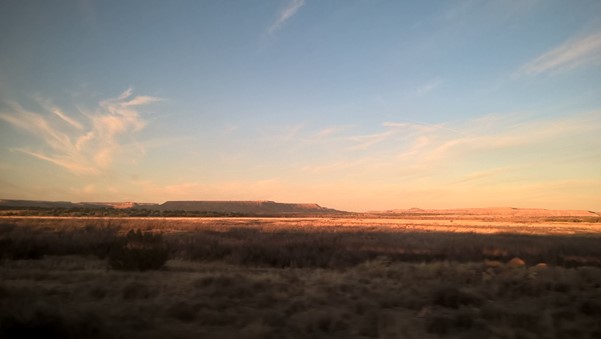 Here is a short (one-minute) clip of the above…
As the sun goes down, we head into the dining car for dinner: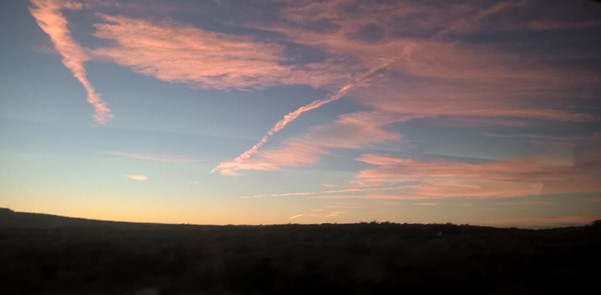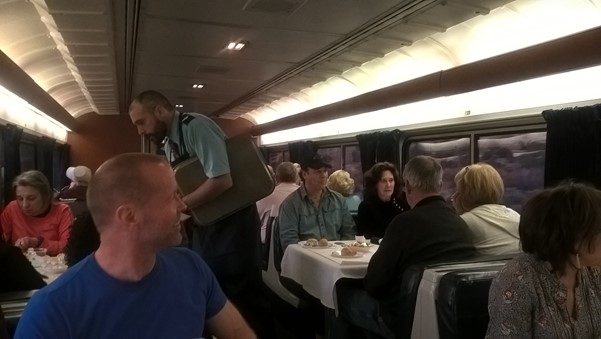 We both had the steak dinner and got our desserts "to-go" after dinner. Meals are included when you book a sleeping car. And it is nice to be able to stretch out – AND have a place to put your luggage since se don't have any children with us.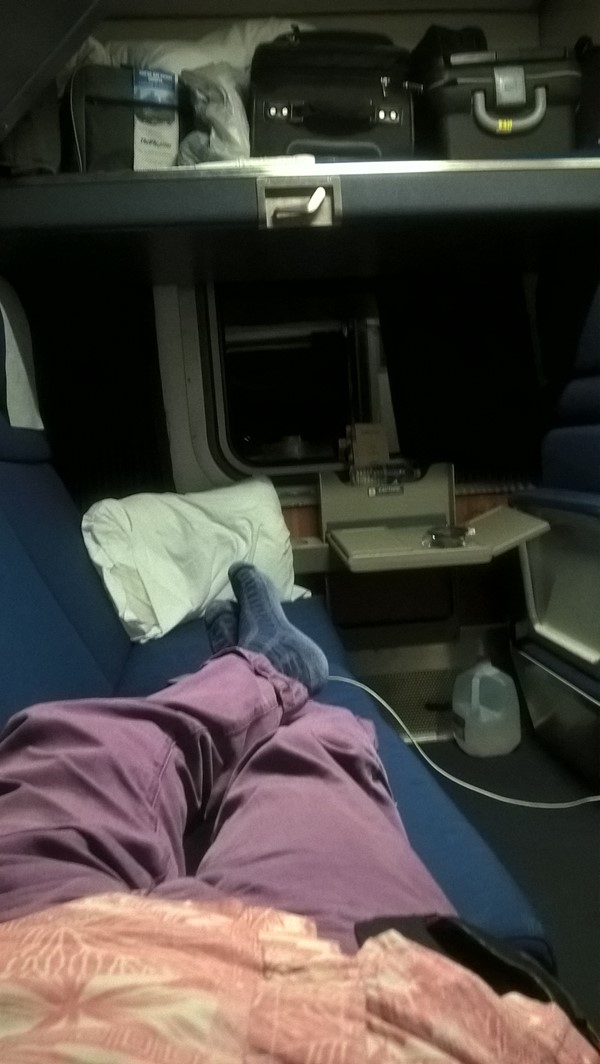 Slumber time followed by a 5am breakfast call – because of the schedule it's a short (1-hour) breakfast – and I noticed MANY of the Sleeping Car passengers just skipping it. As for me? I just went back to bed after.
Train was early into Los Angeles' Union Station so we hung out in the Metropolitan Lounge in the station – it's for the use of Sleeping Car passengers and Business Class passengers on the Surfliner.
9:30 they rousted us to the platform. It's a bit of a hike, but walking was quicker than waiting for Red Cap service – and since we'll be sitting for the next two days, best to walk.
Our train (The Coast Starlight) backing into Union Station: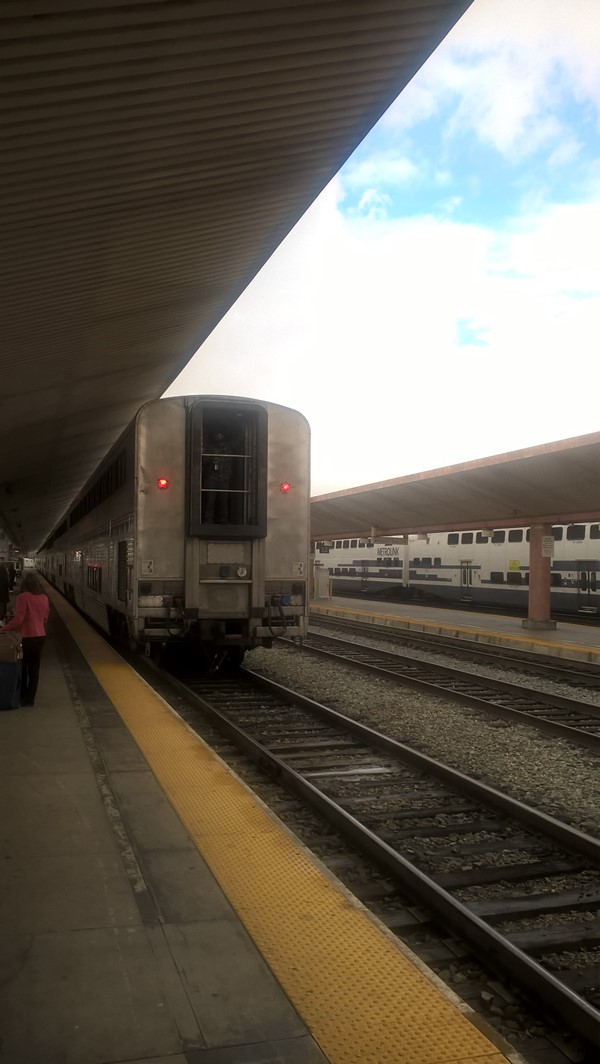 After getting settled I took a shower (down the hall) which I probably should have down after breakfast on the Southwest Chief. I might have been less cranky. Or maybe just a Screwdriver with a splash of Pomegranate Grenadine: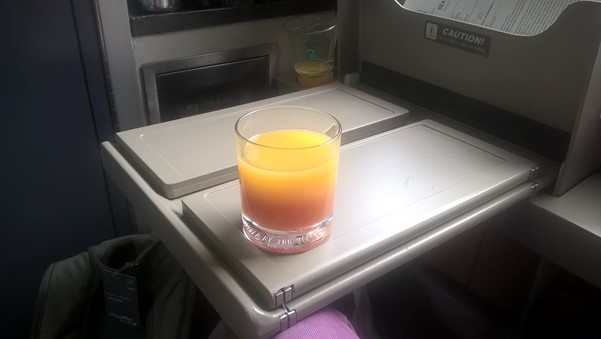 Orange Juice (and coffee) courtesy of Amtrak. Each Sleeper Car has a coffee pot and juice station. These days it's only orange juice, in the past it was orange, apple, and cranberry AND actual oranges and bananas and the complementary mini-bottle of sparkling wine when you boarded. Yes, the quality has gone down on Amtrak trains in the last couple of years – no amenity kits any longer as well.
But where did we get the Pomegranate Grenadine? Well, in addition to the 6 bottles of hard liquor I bought in Santa Fe, and the 6 bottles that Bliss bought – my sis-in-law also gave me the remnants of my late mother's liquor cabinet. If you are keeping score, four people have given me their liquor dregs (one in recover, one dead, two people moved). No bourbon left, but things like the Grenadine, Blood Mary mix, Crème de Menthe, odd mixers…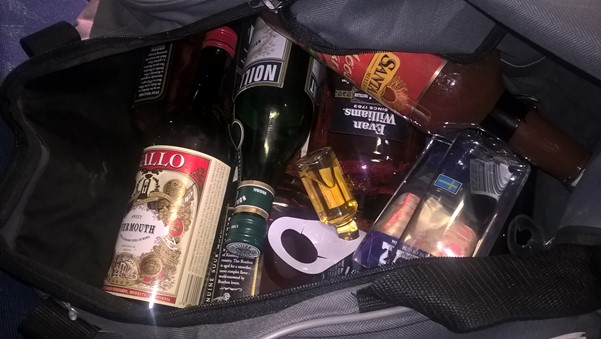 Next up, a Bloody Mary with cracked pepper on the top (courtesy of Alaska Airlines – for the pepper) complete with swizzle sticks (courtesy of Cathy Pacific and oddly in my laptop bag):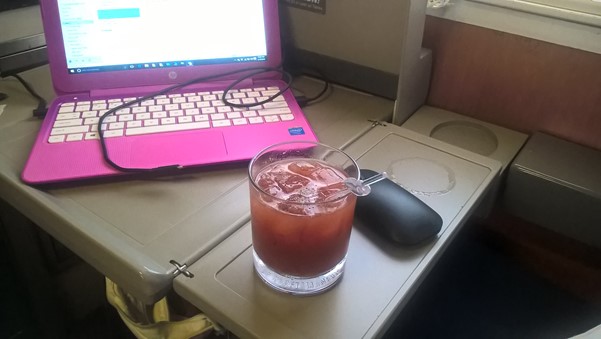 Beautiful views as we sit down to lunch. The section between Los Angeles and Santa Barbara is really stunning: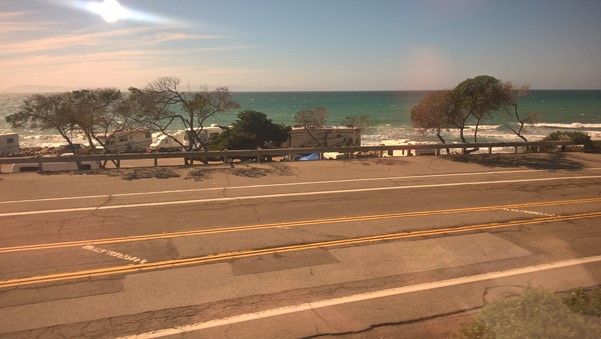 And lunch isn't bad (these would be the bar-b-qued lamb shanks with garlic mashed potatoes and a side salad, plus iced-tea…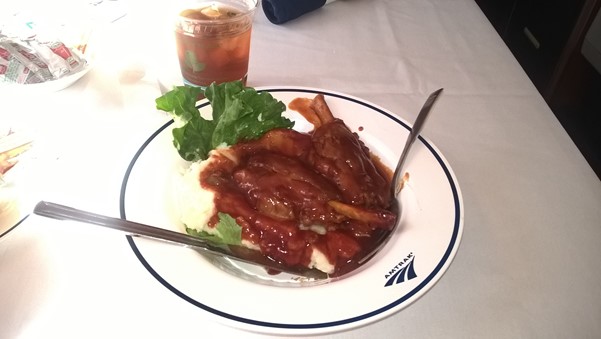 More scenery shots from our room after lunch: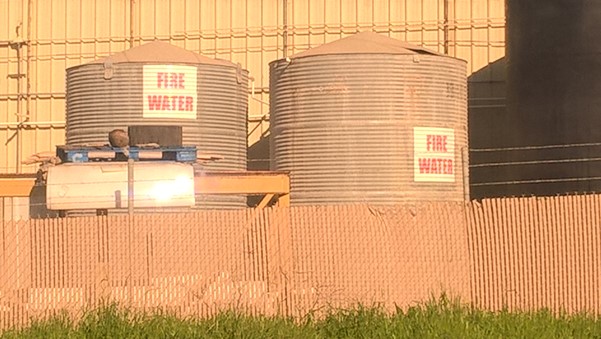 Tanks of Fire Water – like moonshine? And the rolling hills outside of San Luis Obispo: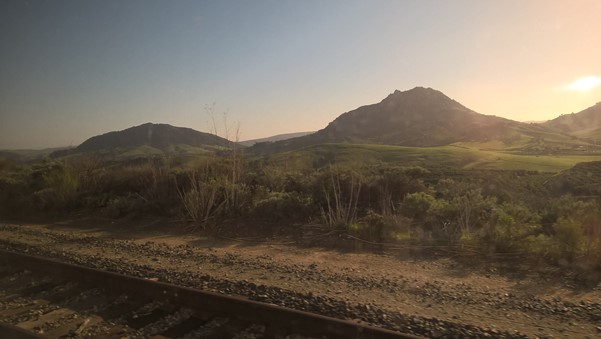 San Luis Obispo is also a smoke stop (or in our case, a stretch your legs get some fresh air stop):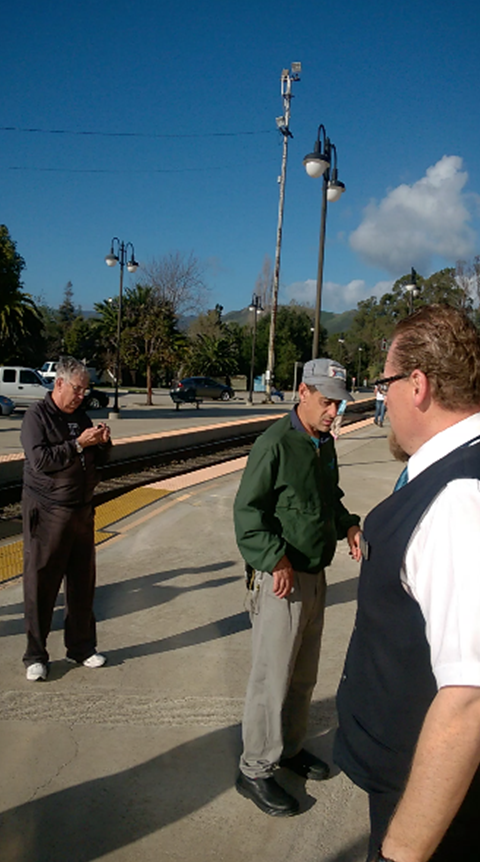 Random tourist, the guy in the engineer's hat is a regular at the station – not an employee, but "challenged" guy with a love for trains (notice train band radio attached on his back pocket), and our conductor Joy – who I've had before so he knows the drill (with the help of a $20) about keeping us stocked with ice – LOTS of ice: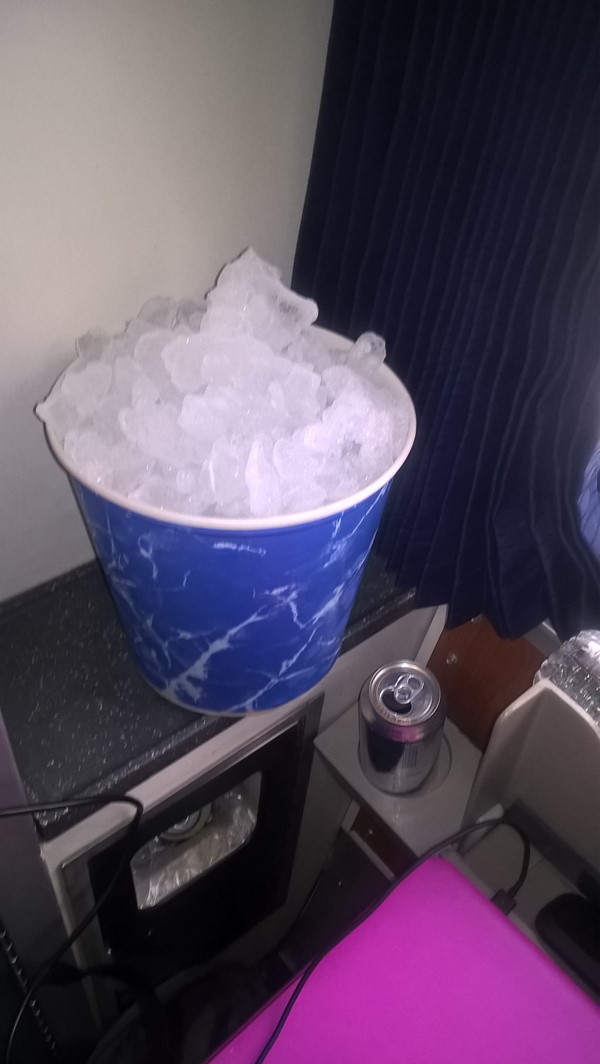 While we are stocked on booze and ice, after several days on the train we are running low on Ginger Ale – luckily, after dinner we are passing through Emeryville and a couple of texts to Lunetta & Onyx, we have more mixers, and a wine shipper (much better than the WalMart cheap duffle I bought in Santa Fe) and a bonus of a bottle of their Honey Mead – and a platform visit!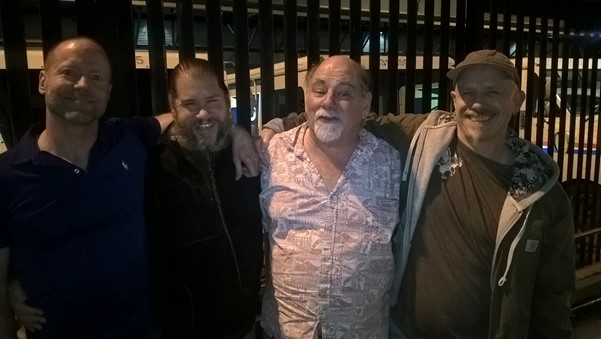 And said box of supplies: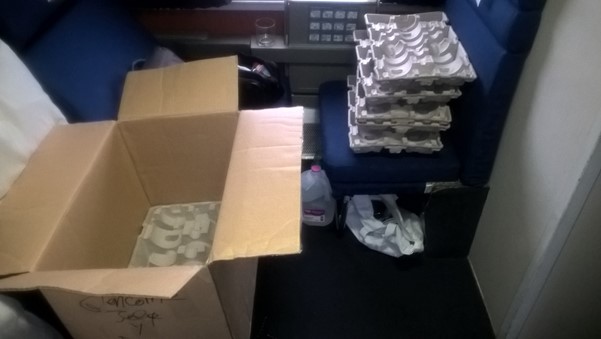 Time for bed as the Emeryville stop is at 10pm.
Breakfast at a more reasonable hour (7am) but I still went back to bed after: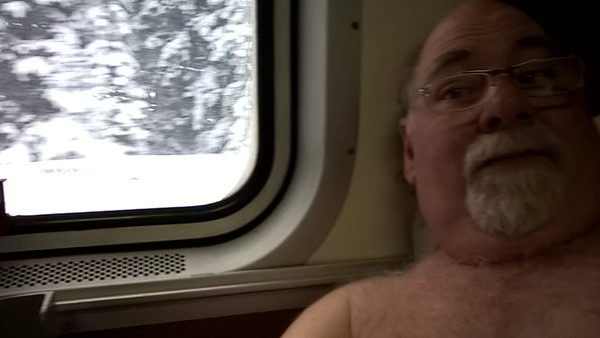 Because outside it looked like this.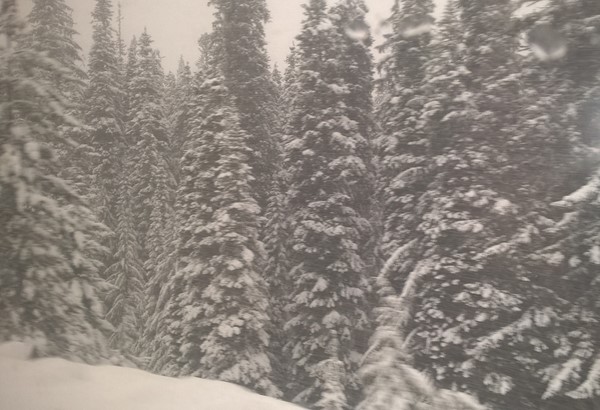 By lunch, the weather has improved: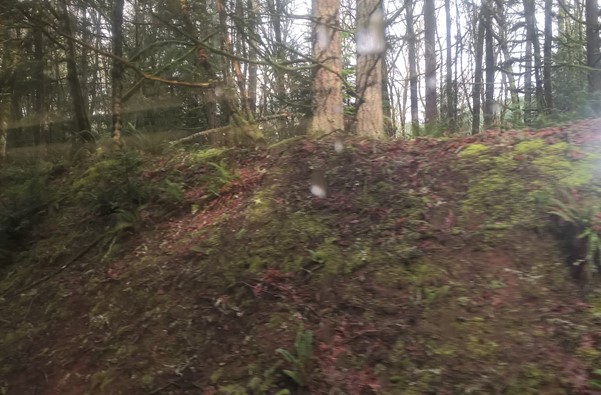 But we are an hour behind schedule because of signal problems in the mountains (most likely from the now). Every Amtrak trip I have to have the Angus burger at least once: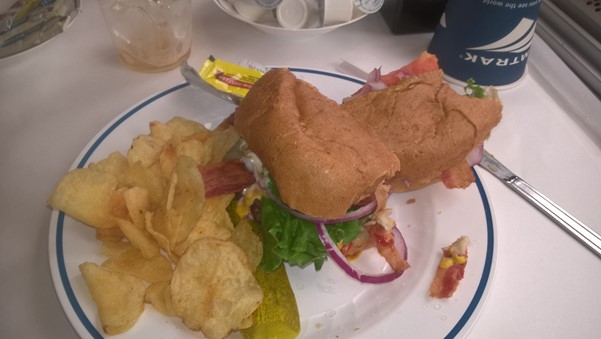 It's a mouthful but I cut them in half.
I'd planned on getting out for a stretch in Eugene, but when I got to the door – it was dumping rain. Back to the couch for me.
Almost an hour late getting into Portland – and rain – a parked a long way from the terminal, no Metropolitan Lounge in Portland stop for me this trip – and they cut the time of the stop in half to make up ground.
The downside of the current Coast Starlight schedule is with an 8pm arrival time in Seattle you have dinner service starting at 5pm – and we had lunch at 12:30. For dinner I opted for the crab/shrimp cakes like the previous night's meal (more shrimp than crab), but without the side salad – and I still only made it through one of the two cakes – still full from lunch!
In the end we were only ten minutes late into Seattle where we split up and ordered up Ubers home. (Click on the word Uber to sign up and get a free $15 ride).
08:32pm




269-299 S King St, Seattle, WA

08:47pm




1029-1045 S Rose St, Seattle, WA
CAR
uberX


miles
6.41


TRIP TIME
00:15:01

$15.00 from the Amtrak station to my house – not bad. I'm sure Bliss' was less than $8.00.
[215.0]