This week's trip is mostly a mileage run from Bellingham to Maui because I got it for $300 round-trip. And it's like 5,500 flight miles (11,000 including bonus miles for being MVP Gold). Plus, I got upgraded to First Class in both directions!
Bellingham is about two hours north of Seattle – and morning traffic wasn't particularly good, so add at least another 30 minutes. Parking right in front of the terminal is $12 a day, $4 a day if you want to do off-airport parking and shuttle it.
This is what I look like at the end of the drive: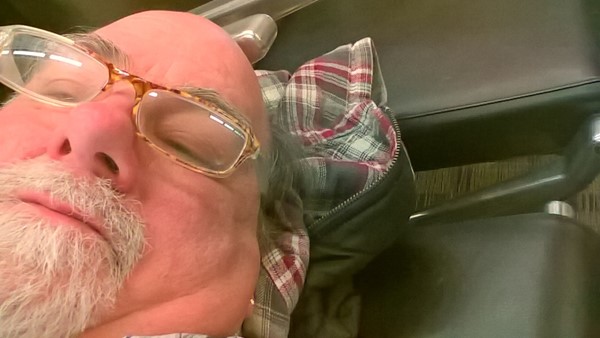 Catnapping on the furniture.
And the flight is going to be longer than normal – they are reporting 125mph headwinds. So long that we have to stop in San Jose for more gas. Since I'm in First I don't care about the delay, especially since Alaska has offered everyone on the plane an eVoucher for $100 off their next flight.
Just the pretzel pack and drinks BLI-SJC, lunch on the SJC-OGG (Maui) leg. And it wasn't the new "small plates" menu. That might be a stretch for Bellingham catering to pull off: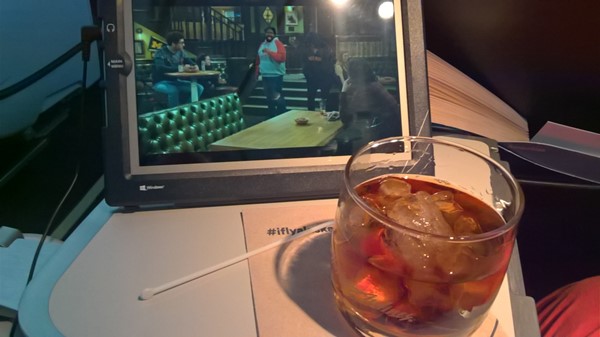 Today's menu – being in 4D I had to wrestle to get the last piece of fish: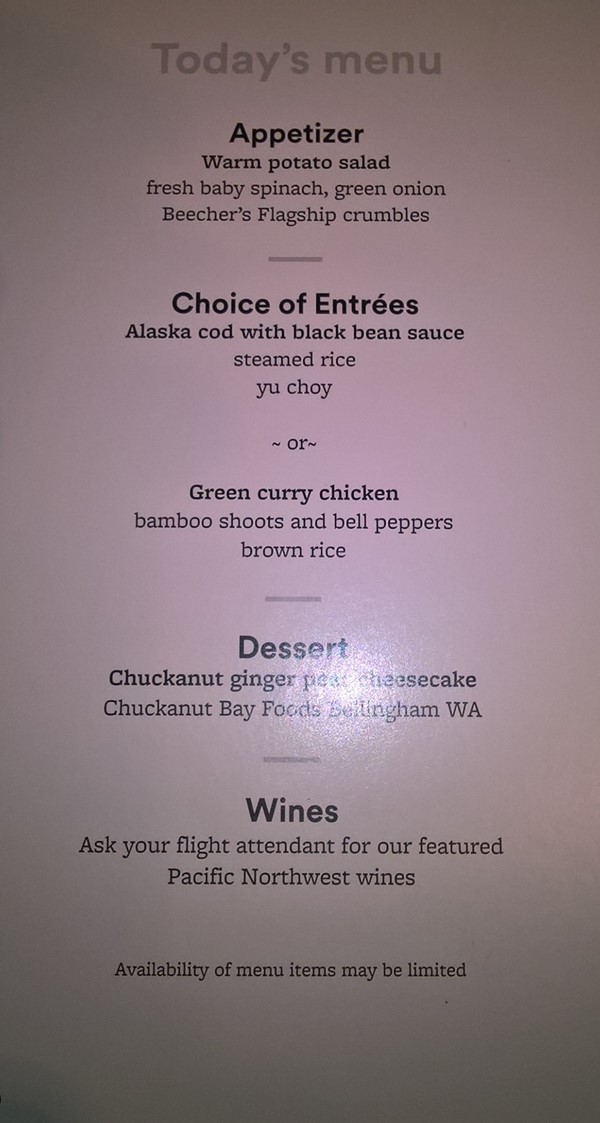 The salad: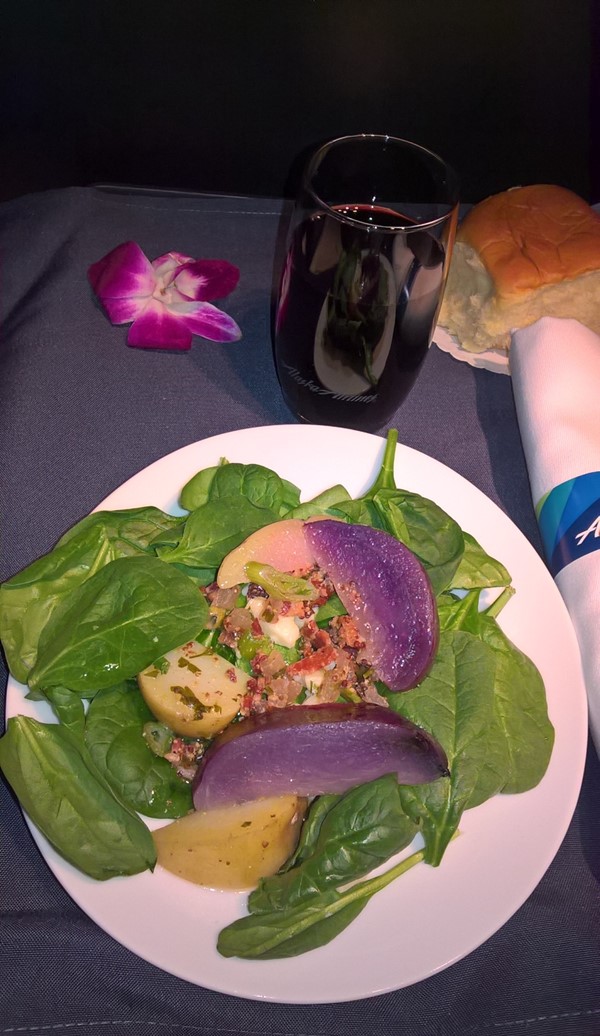 The entrée: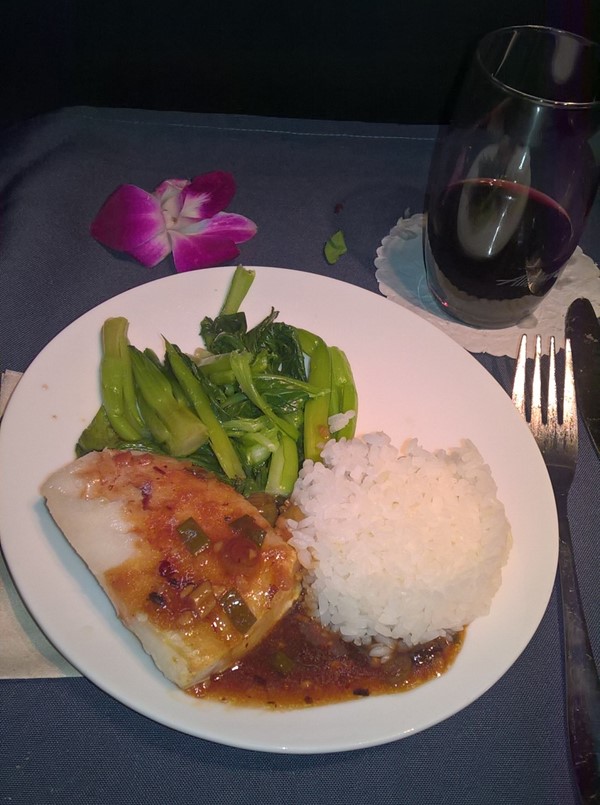 And the dessert: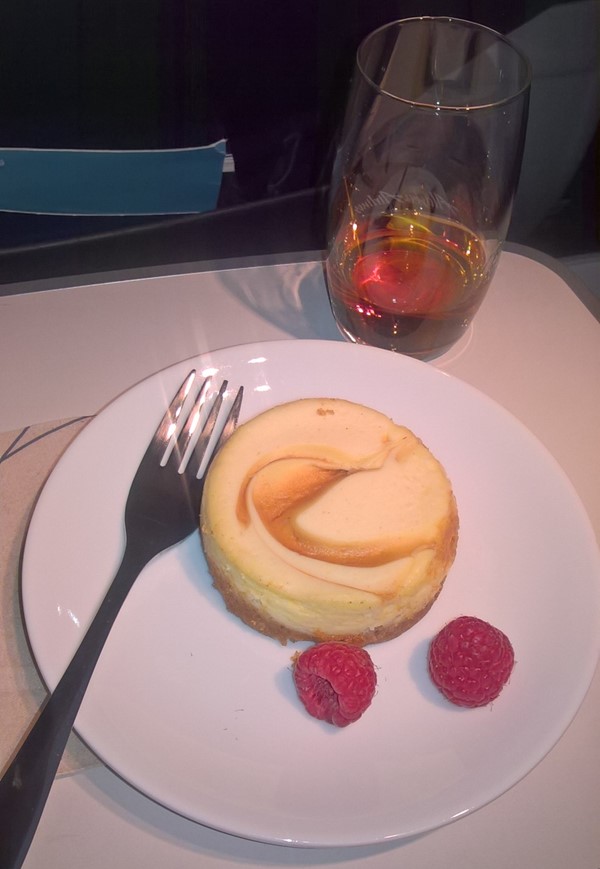 It was a fun ride getting into the airport at Maui – the pilot pulled up at the last minute and came around for a second try. Once I got outside I understood why – 20mph winds with 70 degree rain. It was so fun inspecting a rental car for prior damage while getting soaked. It was just nice to get checked into my room – though I wasn't terribly impressed with it. Far corner of the property away from the beach, view of the parking lot.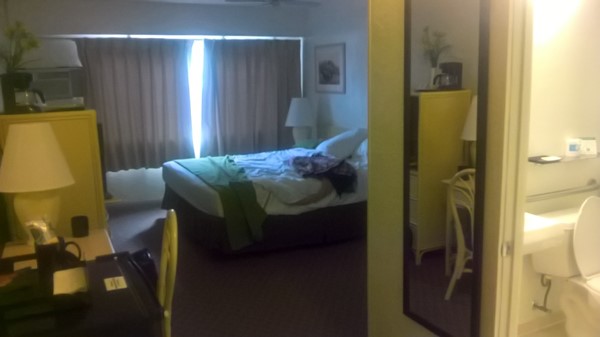 For dinner I tried out the restaurant attached to the hotel – hoping it would be acceptable because I didn't want to go back out in the storm…turns out it reviews fairly well on Trip Advisor, and confirmed when I saw the people dining there – TONS of locals with a few hotel residents mixed in:
I order from the Filipino section of the menu: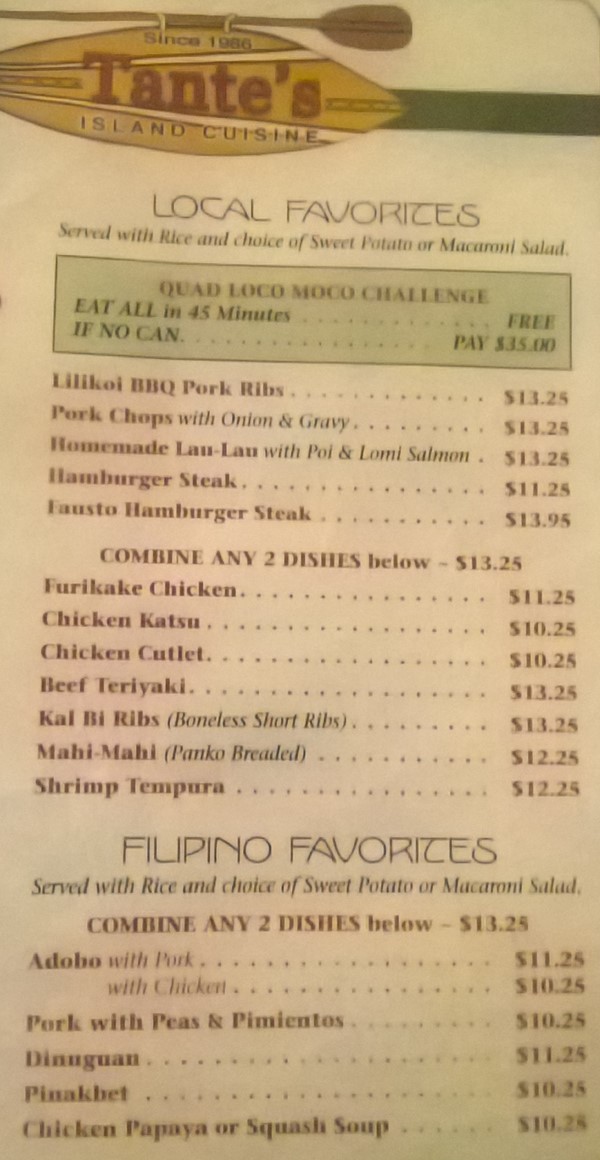 I went with the combination Adobo chicken and the Pork with Peas & Pimientos: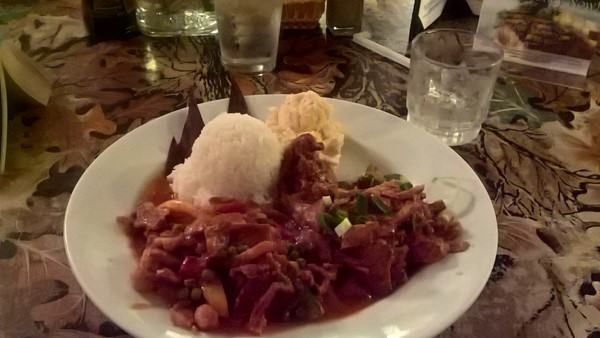 With a scoop of rice and the overly-mayonnaised macaroni salad. Back to the room after dinner to work on the Evan Williams and Diet that I picked up at the Walgreens on the way to the hotel.
Turns out I got the worst room in the place from the parking lot conversations outside my window and the handicap entrance door banging all night. Stopped by the office late morning so see if I could switch rooms – nothing with a king-size bed ready to move into – I told her that the chances of me getting "lucky" on this trip were slim, so I happily accepted a slightly smaller room with two queens (bed, not boys).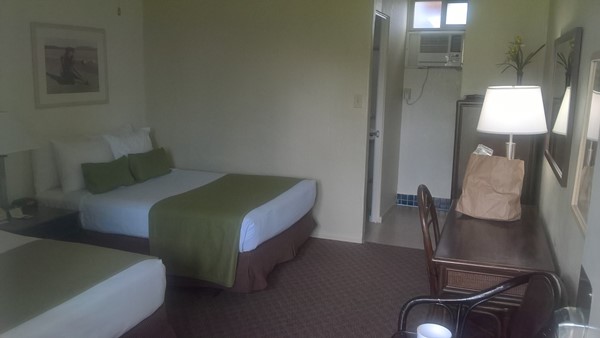 And the view is much better than the parking lot!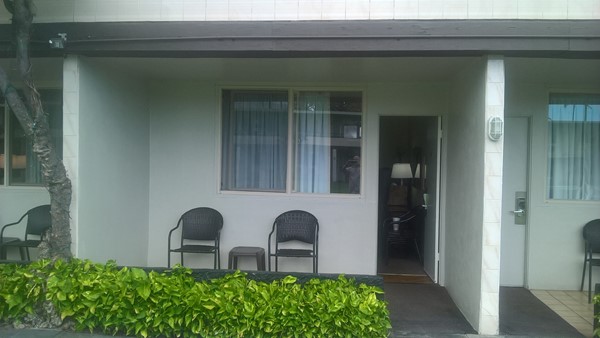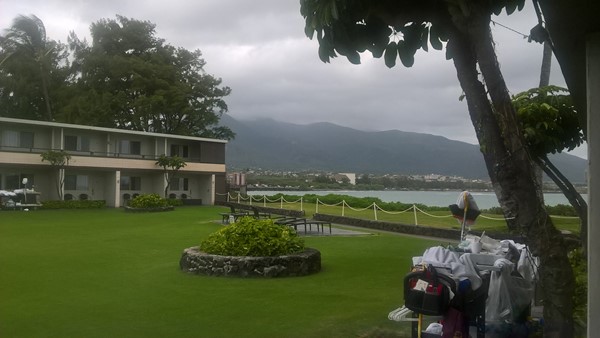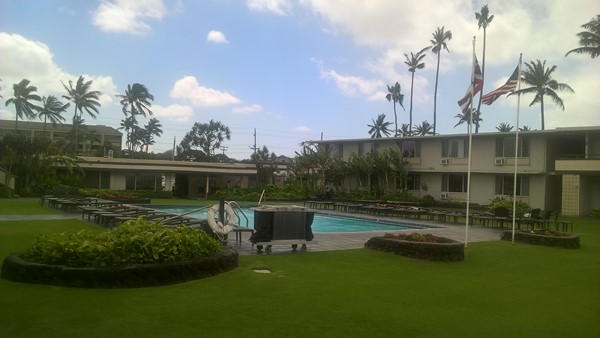 I'm liking the digs much better, but I've got errands to run – time to hit the thrift shops for bargain Hawaiian shirts! And did I score!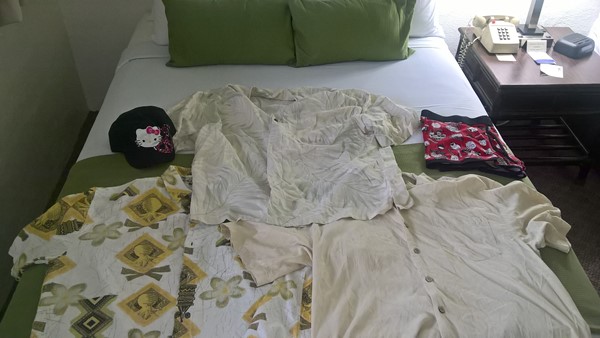 I especially love the Hello Kitty baseball cap which I needed because I forgot a hat on this trip – a no-no for a bald dude. And I picked up a little poke at Whole Foods for an afternoon snack!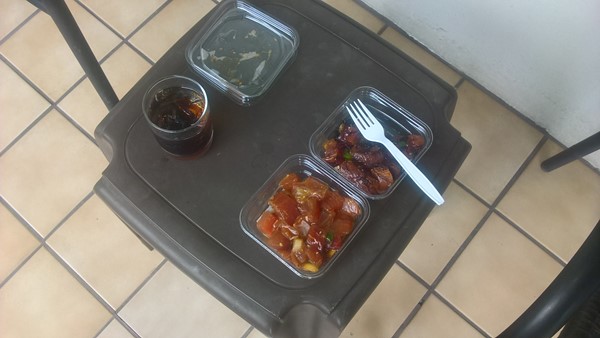 And one of my favorite shots from the trip: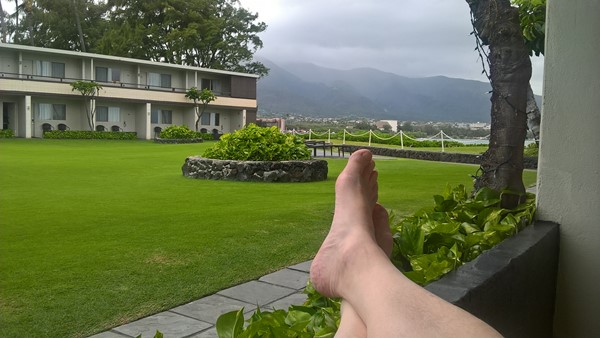 Cocktail. Shorts. Barefoot. Poke. View. Life is good. Speaking of views – beautiful sunset on from my little porch: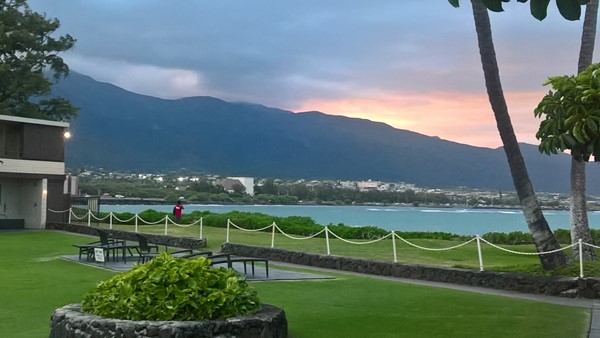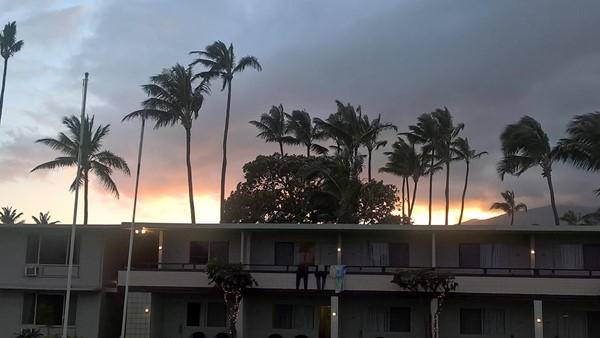 After checking out Trip Advisor reviews, without driving for a bit, I was best off back at Tante's Island Cuisine. Last night I started the meal with a "martini up" and got this (after several back-and-forthes with the waitress who definitely wasn't skilled in any cocktail knowledge – and I was amazed it was on the menu since I didn't see what looked like a bar to me.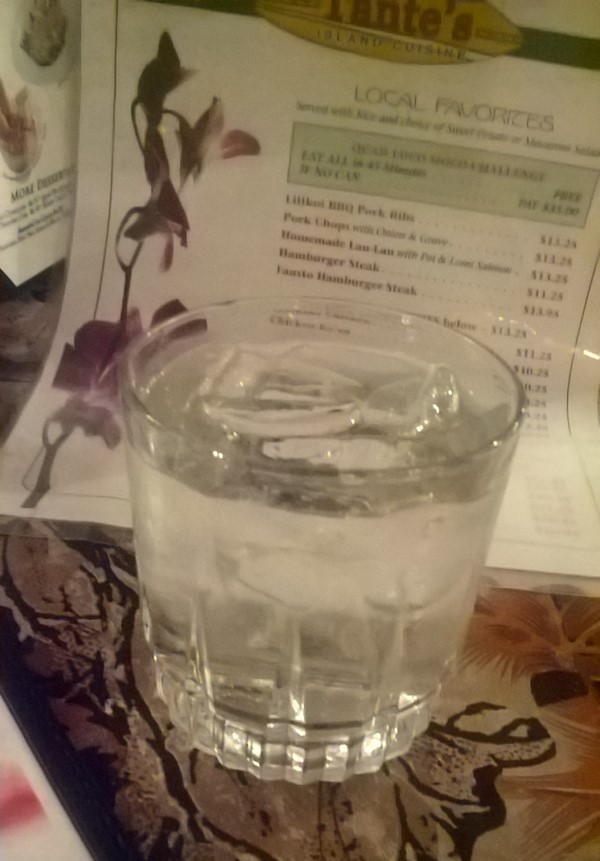 Old-school two parts gin, one part dry vermouth. Tonight's "dry martini-up" came a little closer, but still a little heavy on the vermouth. I'm thinking this is more of a beer place: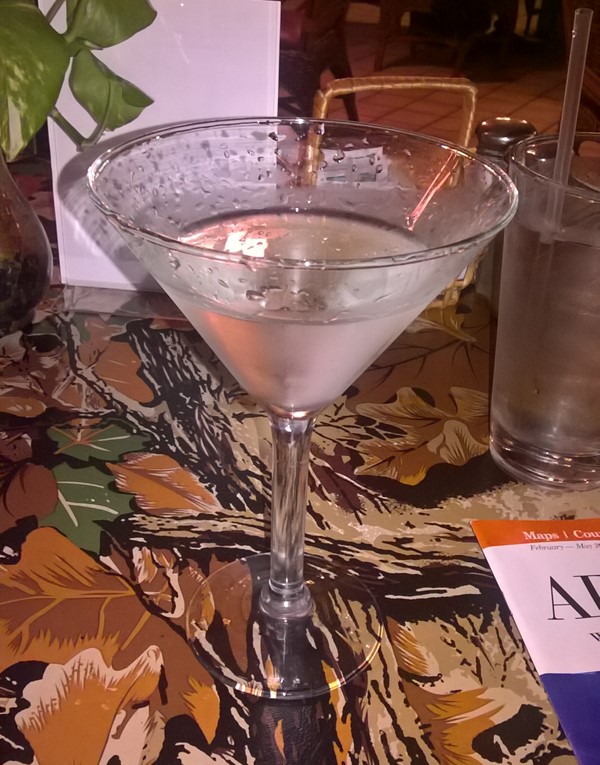 On tonight's menu was the mixed platter with the teriyaki beef, kalua pork, purple potato salad, panko crusted fish, pasta alfredo – a cornucopia of food regions!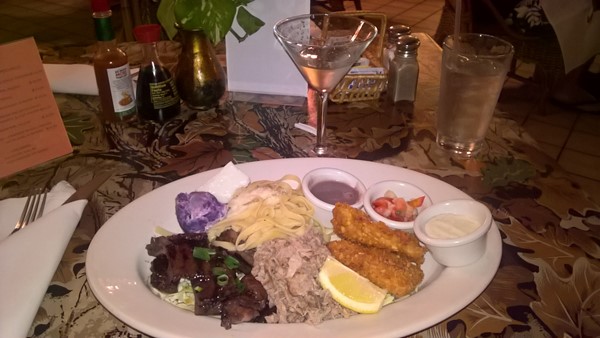 Just FYI – these two meals have also served as my brunch as well – two for the price of one!
Those who follow my posts know that I find a certain fascination with what various hotels call "ice buckets" – today's example is your 32oz Styrofoam cup that these folks use in place of ice buckets: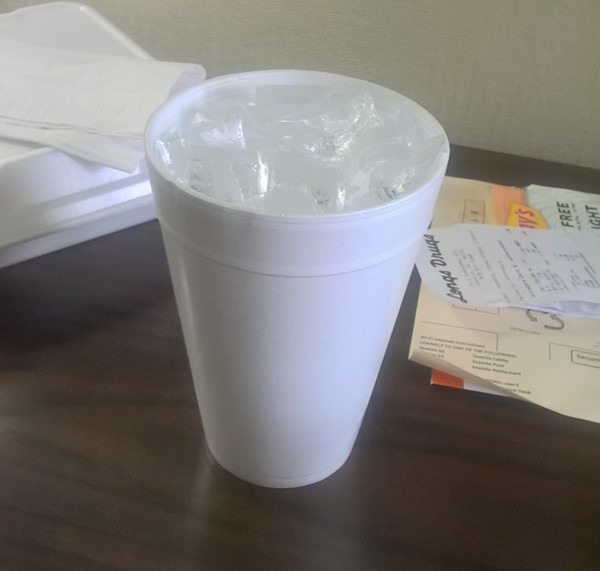 At least you can assume nobody has thrown up in a disposal oversize cup (well, maybe).
Morning comes and its time for the final selfie from the hotel: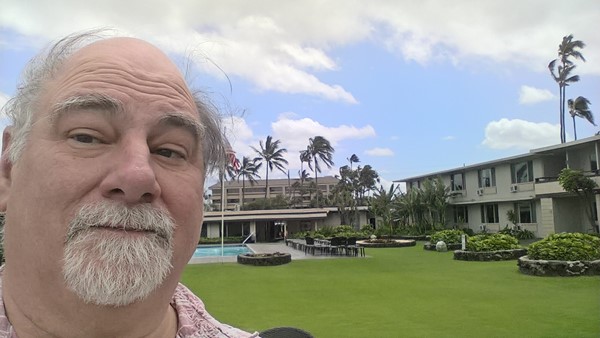 Maybe I should have booked another night, but alas, I have to work my Friday shift for the month. Time to head to the airport, gassing up the car along the way – nice 1951 F100 (last year before they went to the F150):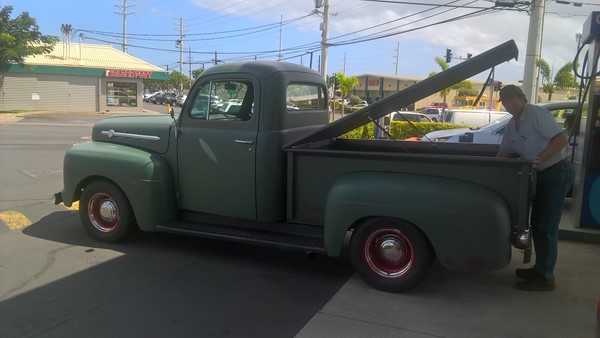 Got the car returned (once I found the rental return place, which isn't that close to the airport), and found this amazing hot dog stand in the airport – two bad I was full from the leftover Kalua Pork and Teriyaki Beef!
Had a couple of drinks at a Sammy Hagar bar in the airport before boarding the direct (this direction) flight back to Maui.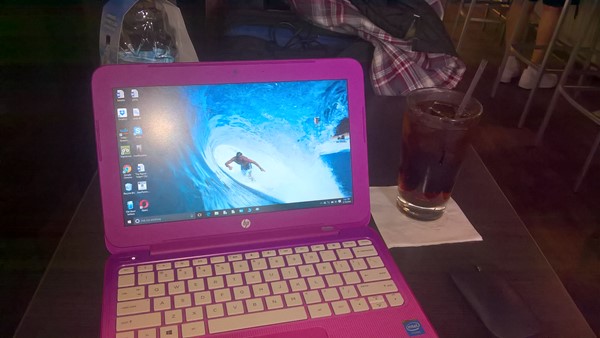 Think I was working on a blog post, or maybe I was just killing internet zeros and ones.
Different menu for the return flight: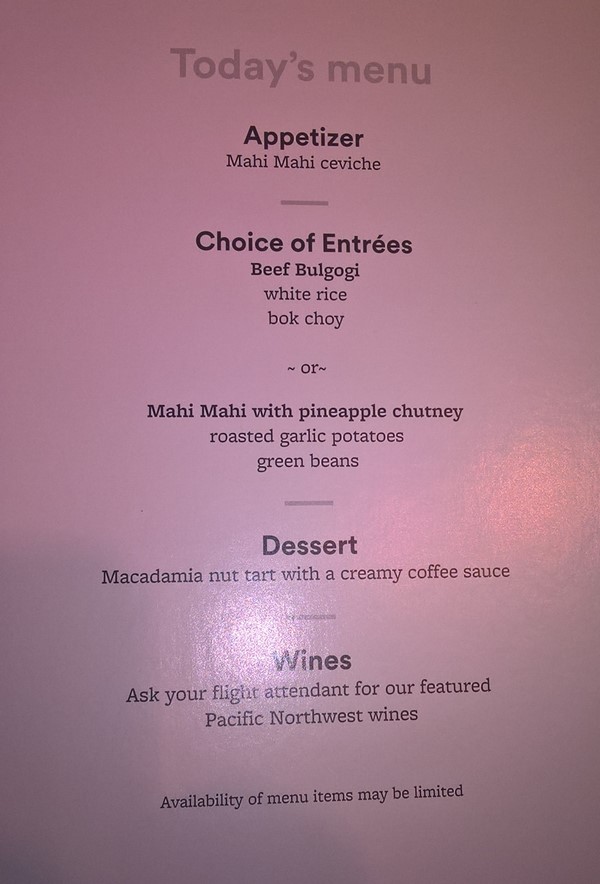 Should have gone for the Bulgogi – the Mahi Mahi was a little on the dry side – live and learn. I cared more about getting the potatoes rather than the rice, but the salad was excellent!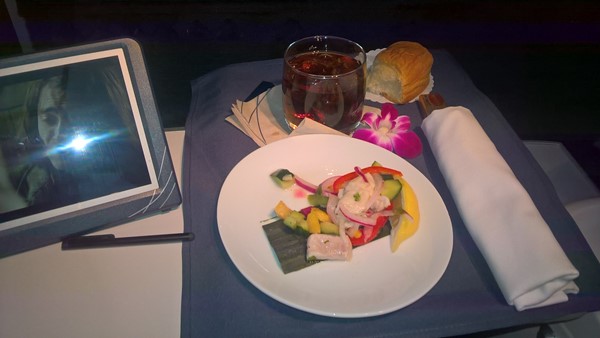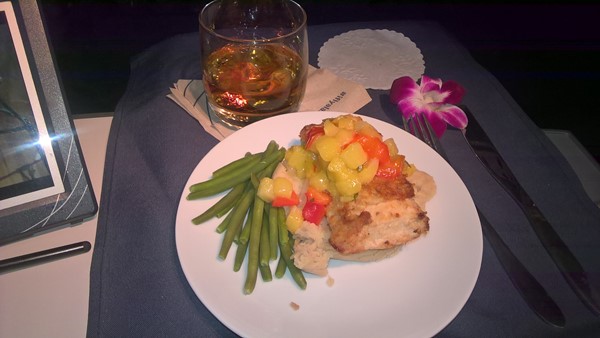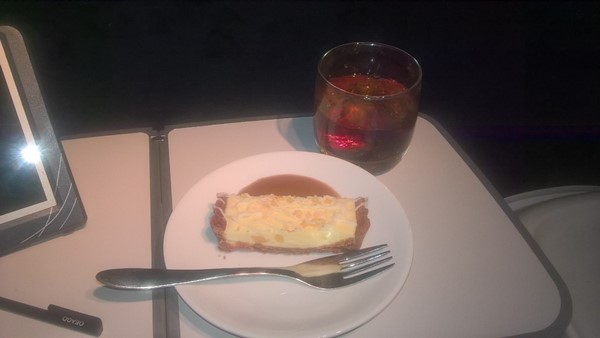 Fight was running late so I didn't get to Bellingham until almost 11pm – good thing I'd arranged with SurfBetty to crash at his place – not good to drive two hours after drinking for five. And it was really good to catch up with him – don't get to spend enough time hanging out with him. And drink into the night we did for in the morning I need to be up at 8am so I can open the shop at noon.
He was kind enough to send me off with home homemade bacon/eggs/cheese sandwiches.
Thanks SurfBetty!
[? ? ?]
Filed from the Sunset Limited in the middle of Arizona