Nothing like getting back from Vega at noon on a Saturday with just enough time to take a shower and get to the shop in time for your 1:30-7pm shift, working again Sunday, and getting up butt-early (that's a technical phrase) to head off again. This is a short turn time even for me!
Destination: Greece
Reason: Friends 25th Anniversary Party
But first I have to get there.
I booked Vancouver (YVR) to Athens (ATH) via Paris (CDG) last fall in a fit of "I have to get my ducks in a row". This is contrary to what I tell most people about international (and domestic flights for that matter) that you should book 60 days out for the best deal – when you book nine months out, you are basically getting "rack rate" – a phrase that refers to the highest rate that a hotel will sell its rooms for (think retail, versus on sale). With the difference in price of $1800 (r/t) for Economy or $2700 (again, r/t) for Business, I opted for Business Class on Air France – at least the food and wine should be good!
As for the SEA-YVR and the return of YVR-SEA, those were two separate OTHER reservations – outbound I found for $105, but the return was expensive so I used 12,500 miles for the return. One trip, three reservation numbers.
I bore you with all this because I had feared that I'd have to collect my multiple bags (see photo) in Vancouver, go through customs with them, then recheck them onto the Air France flight, then collect them as it would be the first stop in the European Union, and repeat the whole thing again. Needless to say, I'd arranged for LOTS of layover time in each city.
Now the reality. When I checked in, the guy said, "Final destination?" Answer, "Vancouver on this ticket, but connecting to Air France to CDG, then onto Athens on a different ticket." I was pleasantly surprised he said, "Give me the flight numbers and I'll check them in all the way to Athens." Frankly – even this jaded traveler was amazed. Two reservations numbers, two different carriers. I knew you could do different carriers on the same reservation number.
And when I talk about multiple bags – this is what I mean. Two "carry-on" size bags, but both with liquids – like snow globes – in them: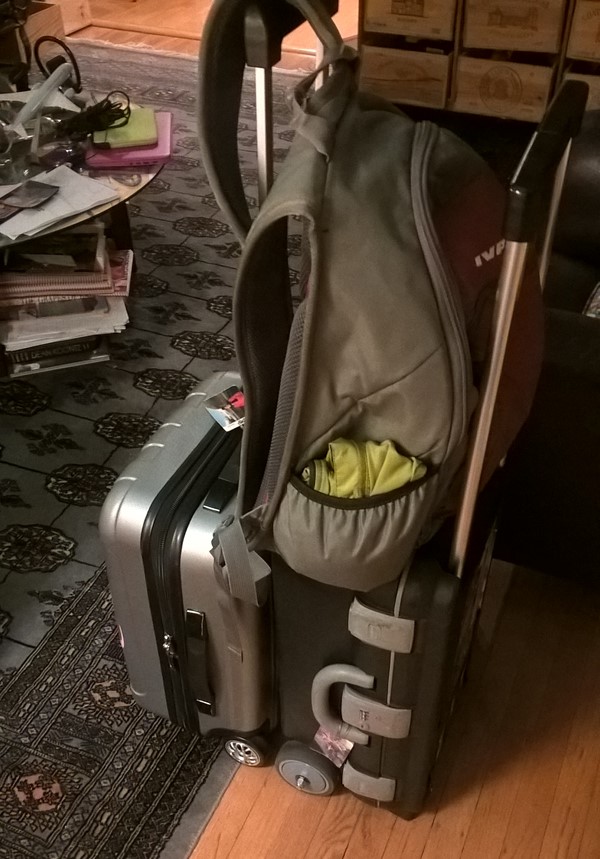 The back pack with the computer goes with me on the plane, but in the back of my mind I'm going, "How will this actually work?" The Silver bag (and parts of the black bag) are filled with "airplane memorabilia" for one of the two boys whose anniversary I'm celebrating. I was there (the Island of Sifnos, in Greece) for their 10th Anniversary, it only seemed right to return for their 25th Anniversary.
Checked in, and time to go to The Board Room – here is the shot that I sent out in homage to Lambchop who always sends shoe/airport carpet selfies when he travels.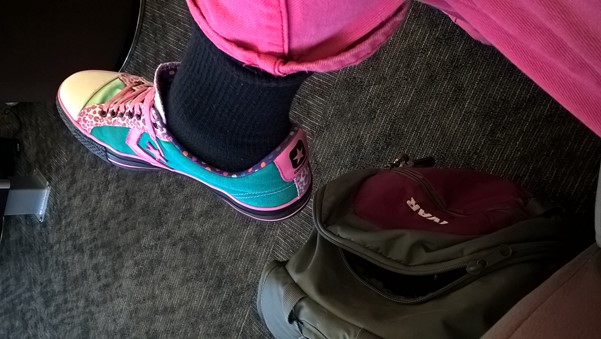 Seems that Alaska is upping its game in the airline lounge world. I usually start each trip with a Red Baron (sparkling wine and cranberry juice). Red Barons are my family's traditional celebration (i.e. Christmas, New Year's) drink. The Board Room used to serve Cooks (which is plonk – a British phrase), but they have now gone local, well, Yakima. Their new bubbles are from Treveri Cellars – we featured them at a tasting at the shop a couple of years ago.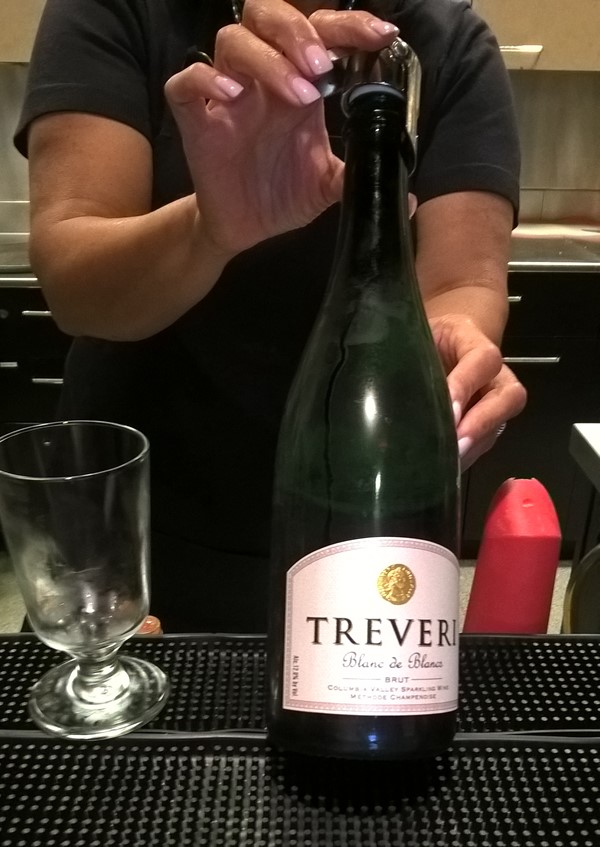 So far, the day is going MUCH better than I expected.
Baggage checked all the way through to Athens
Better bubbles in The Board Room
Had a bagel/cream cheese and a hardboiled egg (and a Red Baron, and since the bubbles are good, a second glass of just the bubbles) before heading to the gate. Small delays boarding (crew late), and then a small mechanical delay, but really, I'd blocked plenty of time in YVR when I thought I had luggage issues, so it's all good.
Turns out the both Alaska AND Air France use the same third-party lounge at YVR (Plaza Premium Club). Not a bad looking lounge: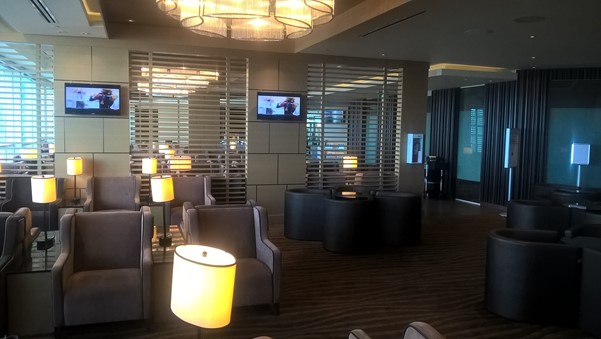 With a better than usual food selection: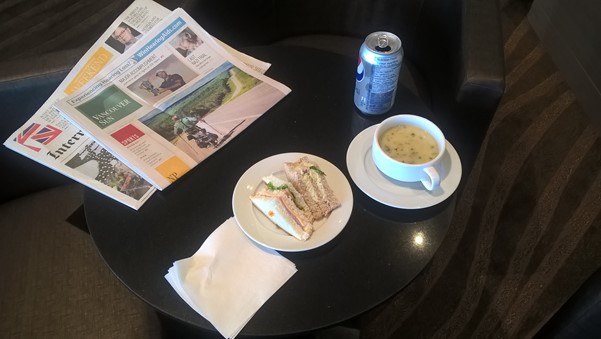 Soup and sandwiches – after the scrambled eggs and sausage…then kim chi fried rice and bulgogi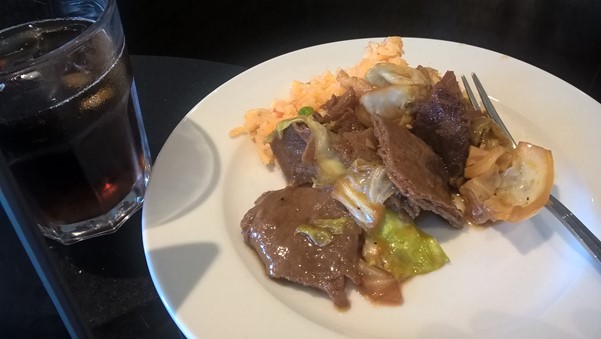 The only downside is that the bar doesn't open until 11am – guessing that would be British Columbia liquor laws – and it isn't self-pour. I did manage to get a couple of cocktails in (one featured above) before it was time for the plane: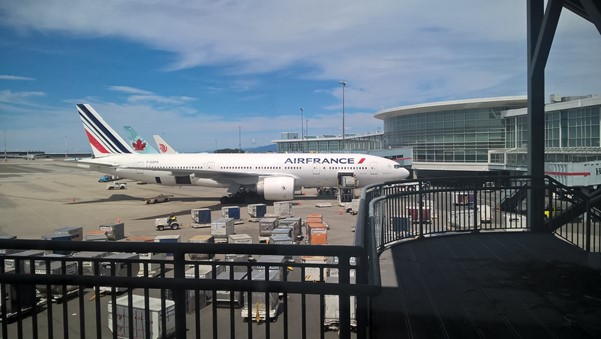 That would be a 777-200 a bit past it's prime as witnessed by the covering rubbed off the Senheiser noise cancelling headphones from a previous generation. These were hardwired so there was no way to use your own personal current generation headphones.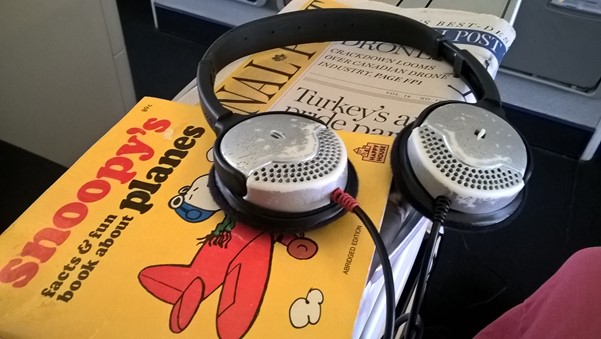 And the old-style 2-3-2 angled Business Class seating (no First Class service on this flight). At least there were universal outlets (sans USB) to charge things up.
Maybe that's why they were giving away (at $2700 r/t) Business Class connecting service to Europe from the West Coast so cheap (or it could be the Canadian Dollar crisis). Here are a couple of more cabin shots: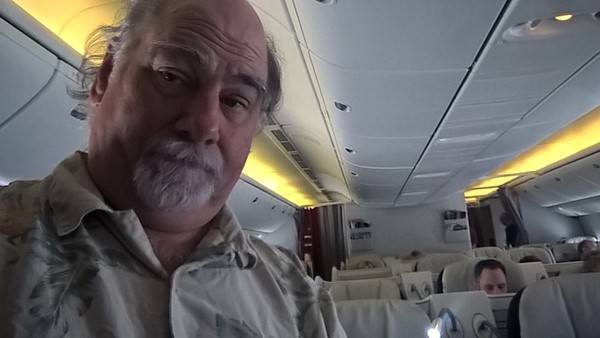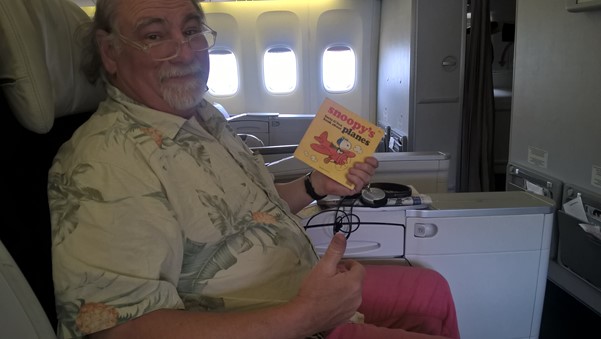 They (Air France) have announced plans to upgrade their Business Class seating (Link Here), but I got the old product.
That said, the service was good, the food better, and the wine and champagne, better yet. This would be the start of dinner service for a flight leaving YVR at 2PM (though we were late). The champagne was a Joseph Perrier la Cuvée Royale Brut – both before take-off and after my whiskey on the rocks. But let's talk food (and more wine)!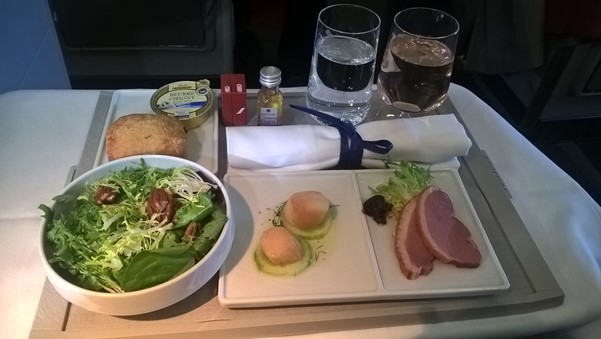 Starters and salad (though there was a Mise en Bouche [bent spoon] of salmon-cheese roulade with fennel salad) which would be from left to right:
Seasonal salad with pecans
Grill-seared dill-marinated scallops
Smoked breast of duck with fig compote
Wine: 2015 Château d'Olliéres Classique Côtes de Provence Rosé
Followed by the main (choice of Beef, Salmon, Vegetarian Cannelloni, or the special of the day – which is what I had, the Roast Chicken Fillet with Tarragon Cream Sauce: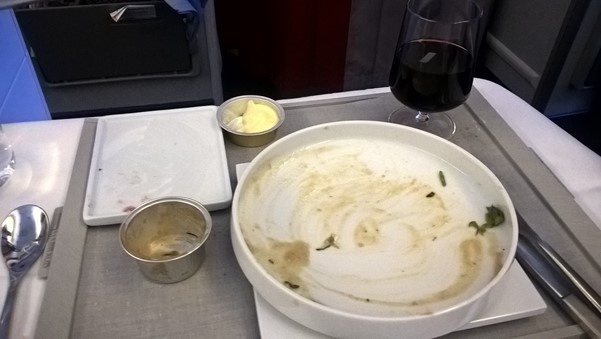 Looks like I was a little late photographing that one!
Wine: 2011 Saint-Émilion Grand Cru Château Jean Faure followed by the 2013 Gérard Bertrand Domain de Villemajour Carbiéres-Bouenac (at the shop we have featured wines by Gérard Bertrand in the past).
But let's not forget dessert —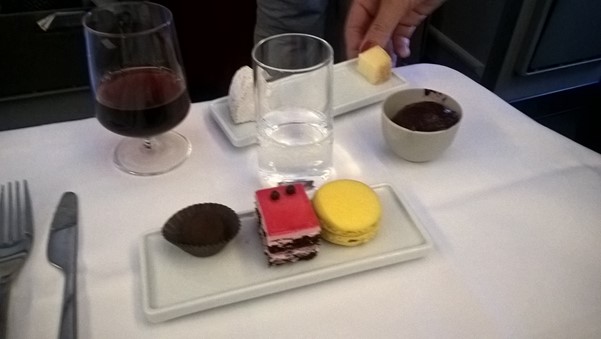 Cheese platter with at Graham's 10-year-aged Tawny Port, and with the dessert trio (chocolate truffle, mini raspberry-chocolate cake, lemon macaron) and sorbet (cassis) a Eau-de-vie de poire (pear brandy).
I also had to try the Calvados hors d'âge (apple brandy) and the Bas-Armagnac Château du Tariquet
Folle Blance 12 ans (12-year-aged Armagnac from a vintner we have also featured at the shop).
Time for a movie and a nap – the movie, which was actually moving (to tears at one point, but then again, after all that booze there isn't much of a lock on the emotions) was Boychoir, which featured the Fried Green Tomatoes lady (Kathy Bates), Dustin Hoffman, Debra Winger. Really, the only time I watch movies is when I'm trapped in a tube.
Nap time before breakfast showed up – luckily they still had some Champagne!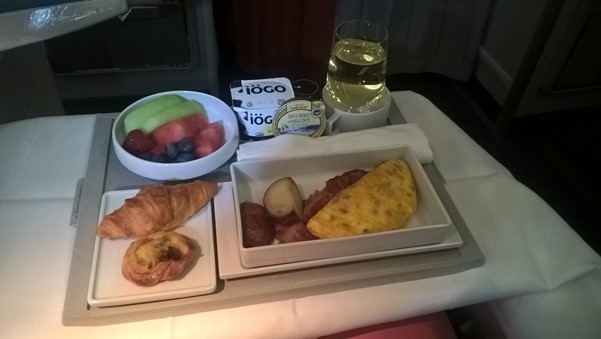 WAY too much food, but I managed to eat most of it. Fresh fruit, yoghurt, pastries, ham and vegetable omelet, bacon, roasted potatoes.
We landed in Paris pretty much on time – though to weather more typical to Seattle – drizzly overcast: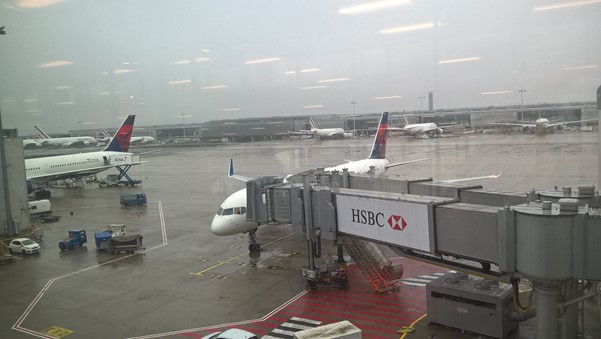 After minimal immigration (though another stamp in my passport) it was off to the Air France Lounge in Terminal 2E (after a train ride). This would be Terminal 2E at CDG which a portion collapsed in 2005 shortly after opening. Click on the CDG link for morning information – it's actually rather informative. But today, it's rebuilt and rather pretty.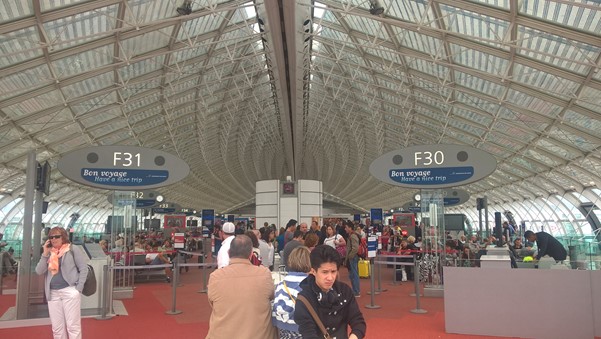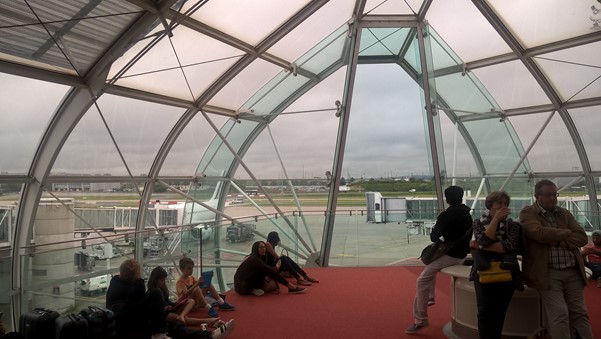 F30 was my gate, FYI. But for my multi-hour layover (I'd rather have spare time than no time) I was in the lounge: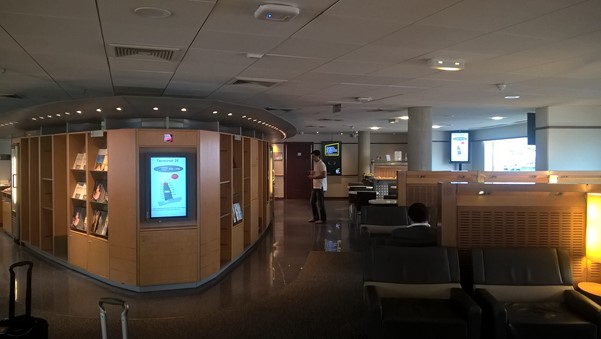 Where I had a nice workspace: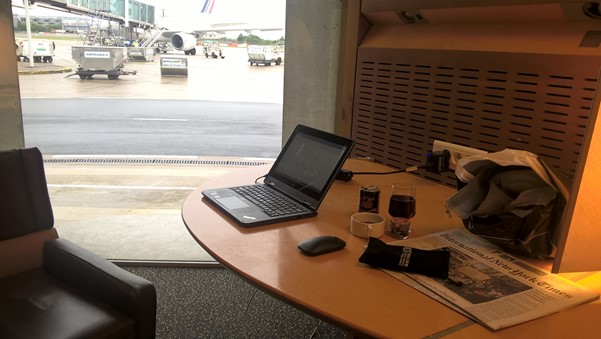 THIS is the reason you either have status on an airline, or pay for Business Class. AND there was an open bar, which expanded….after 11.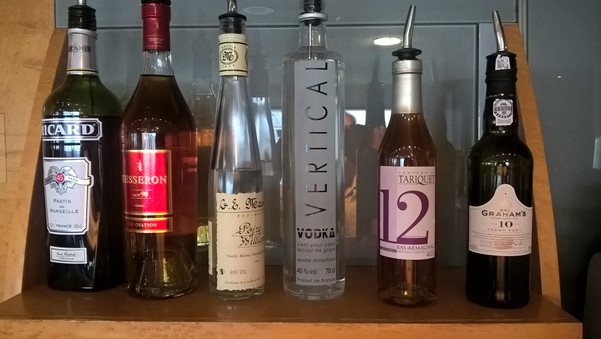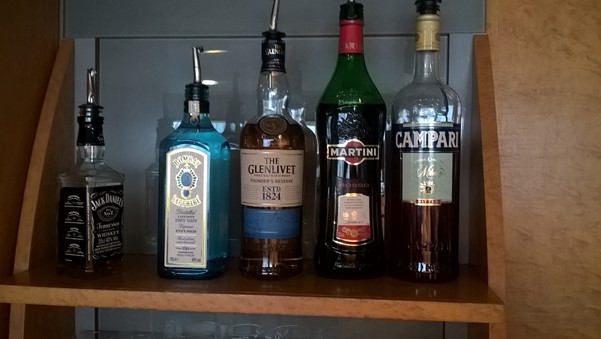 Which is when the wine came out – but if you wanted ice in your drink you had to snag it from the wine bucket – you'd think they were ENGLISH with regards to ice: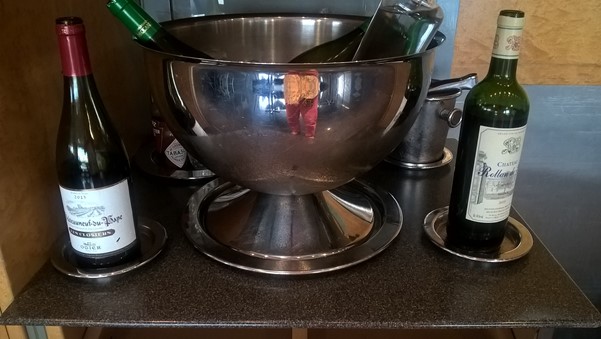 More food in the lounge (have yet to pay for a meal on this trip). I nibbled on breakfast stuff and lunch stuff after 11:30.
But more importantly, after an overnight trip, access to shower facilities (albeit a tad humid from constant use):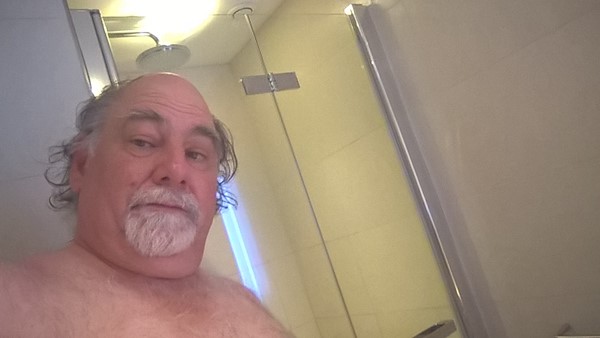 There was some worry about my checked bags (really, I don't have to tend to them?). Wanted to make sure – went to the front desk – much punching of keys before, "Shows here that they were loaded onto the plane at 9:20." And it was about 10:15 at that point.
Boarded the final leg of the trip to Athens knowing that "Business Class" within Europe should always have parentheses around it. Economy seats (albeit in leather) with the center seat blocked out.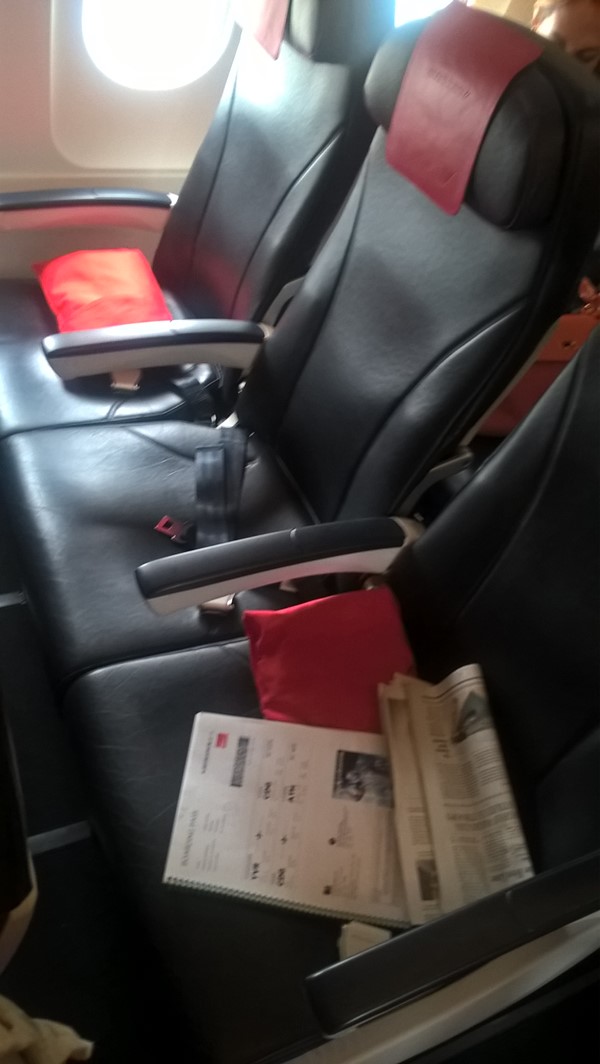 And no extra leg room: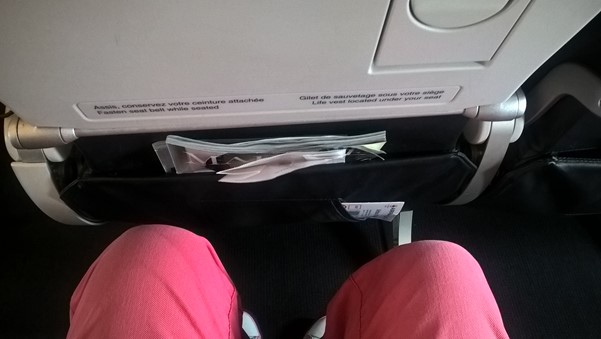 But, again, the food is better than in back: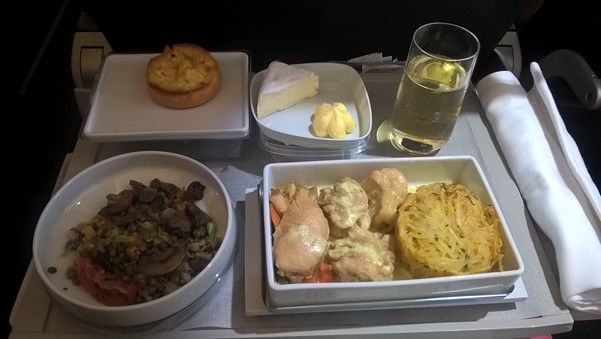 That would be lentil salad with sautéed oyster mushroom and sun-dried tomato, sautéed chicken thigh in a lettuce cream sauce, crisp vegetables, a thyme potato crisp, cheese and an apple tartlet, all served with their covers on (a bit tacky to my mind).
We move from tacky to tatty – seems even their intra-Europe jets are showing their age. Look at the magazine rack: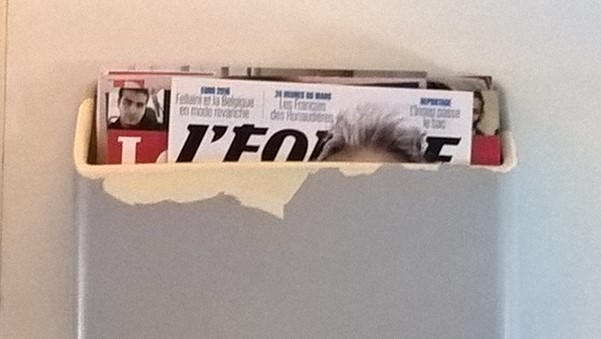 But I the grand scheme, all I care about is being united with my bags in Athens – and to my surprise, they are on the belt.
Collect bags, exit through an unmanned customs booth, find the Metro Train to the city with a stack of bags (luckily one of my bags converts to a hand truck):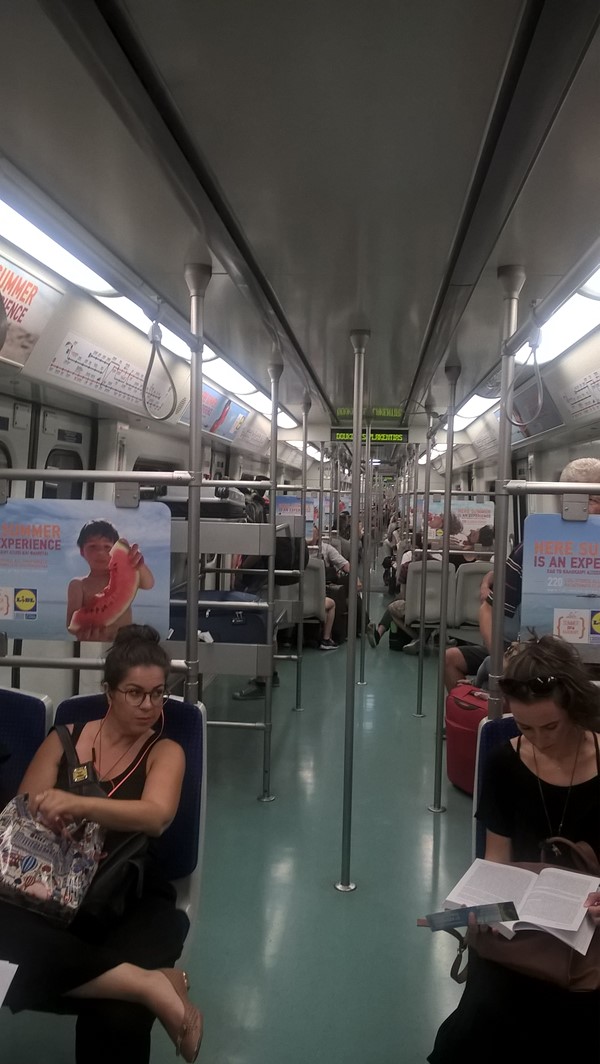 One of the anniversary boys gave me the number to his "driver" because Athens is notorious for aggressive cab drivers especially towards tourists. Just 38-50 Euro (plus tip) from the airport, depending on time. I was happy to skip being met at the airport and pay 10 Euro to get to within two blocks of my hotel. Mind you, the above photo was taken closer to the airport than the city, before the commuters started piling on the train.
All settled in my room – time to go in search of easy food.
[? ? ?]
For those of you who got to this page with a direct link from FaceBook – you can see other posts at https://blog.unclemarkie.com with the latest first and going back in time.