In the city for a week – and company is in town! Now where to go – for guests who used to live here. Can't believe we had dinner Sunday night and I don't have pictures.
But Tuesday, we headed for a quick lunch we headed to Loretta's Northwesterner for lunch for me, soup for Gail (which came with my Lunch Special), coffee for Paul: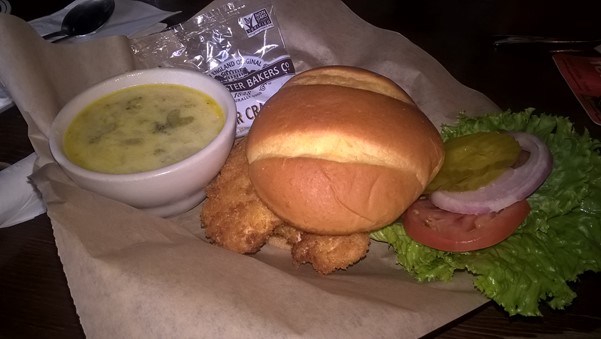 The soup was a Cream of Broccoli which wasn't overly thickened had lots of celery, and I had the panko-breaded chicken cutlet burger. Both GREAT!
Wednesday lunch was the Prime Event – Paul said they wanted to have lunch on their last day in town, "somewhere with a water view."
I made a reservation at the Space Needle Restaurant. Great views (and it turned out to be a sunny day), and while the ride to the observation level is $22, for a $25 minimum lunch spend at the restaurant, you get a free ride up, AND access to the observation deck AND a free digital photo from your meal. This would be ours: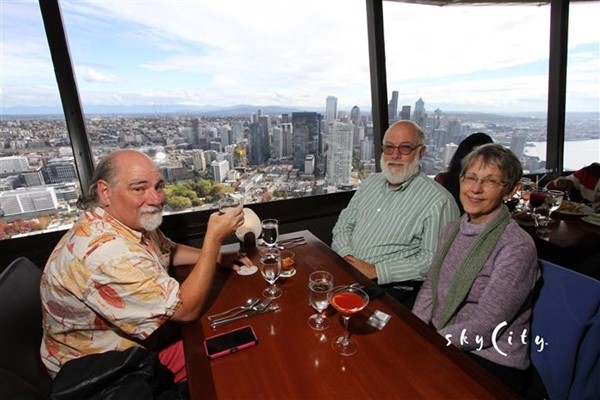 For those of you who don't know, the Space Needle was built for the 1962 World's Fair in Seattle, and these days looks like this: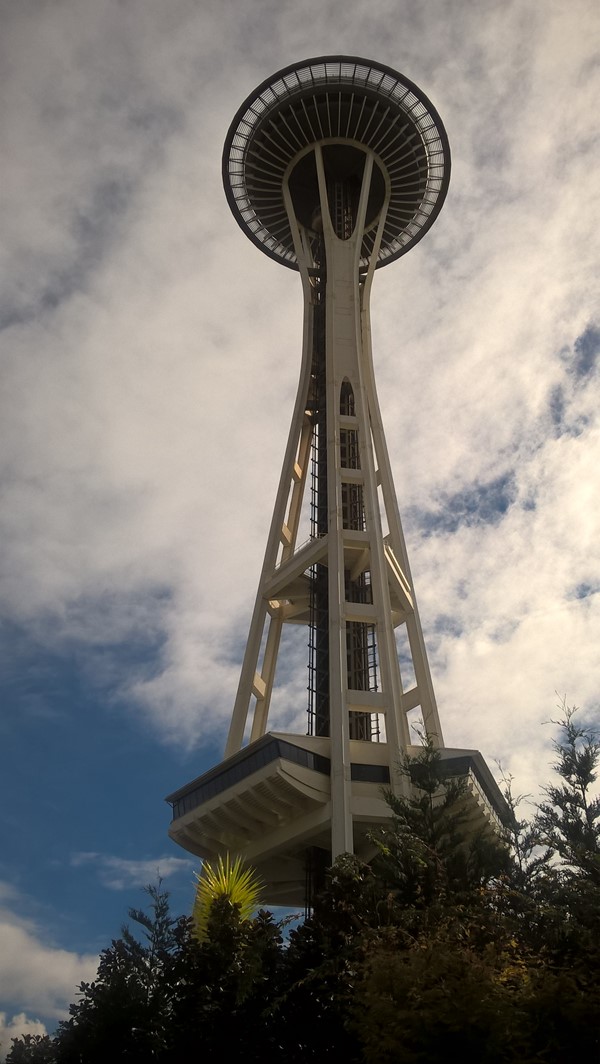 The lower section is an event space.
Did I mention that it rotates? Here are some lunch shots: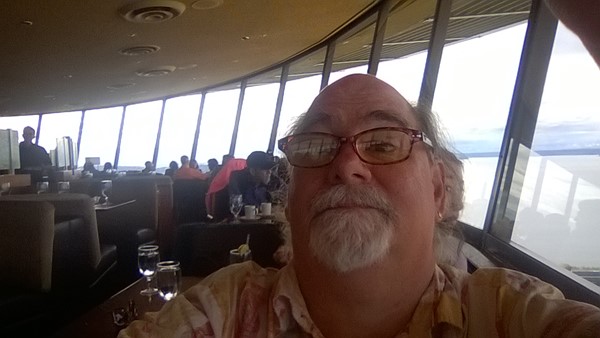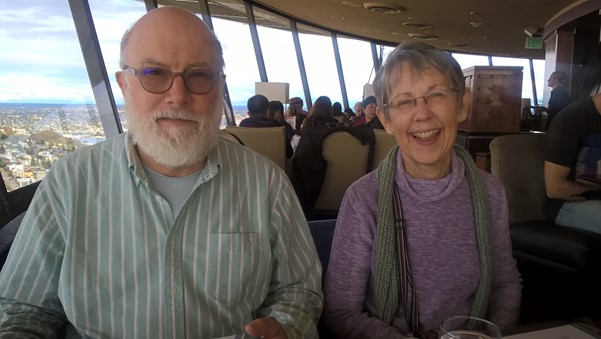 And views….North – the horseshoe buildings are the Bill and Melinda Gates Foundation buildings with Lake Union to the top.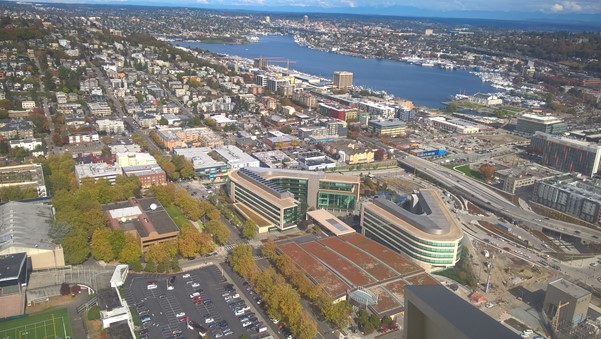 East towards Bellevue with downtown Seattle to the right (more like Southeast):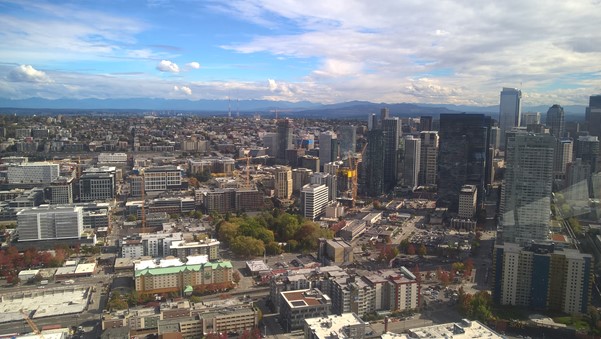 South to downtown – cloud cover over Mount Rainier: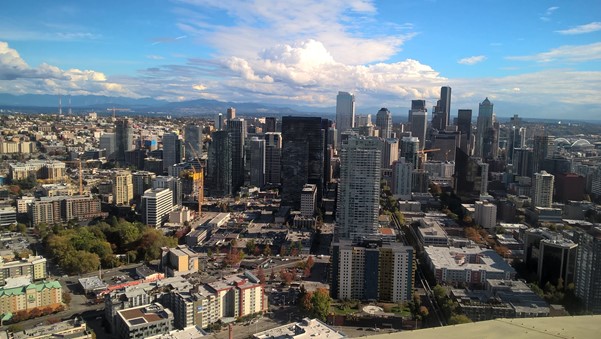 Southwest over Puget Sound: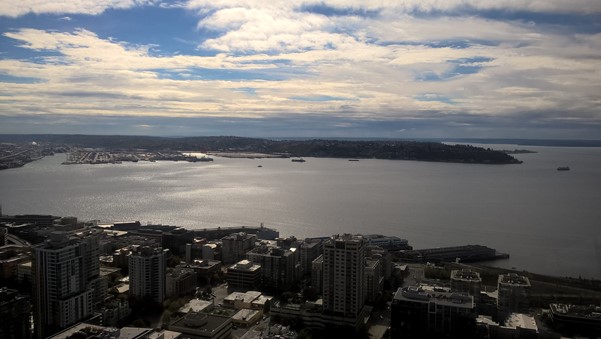 49 minutes to rotate – but first we need drinks!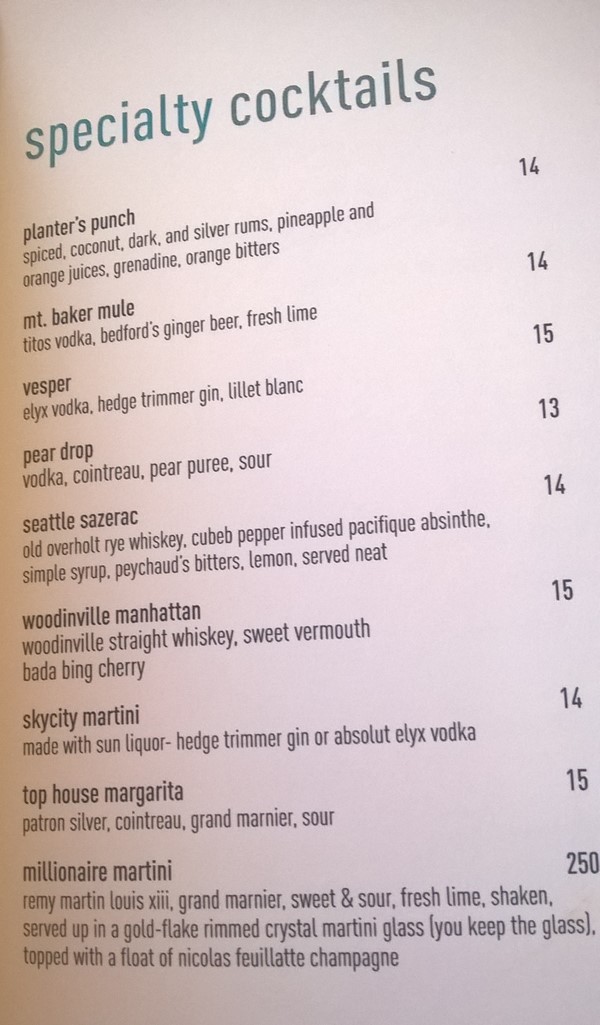 We DID NOT order the Millionaire Martini at $250! I started with the Seattle Sazerac (Paul and I), and then after dinner the Woodinville Manhattan for me: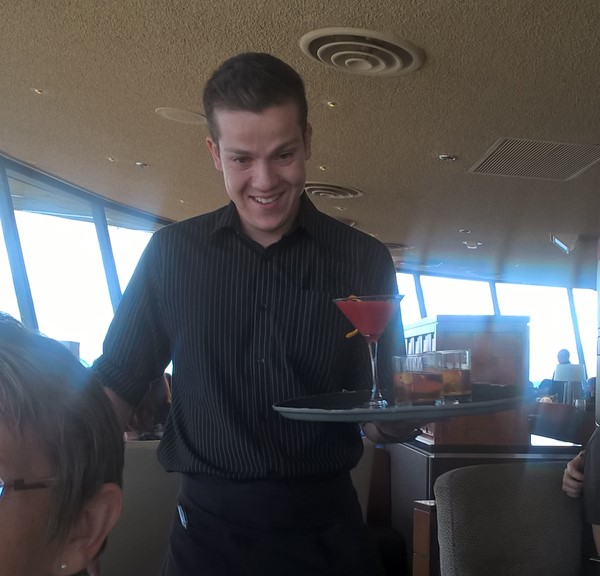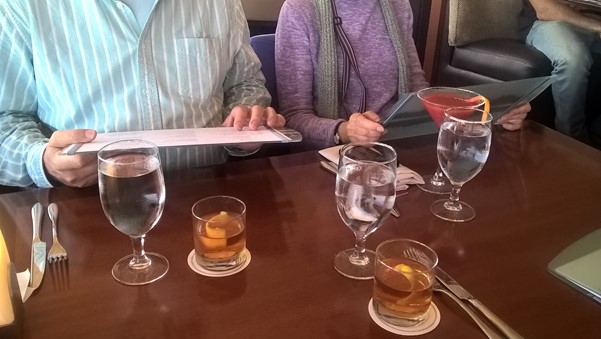 We all spent WAY over the $25 – but think of it like a $22 off coupon! Round one for me – Razor Clam Chowder, salads for Paul and Gail: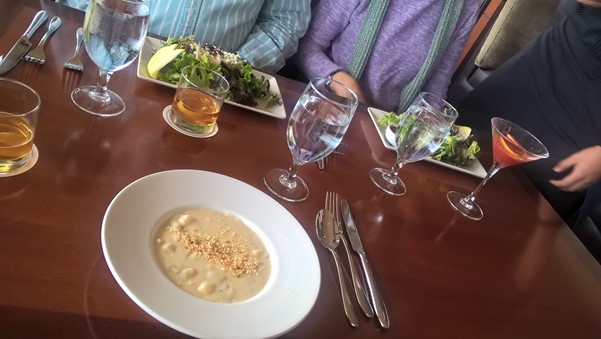 Round two – Penn Cove Mussels with Chorizo – I was feeling the need for seafood, the Dungeness Crab Melt for Paul, and Gail had the Roasted Cauliflower Flatbread:
Paul got a little Vanilla Ice Cream for dessert, not on the list, but provided (and shared by all) while I had my Manhattan: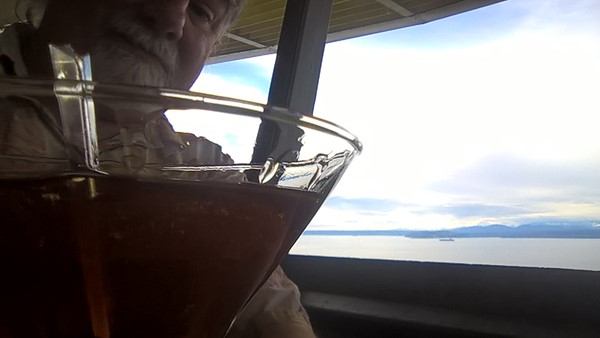 What I realized when we went up one floor to the observation deck is that every view had wire, rather than windows: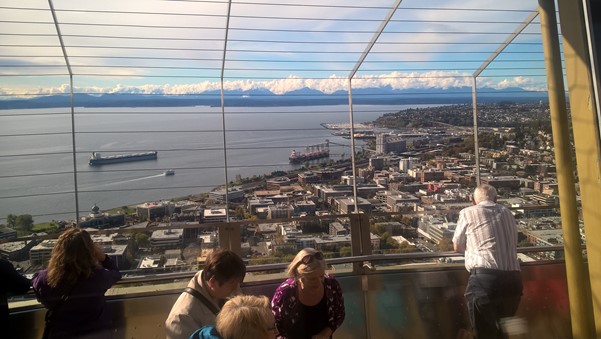 Finally, it was time to go down to ground level:
Since the $25 minimum includes food AND drinks – literally, you could sit at the table, nurse two cocktails for two hours (the maximum dining time allowed) during lunch hours, and meet the minimum. As Gail said, "well, lunch was less than our insurance deductible for the rental car that we scratched and we were expecting to pay for – but they said it was nothing."
Fun in the city.
216.4]